Hurricane Lane losing power as it churns toward Hawaii but still packing powerful winds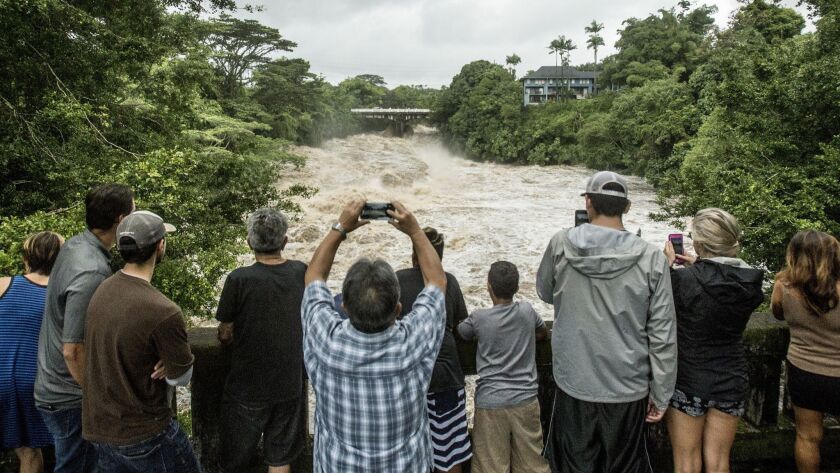 Reporting from HONOLULU —
Hurricane Lane continued to lose power as it churned slowly toward the Hawaiian Islands Friday, pouring rain on the Big Island while Oahu prepared and waited — still unsure what kind of impact the once-ominous storm would have.
Lane was downgraded to a Category 2 — and then a Category 1 — storm Friday, and National Weather Service meteorologist Gavin Shigesato said that by Sunday, it was likely to be a tropical storm.
"We do expect it to weaken slowly in the next 24 to 48 hours," he said. It's also moving very slowly, he said, barely topping 5 mph.
But the fallout from what Hurricane Lane had wrought was still playing out over the Big Island and neighboring Maui, where flooding, fires, road closures and power outages were affecting residents on both islands.
"The slow movement of Lane also greatly increases the threat for prolonged heavy rainfall and extreme rainfall totals," the Central Pacific Hurricane Center said.
Hawaii Gov. David Ige cautioned late Friday that Hurricane Lane may not be finished yet.
"It is still a powerful and can be a very damaging storm," Ige said.
As of 2 p.m., the hurricane was located approximately 115 miles west of Kailua-Kona with sustained winds of 85 mph.
Shigesato said shearing winds were making the storm weaker and the island's famous trade winds likely would help push it westward as it continues to lose power.
Residents carry dogs through flood waters to dry land, after playing in the water briefly on the Big Island in Hilo.
(Mario Tama / Getty Images)
A large wave hits a man on a breakwater along Waikiki Beach ahead of Hurricane Lane, Friday in Honolulu, Hawaii.
(John Locher / Associated Press)
Morale Welfare and Recreation employees and Joint Base Pearl Harbor-Hickam personnel go over the emergency preparation kits at the base fitness center as Hurricane Lane approaches Hawaii.
(CORWIN M. COLBERT / AFP/Getty Images)
A car is partially submerged in floodwaters from Hurricane Lane in Hilo, Hawaii.
(Mario Tama / Getty Images)
Bader Ali, 22, of Kuwait reacts as a wave crashes near a hotel in Honolulu.
(Kent Nishimura / Los Angeles Times)
High surf at Waikiki Beach in Honolulu.
(Kent Nishimura / Los Angeles Times)
Sophia Malone, 7, of Orange County walks on sandbags at the Moana Surfrider Hotel in Honolulu.
(Kent Nishimura / Los Angeles Times)
The flooded intersection of Kamehameha Avenue and Pauahi Street in Hilo, Hawaii, on Thursday.
(Hollyn Johnson / Associated Press)
People gather to watch floodwaters from Hurricane Lane rainfall in Hilo, Hawaii.
(Mario Tama / Getty Images)
Construction workers board up windows at a McDonald's in Honolulu.
(Kat Wade / Getty Images)
A worker creates a small sand berm on a portion of Waikiki Beach in Honolulu in preparation for Hurricane Lane.
(Kent Nishimura / Los Angeles Times)
Hotel employees Richard Dela Cruz, left, and Roman Amores fill sandbags in Honolulu.
(Kent Nishimura / Los Angeles Times)
The front page of the Star Advertiser in Honolulu shows the projected path of Hurricane Lane on Thursday morning.
(Allen J. Schaben / Los Angeles Times)
Bottled water was nowhere to be found at a grocery store in Honolulu.
(Kent Nishimura / Los Angeles Times)
People read a hurricane warning notice in the lobby of the Sheraton Princess Kaiulani Hotel in Waikiki.
(Kent Nishimura / Los Angeles Times)
Workers board up a McDonald's in Honolulu.
(Kat Wade / Getty Images)
Jacquelyn Wu, left, helps Roger Pfeffer, 81, prepare his boat for Hurricane Lane by removing spear guns with help from Wu's boyfriend, Donovan Eliopulas, at the Ala Wai Boat Harbor in Waikiki.
(Kat Wade / Getty Images)
Sandbags at Waikiki Beach in Honolulu.
(Kat Wade / Getty Images)
Jay Kitashima works to secure the roof of his tiny home along Ewa Beach in Honolulu.
(John Locher / Associated Press)
Parts of the Big Island on the eastern side had received about 2 feet of rain in the past 24 hours, Shigesato said, while Kona, on the western side, had received virtually no rain.
High surf warnings were in effect on Oahu through 6 p.m. Saturday.
Emergency crews, meanwhile, rescued five California tourists from a home they were renting in Hilo after a nearby gulch overflowed and flooded their house.
Suzanne Demerais said a tiny waterfall and small stream flowed near the home when she first arrived with four of her friends from the Los Angeles area. But the stream turned into a torrent, and the water level rose rapidly over 24 hours.
Hawaii County firefighters, who were in touch with the home's owner, decided to evacuate the group before the water rose further. They floated the five out on their backs, Demerais said.
"It was quite an experience because we weren't planning to have a hurricane during our vacation time," she said.
Shigesato said the Big Island remained under a flash flood warning. Oahu was under a flash flood watch.
Maui, which also was getting battered by Hurricane Lane, had to contend with a brush fire that forced evacuations early Friday. Those evacuated from the fire were taken to a storm shelter.
Officials said 10 fire companies were battling the blaze. Maui Electric reported 2,600 residents without power early Friday morning.
Police warned tourists to leave Waikiki Beach ahead of the storm's arrival in Honolulu. So far, about 1,500 people, mostly on Oahu, were in emergency shelters, said Brad Kieserman of the American Red Cross.
Despite the warnings, people could be seen standing on the famous stretch of shoreline taking pictures of waves while a few surfers — fewer than Thursday — paddled out into the choppy waters, even as police on loudspeakers told them to get out of the water.
Honolulu Mayor Kirk Caldwell said that the hurricane "was in the slow lane and didn't want to go away" and that he feared people weren't taking warnings about its arrival seriously.
"Too many people are in the water that are visiting from other parts of the world, and endangering themselves," he said. "The good news from yesterday to today: There's a lot fewer people in the water, but we still have people that are going out."
Many restaurants and stores were closed in Waikiki, and while some streets were emptier than normal, other areas still bustled with onlookers and the few shops that were open were drawing people inside. Sandbags lined some oceanfront hotels and restaurants. Some tourists, tired of waiting for the hurricane to arrive, returned to their hotel swimming pools.
Employees of the Sheraton Waikiki resort filled sandbags to protect the oceanfront hotel from surging surf.
The Marriott Resort Waikiki Beach in Honolulu designated a ballroom on the third floor as a shelter for guests and began removing lounge chairs from around the pool and bar area.
At the Hilton Hawaiian Village, guest Elisabeth Brinson said hotel staff left a notice that guestrooms still would have water and phone service, and a backup generator would power one elevator per building in the event of an outage.
Brinson, a native of the United Kingdom now living in Denver, said many shops were closed, and those still open were frantic with people buying food, beer and water to take back to their rooms.
"We knew it was coming, so I tried to just cram as much as I could into the last few days in anticipation so we could cross things off of our list," said Brinson, who said she was used to hurricanes after living in Florida.
Hawaii's tourism industry has been booming, with visitors spending $9.26 billion in the first half of this year — up 10.8% compared with the same time period last year, according to the Hawaii Tourism Authority.
The agency's president and CEO, George Szigeti, issued a statement urging visitors to take the hurricane warnings seriously.
"No one should get complacent about Hurricane Lane until the all-clear message has been delivered," Szigeti said. "This is a very unpredictable hurricane that has already battered the island of Hawaii's east side with drenching rain and flooding damage. Residents and visitors statewide need to follow the advice of our civil defense officials to shelter in place, be careful and stay safe."
United Airlines canceled its Friday flights to and from Maui. The airline added two more flights from Honolulu to San Francisco on Thursday to help transport people off the islands.
Hawaiian Airlines canceled all Friday flights by its commuter carrier, Ohana by Hawaiian.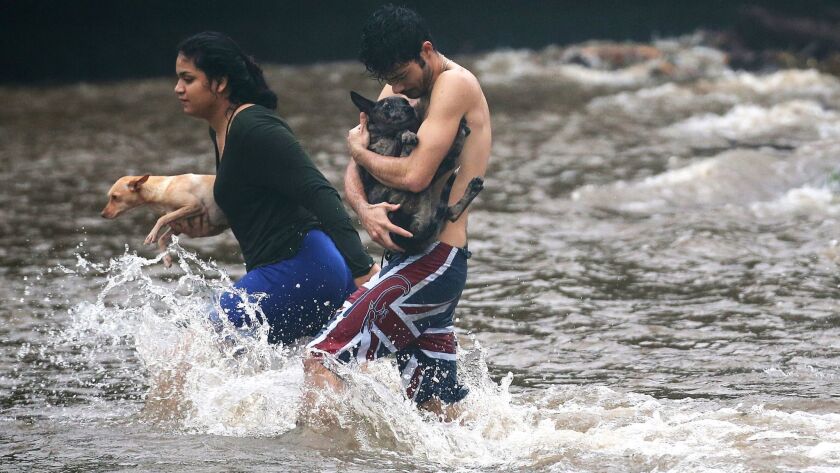 The central Pacific gets fewer hurricanes than other regions, with only four or five named storms a year. Hawaii rarely gets hit. The last major storm to hit was Iniki in 1992.
Because people in Hawaii can't evacuate during a hurricane like people in Florida or Texas, they have to make sure they have enough supplies to outlast power outages and other potential emergencies.
The Federal Emergency Management Agency moved several container ships packed with food, water, generators and other supplies into the region ahead of Hurricane Hector, which skirted past the islands more than a week ago, administrator Brock Long said. Warehouses were double-stocked with emergency supplies, and federal officials were working with grocers to ensure stores would have enough food.
The Associated Press contributed to this report.
---
UPDATES:
6:20 p.m.: The article was updated with the news that Hurricane Lane was downgraded to a Category 1 storm.
3:55 p.m.: The article was updated with comments from Hawaii's governor and the mayor of Honolulu.
1:30 p.m.: The article was updated throughout with Times staff reporting.
10:25 a.m.: The article was updated with the hurricane being downgraded to a Category 2 and additional comments from FEMA Administrator Brock Long.
The article was originally published at 7:45 a.m.
---
Must-read stories from the L.A. Times
Get the day's top news with our Today's Headlines newsletter, sent every weekday morning.
You may occasionally receive promotional content from the Los Angeles Times.