Female Kansas congressional candidate drops out over sexual harassment claim by male subordinate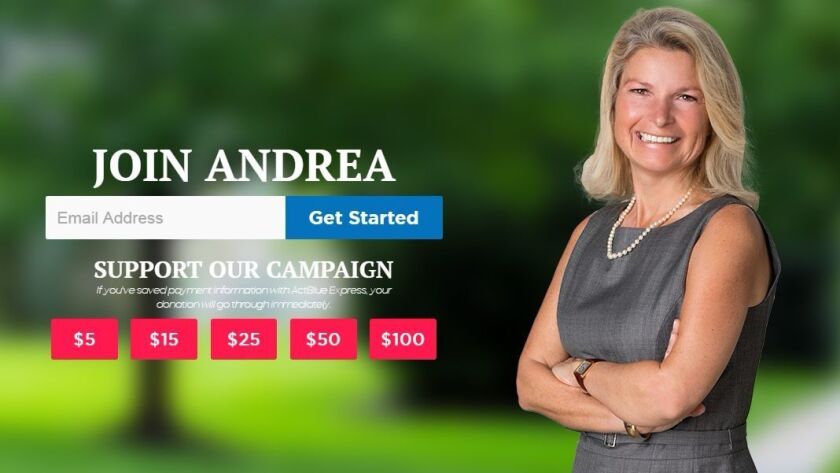 Given the months-long stream of allegations of sexual harassment by powerful people, the big political news in Kansas on Friday sounded numbingly familiar: A prominent Democratic congressional candidate quit the 2018 race after journalists unearthed a former subordinate's claim of sexual harassment.
But there was a twist. The candidate is a woman, Andrea Ramsey, and the alleged victim is a man who said she fired him for refusing her sexual advances more than a decade ago.
Ramsey appears to be the first prominent woman accused of wrongdoing in the "Me Too" era, which ignited after prominent Hollywood actresses accused movie mogul Harvey Weinstein of sexual assault and abuse.
In a Facebook post on Friday, Ramsey said the accusation against her was a "lie" by a disgruntled former employee.
"Let me be clear: I never engaged in any of the alleged behavior," she wrote. "These false allegations are disgraceful and demean the moment this country is in. For far too long, complaints of sexual harassment have been completely ignored."
Sexual harassment against men in the workplace is not unheard of. In a recent Pew Research Center survey, 7% of the men polled said they had experienced it, compared to 22% of the women. But the reversal of gender roles has given Ramsey's case an unusual political cast.
Ramsey, a longtime businesswoman, was perhaps the Democratic party's best hope to unseat vulnerable Republican U.S. Rep. Kevin Yoder in Kansas' 3rd congressional district — partially due to an endorsement by Emily's List, an influential Democratic organization that promotes women running for office.
A first-time candidate, she was featured in a New York Times story about women inspired to run for office largely due to their anger and disappointment with the Trump administration.
But Ramsey dropped out this week after reporters questioned her about an employee's 2005 lawsuit against LabOne, a company where she was vice president of human resources at the time.
The Kansas City Star reported that the employee, Gary Funkhouser, alleged Ramsey had made "unwelcome and inappropriate sexual comments and innuendos" toward him. In a complaint to the federal Equal Employment Opportunity Commission, he said "after I told her I was not interested in having a sexual relationship with her, she stopped talking to me," and later fired him.
The commission did not substantiate Funkhouser's complaint. He filed a lawsuit against the company, which denied the allegations but settled the lawsuit.
Funkhouser declined to comment to reporters except to say the matter had been settled. ("He has no comment," an unidentified woman responded Friday when The Los Angeles Times called a number listed under Funkhouser's name. "Thanks so much for calling.")
In her statement, Ramsey said she didn't have the opportunity to defend herself in Funkhouser's lawsuit because she wasn't named as the defendant, or else "I would have fought to exonerate my name and my reputation," and she "would have sued the disgruntled, vindictive employee for defamation."
But the Democratic party withdrew its support for her.
"In its rush to claim the high ground in our roiling national conversation about harassment, the Democratic Party has implemented a zero-tolerance standard," Ramsey said.
Ramsey accused the Democratic Congressional Campaign Committee of a "shortsighted and reactive decision to eviscerate our campaign by not providing it with structural or financial support."
In her farewell note, she tried to strike a balance in embracing the "Me Too" moment while clearly becoming consumed by the forces it has unleashed.
Ramsey lamented "a national moment where rough justice stands in place of careful analysis, nuance and due process," but also said that "on balance, it is far more important to me that women are stepping forward to tell their stories and confront their harassers than it is to continue our campaign."
A spokeswoman for the Democratic Congressional Campaign Committee did not respond to a message seeking comment. Emily's List removed Ramsey from its list of supported candidates and said in a statement, "We support her decision and we wish her well."
Matt Pearce is a national reporter for The Times. Follow him on Twitter at @mattdpearce.
---
Must-read stories from the L.A. Times
Get all the day's most vital news with our Today's Headlines newsletter, sent every weekday morning.
You may occasionally receive promotional content from the Los Angeles Times.