Missouri Gov. Eric Greitens to resign after months of scandal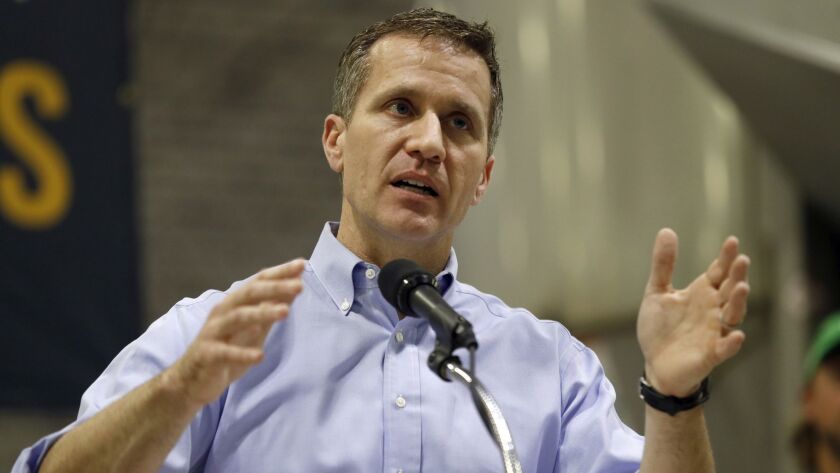 Missouri Gov. Eric Greitens announced Tuesday that he will step down from office Friday, abandoning a months-long effort to stay in office as he faced felony criminal charges and threats of impeachment by the state Legislature.
"l love Missouri, and I love our people. That love remains," a somber Greitens, a Republican, told reporters in Jefferson City, the state capital, where legislators had called for his resignation and a legislative oversight committee was investigating the governor's conduct.
Greitens, who has previously said he was the victim of a political witch hunt, said Tuesday that millions of dollars in attorneys' fees and what he described as legal harassment and personal attacks were starting to take their toll, including on his friends and family.
"It's clear for the forces that oppose us there is no end in sight," said Greitens, who did not immediately indicate why he picked Friday as the day to resign.
"This is not the end of our fight," he said. "I will always be a fighter for the people of Missouri. A great deal of work is left undone. … For the moment, let us walk off the battlefield with our heads held high."
Investigations by prosecutors and lawmakers examining possible sexual and financial misconduct by Greitens had offered the public a stark window into Missouri politics and into the private life of the governor, whose 16 months in office had also alienated many Republican leaders.
Some were concerned the scandals would dampen enthusiasm for Republican state Atty. Gen. Josh Hawley's U.S. Senate bid against Democratic incumbent Claire McCaskill.
Republican House Speaker Todd Richardson, who had previously called for Greitens' resignation, welcomed the governor's announcement. "We believe the governor has put the best interest of Missourians first today by choosing to resign," Richardson said in a statement. "The past few months have been difficult for everyone involved, including the Governor and his family."
Democratic leaders took a harsher view of Greitens' announcement.
"Innocent people don't resign and criminals don't get let off the hook simply because they cut and run," Missouri Senate Democratic leader Gina Walsh said in a statement. "Missourians deserve to know what laws were broken, what lies were told, and how deep the corruption went."
Greitens, a former Navy SEAL and philanthropist who won an outsider bid for the governor's seat in 2016, was a rising star in the Republican Party. Promising to shake up the political establishment, he caught national attention for firing a machine gun in one of his campaign ads.
But in January, media outlets in St. Louis revealed that a hairdresser, with whom Greitens had had an affair in 2015, had privately accused him of stripping her clothes off and photographing her naked against her will. The woman also testified to state legislators that Greitens had coerced her to perform oral sex.
Greitens, who admitted having the affair but denied allegations of sexually attacking the woman, was charged with felony invasion of privacy in St. Louis city circuit court.
Prosecutors dropped the case after Greitens' attorneys accused an investigator of wrongdoing. A Kansas City-area prosecutor has been appointed to determine whether the charge should be refiled.
"Our investigation continues," Jackson County Prosecutor Jean Peters Baker said in a statement Tuesday. "Our review of this case, as I have stated before, will be pursued without fear or favor."
The allegations of sexual misconduct were the most explosive scandal surrounding Greitens' administration, but the governor was also dogged by allegations of financial wrongdoing.
He was separately charged with a felony on suspicion of stealing a list of donors from his nonprofit group for veterans, The Mission Continues, and using the list to solicit donors to his campaign after he stepped down from the charity to run for office. He previously denied criminal wrongdoing, but on Tuesday prosecutors signaled that a plea agreement had been reached. They did not provide details.
"I have been in contact with the Governor's defense team over the past several days. We have reached a fair and just resolution of the pending charges," St. Louis city Circuit Atty. Kimberly M. Gardner said in a statement Tuesday. "We will provide more information tomorrow."
Greitens also caused concern among political opponents during his campaign by raising millions of dollars that were routed through advocacy nonprofits, limited-liability corporations and political action committees in a way that allowed the sources of the money to remain hidden, even today.
Michael Hafner, an aide who worked on Greitens' campaign, testified to state lawmakers that Greitens asked him to "have conversations with donors who intended to raise significant amounts of money and … conceal the identity of those donors."
Hours before Greitens' resignation, a Cole County judge had ordered a Greitens-linked nonprofit, A New Missouri Inc., to turn over documents to lawmakers seeking to determine whether Greitens or his supporters broke campaign-finance laws.
The head of the state House oversight committee investigating Greitens, Rep. Jay Barnes, a Republican, said last week that he had also spoken to the FBI about allegations that Greitens sought donations from foreign donors.
"I had direct conversations regarding foreign contributions with very high net worth individuals that Eric Greitens connected me with," Hafner tweeted, disputing Greitens' supporters' claims that he had given "dubious testimony."
The legislative oversight committee has also been unable to definitively establish who gave $100,000 to a St. Louis attorney who played a key role in revealing allegations of sexual misconduct against Greitens in January.
The attorney, Al Watkins, who represented the woman's aggrieved ex-husband, distributed private audio recordings to local media outlets in which the woman accused Greitens of attacking her.
Before the story became public, Watkins received $100,000 in cash from a Missouri newspaper publisher who said he was delivering the money on behalf of a "wealthy Republican" who had a personal problem with the governor, Watkins told the Los Angeles Times.
Greitens' attorneys have suggested that the source of the money might be housing developers — a powerful lobby in Missouri — who stood to lose millions of dollars after Greitens spearheaded an effort to shut down the state's lucrative low-income housing tax credit program. Greitens' replacement, Republican Lt. Gov. Mike Parson, is a supporter of the tax credit.
In a twist that has vexed legislators, Scott Faughn, the publisher who delivered the money to the lawyer, said the cash was his own.
Faughn, one of the most politically connected figures in the state, refused to reveal how he got more than $100,000 in cash. Faughn's sworn testimony appeared to directly conflict with the testimony given by Watkins.
"I would presume that this could lead to questions of perjury," Republican Rep. Curtis Trent said during the hearing.
Faughn did not respond to messages seeking comment.
Matt Pearce is a national reporter for The Times. Follow him on Twitter at @mattdpearce.
---
UPDATES:
6:00 p.m.: This article was updated with comments by Greitens and additional developments.
This article was originally published at 2:35 p.m.
---
Must-read stories from the L.A. Times
Get all the day's most vital news with our Today's Headlines newsletter, sent every weekday morning.
You may occasionally receive promotional content from the Los Angeles Times.