Must Reads: Nevada's monopoly on vice may be easing with push to eliminate nearly half the state's brothels
Reporting from Pahrump, Nev. —
A straight, 5-mile stretch is all that separates Heritage Bible Church from the brothels at the end of Homestead Road in Pahrump. The speed limit between sin and salvation is 45 mph.
Pastor W.R. Budd Hawk stood outside his white church on a Sunday morning before service and said he's seen the limousines headed toward the Chicken Ranch or Sheri's Ranch. "It's obvious where they're going," he said. "The cars are usually going pretty fast — maybe 60."
A few years ago, the church put up the Ten Commandments facing oncoming traffic in hopes it might slow people down, get them to reconsider their life choice. Hawk regularly prayed, of course, that the brothels would be closed.
Now he thinks those prayers could be answered.
Residents began gathering signatures in April to qualify ballot measures to make brothels illegal in Nye and Lyon counties. If successful, the referendum would eliminate nearly half of the state's 20 brothels. They have until June 15 to qualify the ballot measures for the November election.
It is one of the most significant steps many folks here can remember to ending legalized prostitution in Nevada — one of the state's unique identifiers that dates back to the 1800s. Over the decades, Nevada cultivated an image of being the place for visitors to come and do things not allowed back where they came from — gambling, 24-hour access to booze, legalized prostitution and, most recently, recreational marijuana.
In recent years, however, other states have been catching up with Nevada's long-held monopoly on vice. Gambling has proliferated. Recreational use of marijuana is available in several states, including California. And as other states have moved to embrace formerly forbidden economic drivers, Nevada has been edging toward a more traditional image.
Las Vegas got its first major pro sports team, the Golden Knights, in the National Hockey League this season. In 2020, the National Football League will arrive in the form of the Oakland Raiders — with a shiny, $1.9-billion stadium set to be completed in 2020. There is talk of the National Basketball Assn. coming on the heels of the Women's National Basketball Assn. arriving this year. Tesla filed new building permits for its Nevada Gigafactory last year for a $1.3-billion facility. And Nevada is regularly a focal point of election cycles as a pivotal swing state.
Supporters of eliminating brothels point to all those things and say Nevada needs to move into the future and shed its image as a destination for prostitution.
Jason Guinasso, who is helping to lead the effort to get the measures on the ballot, said the time is right to finally end legalized prostitution. The #MeToo movement, he said, has ignited a national dialogue on sexual misconduct by men, pushing legalized prostitution further from what's acceptable in society.
"If you view a woman as an object or commodity to be bought and sold, it shapes the way a community values women," Guinasso said. "It skews the male perspective, leading to more domestic violence and rape. Isn't it time to change the way we value women?"
Guinasso said proponents had originally wanted to tackle the issue at the state level but didn't find much support in Carson City. Even former Senate Majority Leader Harry Reid pushed for outlawing prostitution, but the effort was met with the equivalent of chirping crickets.
But Guinasso said if the counties begin eliminating brothels, it could have a domino effect. Counties with populations less than 700,000 are allowed to license brothels and have been regulated in the state since 1971 — though they've been around since the Old West era in the 1800s. Seven counties currently have legal brothels. Brothels are not permitted in Clark County, home to Las Vegas.
Michael Green, associate professor of history at the University of Nevada, Las Vegas, said the county-by-county approach is a novel one.
"If this does spread, I think it's incredibly significant," Green said. "Nevada has had this history of a libertarian approach to things — you do whatever you want as long as you don't bother me — but we have seen this changing in recent years with growth in urban centers and the population in rural Nevada growing more socially conservative as opposed to just libertarian-leaning."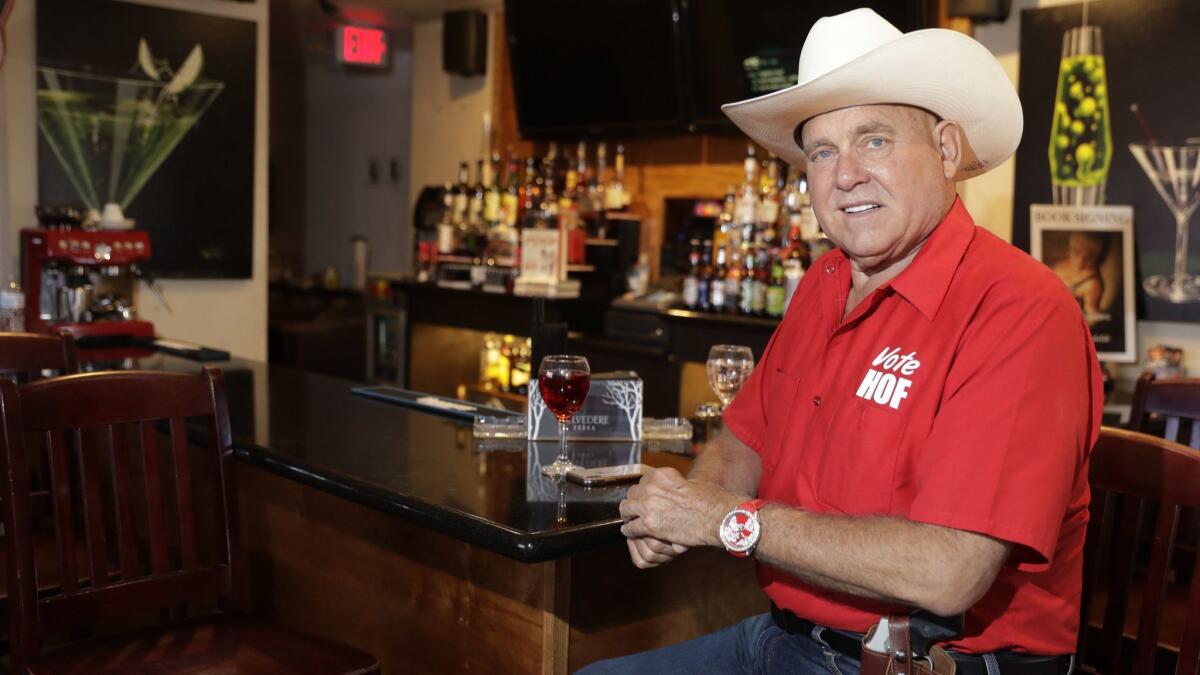 He also said the push to eliminate brothels from the two counties may be summed up in two words: Dennis Hof.
Hof, the high-profile, self-proclaimed pimp announced that he was running for state Assembly in November. He has approached the campaign against Republican incumbent James Oscarson with the subtlety of an air horn.
Billboards have popped up around Pahrump with pictures of Hof holding a semiautomatic rifle. An image on another billboard of Oscarson seems to refer to him as a primate.
When Nye County authorities shut down Hof's Love Ranch brothel on the outskirts of Pahrump earlier this year, Hof said it was dirty tricks by Oscarson and his allies. The county said Hof had repeatedly tried to skirt building permits needed for construction at his Love Ranch site. The brothel was reopened two weeks ago.
Hof has also had his own troubles. The Las Vegas Review-Journal reported two women recently filed police reports alleging sexual abuse by Hof, who denied the accusations.
The 71-year-old, who owns the only four brothels in Lyon County and three more in Nye County, said the attempts to criminalize prostitution will lead to more illegal sex trafficking and a need to raise taxes to invest in vice units.
"I'm a professional. I know what it takes to cut down sex trafficking," he said. "When you make the business illegal, the criminals run the business. That's the reason you legalize it. In the legal world, pimps with underage girls aren't welcome. They can't get licensed. They can't get into the business. You eliminate 90% of the sex trafficking by legalizing the business."
Hof also pointed out that Guinasso works at the same law firm as Lt. Gov. Mark Hutchison, who has endorsed Oscarson.
Guinasso acknowledged the Hutchison connection but said the issue of prostitution in Nevada was bigger than Hof. He said it was about moving the state out of the past and making Nevada more attractive for other businesses to locate in the state and saving women from sexual slavery in the form of prostitution.
"The fact that Hof is running for office just puts a face to the problem as we see it," Guinasso said. "He epitomizes what is wrong with the legalized prostitution industry."
Christina Parreira, a sex worker at a Hof brothel, said the push for women's rights should include allowing people like her the option to engage in legalized prostitution and that she and others in the industry don't need rescuing.
But the 32-year-old, a UNLV graduate student who said she's working on a doctorate in sociology, is taking the petitions seriously and worries that supporters may use the #MeToo movement as a springboard to get it on the ballot in November.
"The #MeToo movement is about sexual assault, sexual misconduct and rape — not things that happen in brothels," Parreira said. "But to a person who doesn't know about brothels, it may seem that way. I'm not saying brothels are perfect, but this is a licensed business that puts safety first."
She said there are panic buttons by the beds, and house managers know where they are when they enter the room with a customer. She said the walls are thin, and "if you scream, you'll be heard." She said if the panic button is hit, "the whole house will come in and beat him half to death."
"It would seem like a bad place to rape somebody," she said.
But at a recent Saturday meeting in Pahrump, where volunteers were being trained on how to gather signatures and parry any questions about the ills of brothels, Dennis Boylan spoke up and said the legalized prostitution era should be over.
Hof, he said, was "making a living off the selling of people." The pastor of It Is Finished Ministries — his church is in a small strip mall anchored by a gas station — preached for about 20 minutes on a recent Sunday morning about the need to drive Hof and the brothels out of business.
"What they're doing steals souls and steals lives," Boylan said.
But at Heritage Bible Church, Hawk said he doesn't think the brothels will go down easily.
He said he talked to a man who regularly attended his church but, when asked if he would back the measure to eliminate the brothels, Hawk said the man told him he was OK with whichever way it goes. The pastor said the libertarian strain in rural Nevada remains alive and well.
Hawk said "as a Christian, I have to stand up for what I believe is right." The pastor looked out beyond the parking lot where an occasional car zipped along Homestead Road past the church.
"Maybe we'll get them on the way back," he said.
Twitter: @davemontero
Sign up for Essential California for news, features and recommendations from the L.A. Times and beyond in your inbox six days a week.
You may occasionally receive promotional content from the Los Angeles Times.