U.S. military to allow transgender men and women to serve openly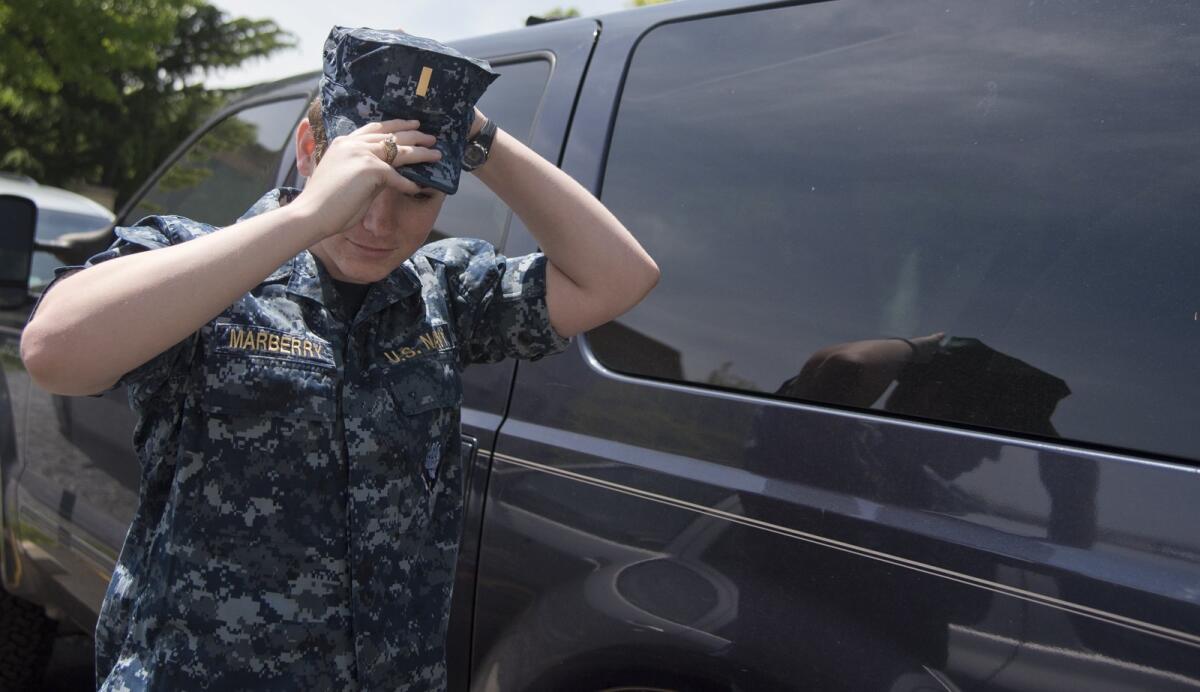 Reporting from Washington —
The Pentagon on Thursday lifted a long-standing ban against transgender men and women serving openly in the military, removing one of its last discriminatory hurdles and placing gender identity on par with race, religion, color, sex and sexual orientation.
The announcement by Defense Secretary Ashton Carter is part of a fundamental shift in the straight-laced, male-dominated U.S. military, which in 2011 ended discrimination against gays and lesbians. More recently, it opened all combat positions to women and appointed the first openly gay Secretary of the Army, Eric K. Fanning.
"Our mission is to defend this country, and we don't want barriers unrelated to a person's qualification to serve preventing us from recruiting or retaining the soldier, sailor, airman or Marine who can best accomplish the mission," Carter said. "We have to have access to 100% of America's population for our all-volunteer force to be able to recruit from among them the most highly qualified — and to retain them."
Ending the transgender ban, which followed an extensive one-year review, will affect a small fraction of individuals serving in the armed forces, or about 0.1% of the approximately 2 million active and reserve members in the U.S military.
Still the social and political ramifications are likely to be felt more broadly. The military has often been a trailblazer in taking steps against discrimination, most notably ending segregation of African Americans in the 1940s.
The move also comes as conservative states like North Carolina and others push to impose new restrictions on transgender men and women, such as requiring them to use public bathrooms based on the gender stated on their birth certificates.
Critics in Congress were quick to respond. Rep. Mac Thornberry (R-Texas), chairman of the House Armed Services Committee, said in a statement that the decision was "the latest example of the Pentagon and the president prioritizing politics over policy."
Privately, some senior military leaders believe the Pentagon is moving too fast and has not yet resolved issues related to implementation of the plan. In recent weeks, Carter has met with military chiefs to hear concerns and suggestions to ease the process.
Gen. Joseph F. Dunford Jr., former Marine commandant and now chairman of the Joint Chiefs, was noticeably absent during Carter's announcement. Officials said he was hosting a general's retirement party.
"This is my decision," Carter said when asked about Dunford's absence. "However, we have arrived at it together, the senior leadership of the department."
The move came nearly five years after the formal end of "don't ask, don't tell," a 17-year-old policy that barred gays and lesbians from serving openly in the military.
Under that policy, thousands of men and women in uniform were expelled because of their sexual identity. Openly gay civilian employees at the Defense Department faced similar discrimination until 1995 because they often could not obtain security clearances needed to work in national security agencies.
The Pentagon took its first significant step toward lifting the ban on transgender service members last July when Carter announced a six-month study designed to examine what it would take to make the change.
Under the old rule, the Pentagon banned transgender troops from openly serving. If they revealed their transgender identity, they could be kicked out or denied reenlistment solely on that basis.
The new plan will be phased in over a one-year period, but transgender service members currently on duty will be able to immediately serve openly. Carter gave the armed services until Oct. 1 to create medical and training plans and until July 1, 2017, for full implementation.
The Pentagon does not have a precise count of how many transgender men and women are in the services now because they face discharge if they reveal their identities.
Out of an estimated 1.3 million active service members, there are as many as 6,630 transgender men and women who will be affected by the decision, according to a study by RAND Corp., the Santa Monica-based think tank.
"Only a small portion of service members would likely seek gender transition-related medical treatments that would affect their deployability or healthcare costs," said Agnes Gereben Schaefer, lead author of the study and a senior political scientist at RAND.
The study, commissioned by the Pentagon, estimates that between 30 and 140 new hormone treatments a year could be initiated by transgender service members. In addition, there may be 25 to 130 gender transition-related surgeries utilized a year among active service members.
As a result, U.S. military healthcare costs are expected to increase between $2.4 million and $8.4 million — or a 0.13% increase.
Carter said gender reassignment surgery and other treatment deemed "medically necessary" by a physician may be covered in as soon as 90 days.
Transgender men and women seeking to join the military would be required to wait 18 months after transitioning before being accepted.
Lesbian, gay, bisexual and transgender, or LGBT, groups applauded the Pentagon for opening the door to equality for transgender soldiers.
Aaron Belkin, director of the Palm Center, a LGBT research institute based in San Francisco, said the ban against transgender men and women "crumbled with record speed" in comparison to the protracted battles involving race-, gender-, and sexual orientation-based discrimination.
"With the repeal of 'don't ask, don't tell' and the elimination of the combat exclusion rule on women, today's historic step to end transgender discrimination completes the Obama administration's successful effort to strengthen our armed forces by ensuring that service is based on people's merit and not their personal identity," he said.
The Palm Center estimates that there are about 12,600 transgender members of the U.S. military, making the Defense Department the largest employer of transgender people in America.
Questions remain about how the department will handle cases of service members who transition after joining the military, such as determining which bathrooms they would use or where they would shower and sleep during the process.
A senior military official, who was not authorized to speak publicly on the matter, told a group of reporters those topics and others would be addressed over the next year.
"We haven't made determinations," the official said. "We're going to trust our commanders to deal with it."
Carter stressed that during his tenure, he has been impressed with the transgender soldiers he has encountered.
"They've deployed all over the world, serving on aircraft, submarines, forward operating bases and right here in the Pentagon," Carter said. "One service member I had met with described how some people had urged him to leave the military, because of the challenges he was facing with our policies, and he said he just wouldn't quit. He was too committed to the mission, and this is where he wanted to be."
william.hennigan@latimes.com | Twitter: @wjhenn
ALSO
A proud soldier as a man, and maybe once again as a woman
Why do transgender people join the military in such high numbers?
Border officials clear agents in four deadly force cases
Trump was once so involved in trying to block an Indian casino that he secretly approved attack ads
---
UPDATES:
2:59 p.m.: This post was updated with additional details and reaction.
10:43 a.m.: This post has been updated with a statement by Defense Secretary Ashton Carter.
This post was originally published at 10:30 a.m.
Sign up for Essential California for the L.A. Times biggest news, features and recommendations in your inbox six days a week.
You may occasionally receive promotional content from the Los Angeles Times.