Joe Biden says jury is out on whether he'll challenge Trump in 2020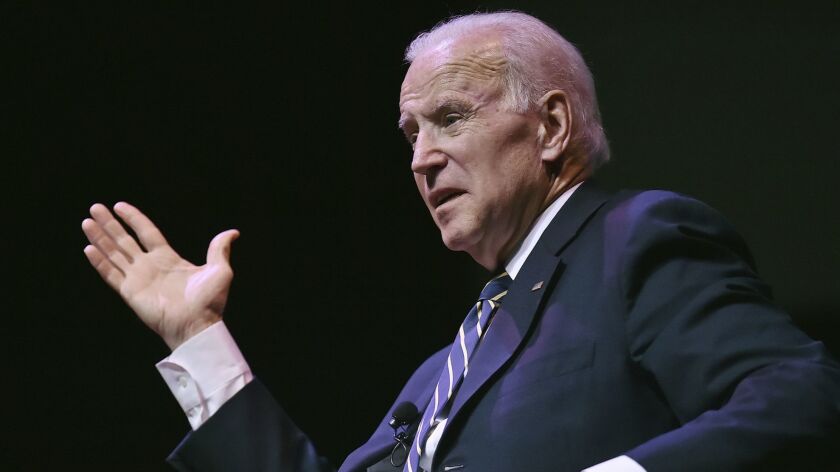 Reporting from NEW HAVEN, CONN. —
Former Vice President Joe Biden, speaking to a sold-out crowd in Connecticut, declined to escalate a feud he sparked days earlier with President Trump, and said "the jury's still out" on whether he will challenge Trump in 2020.
After saying Tuesday that he would have "beat the hell out of" Trump in high school for the crude comments the president has made about women, Biden offered a wide-ranging discussion that focused mostly on his long career in public service, speculation that he could run for president and his assessment of the political divide in the country.
"Honest to God I don't know," Biden said when he was asked by WNPR host Lucy Nalpathanchil, who moderated the discussion Friday night, about his plans for 2020. "I have to be able to stand in front of a mirror and look in the mirror and know that if I don't run it's not because I'm afraid of losing, it's not because I don't want to take on the responsibility, it's because there's somebody better to do it and/or because emotionally I'm not positioned to be all in. And so the jury's still out."
Biden's name continues to be floated as a possible Democratic challenger to Trump even though Biden would be 78 on Inauguration Day in 2021. Biden declined to run in 2016 partly due to the death of his son, Beau, from brain cancer, a decision he later said he regretted.
"I had planned on running for president," Biden said. "But then my son, my soul, Beau, was diagnosed after he came home from having volunteered to go to Iraq for a year. ... He got a diagnosis which was essentially a death sentence. ... I knew I couldn't run."
Biden spoke during an appearance at Southern Connecticut State University in New Haven before a crowd of 1,500 people. After taking the stage at 8:36 p.m., about an hour later than expected, he apologized for being late but said he had been asked by his former colleague, Sen. John McCain (R-Ariz.), to speak on his behalf at an event at the U.S. Naval Academy.
"Of course, you're my friend," Biden said he told McCain. "We go at each other hammer and tong, but he's my friend."
The former vice president mostly laid off Trump three days after he had ripped into the president during an anti-sexual assault rally at the University of Miami. Biden was talking about a tape uncovered during the 2016 presidential campaign in which Trump made vulgar comments about groping women.
"They asked me would I like to debate this gentleman, and I said no. I said, 'If we were in high school, I'd take him behind the gym and beat the hell out of him,'" Biden said.
Trump responded on Twitter by calling Biden "crazy" and "weak, both mentally and physically."
"He doesn't know me, but he would go down fast and hard, crying all the way," Trump wrote.
Earlier Friday, Biden said he regretted talking about getting physical with Trump.
"I shouldn't have said what I said ... because I don't want to get down in the mosh pit with this guy," he said on Pod Save America, a Washington political podcast.
But Biden did not ignore Trump in New Haven, saying he was alarmed that white supremacists seem to feel emboldened by the president.
"Hate crimes are up," Biden said. "Our children are listening. Silence is complicity. I really mean it."
Biden said he had "kept my mouth shut" to give Trump a chance to establish a government, believing that the billionaire businessman never thought he would win the presidency. But after Trump said there was "blame on both sides" when white nationalists and protesters clashed in Charlottesville, Va. "I couldn't remain silent after that."
Biden posited that the country is more united than when he first ran for Senate in 1972, even if politicians aren't.
"We are less divided as people on issues than when I ran as a 28-year-old kid," Biden said. "What's broken is our political system. ... All we talk about today is the other person is bad. I look at Republicans as the opposition; they are not the enemy, they are not my enemy. But in both parties today ... they look at each other as the enemy."
Blair writes for the Hartford Courant.
---
Must-read stories from the L.A. Times
Get the day's top news with our Today's Headlines newsletter, sent every weekday morning.
You may occasionally receive promotional content from the Los Angeles Times.