U.S. seeks to persuade Asian nations to keep pressure on North Korea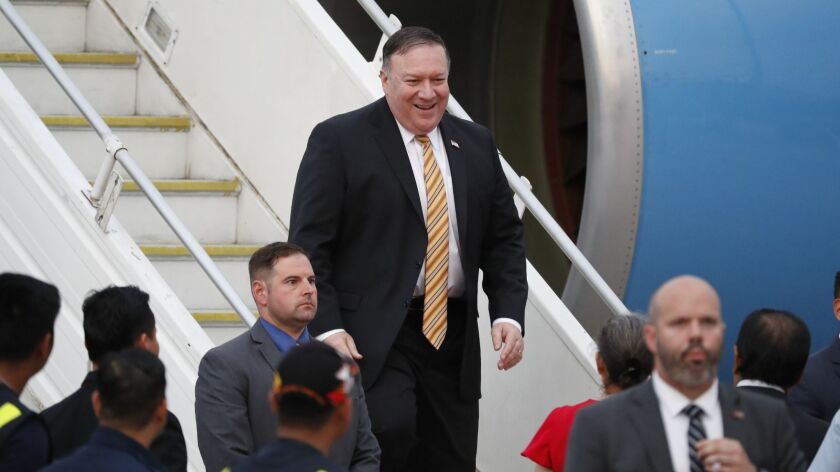 Reporting from Singapore —
With a modest investment package and contradictory messages, the Trump administration is attempting to counter China's powerful influence in Southeast Asia while also urging the region's countries to keep up pressure on nuclear-armed North Korea.
Secretary of State Michael R. Pompeo arrived in Singapore on Friday as part of a three-nation trip that will include meetings with officials of roughly two dozen governments. The meetings are part of a foreign ministers' summit of the Assn. of Southeast Asian Nations, which also includes "partners," including the United States, China, Australia and Iran.
Pompeo's trip is part of Washington's attempt to reshape and expand its footprint in Asia. The Trump administration has tried to relabel the Asia-Pacific region as the Indo-Pacific in an effort to incorporate India into the region's diplomacy as a counterbalance to China.
Also on the sidelines of the minister-level summit, Pompeo met his Turkish counterpart Friday to press again for the release of an American Protestant minister detained there for nearly two years. The State Department characterized Pompeo's talks with Mevlut Cavusoglu as "constructive." Earlier this week, the Trump administration hit Turkey with economic sanctions to demand the release of the preacher, Andrew Brunson, and other U.S. citizens swept up in a massive crackdown on dissidents.
Speaking to reporters traveling with him to Singapore, Pompeo said the Turkish government was "on notice" that the "clock had run" and that it was time for Brunson to go home.
"I hope they'll see this for what it is, a demonstration that we're very serious," Pompeo said. "Brunson needs to come home. As do all the Americans being held by the Turkish government. Pretty straightforward. They've been holding these folks for a long time. These are innocent people."
The main theme here, however, is the giant potential of the region's economic power. Ahead of his trip, Pompeo said the United States had a stake in the peace and prosperity of a "free and open Indo-Pacific."
But Pompeo's efforts have been overshadowed by President Trump's escalating trade war with China. Far from an open market, several countries in the region say, it seems the United States has become more protectionist.
Pompeo said this week that the United States is prepared to offer about $130 million in investment projects involving the U.S. private sector, and he criticized China's investment programs that often saddle countries with unexpected debt.
Still, the U.S. aid package pales in comparison to China's massive "Belt and Road" initiative, which is planning hundreds of billions of dollars worth of projects across Asia, Europe and Latin America.
In his Singapore meetings, Pompeo will also urge Asian countries to keep up pressure on North Korea by continuing to enforce tough economic sanctions. The sanctions were imposed on Pyongyang by the United Nations and are aimed at discouraging its nuclear activities.
Pompeo maintains that the sanction regime is largely intact, but several of the region's governments have begun to relax the measures, which targeted North Korea's imports and exports as a means to strangle the government of Kim Jong Un economically and cause diplomatic and political isolation.
China, Pyongyang's chief ally, has been accused by U.S. officials of reneging on sanctions and allowing some trade to resume.
The efforts to pressure North Korea come as the United States continues to try to negotiate with North Korean leader Kim Jong Un on a program to "denuclearize" the Korean peninsula. Many officials in Washington remain skeptical about Kim's intentions, despite Trump's apparent willingness to believe and praise the ruthless dictator.
"We too remain concerned about the scale of North Korea's illicit procurement, in particular of refined petroleum products via U.N.-prohibited ship-to-ship transfers," a senior State Department official said. Ship-to-ship transfers often involve Chinese vessels.
The official, who briefed reporters on condition of anonymity in keeping with State Department rules, said a key goal of the meetings was to remind countries of the success a global coalition confronting North Korea has had in encouraging Pyongyang to come to the negotiating table.
"On North Korea, these are more than 'asks.' It's a reminder of their obligations," the official told reporters aboard Pompeo's flight to his first stop, Kuala Lumpur. "We do have concerns that North Korea is not meeting its obligations."
For all Pompeo's intentions, the administration's message conflicts with many of the region's needs or concerns. U.S. diplomats also often diverge from Trump positions.
The one meeting that Pompeo will chair involves countries from the Lower Mekong River region, including Laos and Vietnam, which have experienced deadly flooding and other environmental disasters.
Administration officials emphasized their interest in promoting work with the countries to collect what they called water data. But many of these countries blame the disasters on climate change, a problem which many in the Trump administration dismiss.
The official would not say whether Pompeo was prepared to discuss climate change. Pressed, the official finally said that the issue of climate change "comes up from time to time."
Similarly, Pompeo and his staff have been emphasizing the multilateral approach that the United States enjoys with ASEAN and similar organizations in the region. Yet Trump has evinced disdain for group efforts, preferring one-on-one bilateral agreements. One of his first acts, for example, was to withdraw from the Trans Pacific Partnership accord, which would have united numerous Pacific Rim countries and the United States in trade deals as a counter to China.
The region is still reeling from that decision and has felt less confident of U.S. partnership, diplomats say.
The official who briefed reporters insisted multilateralism was still alive and well.
"The United States is very much about multilateralism," the official said. "That's how we work with these countries."
For more on international affairs, follow @TracyKWilkinson on Twitter
---
Must-read stories from the L.A. Times
Get the day's top news with our Today's Headlines newsletter, sent every weekday morning.
You may occasionally receive promotional content from the Los Angeles Times.