Trump administration struggles to win Arab support for helping rebuild Syria, leaving U.S. pullout uncertain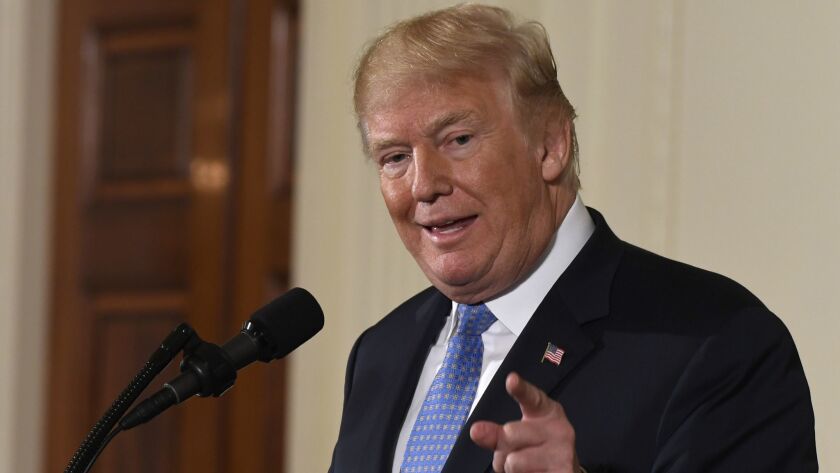 Reporting from Washington —
The Trump administration is struggling to assemble a coalition of Arab military forces to replace U.S. troops battling Islamic State militants in eastern Syria, a roadblock that could indefinitely delay President Trump's goal of pulling American forces out of the country, U.S. officials said.
Allies in the region are deeply skeptical about sending their troops — and many are even reluctant to contribute funds — to help stabilize cities and towns liberated from Islamic State, according to senior U.S. officials, if the United States intends to pull out, as Trump has threatened.
Roughly 2,000 U.S. troops have been working with local fighters in eastern Syria to defeat Islamic State. The militants' presence east of the Euphrates River has shrunk to a few towns and rural strongholds that are being pounded by U.S.-led airstrikes.
But what to do once those fighters are defeated remains a matter of stark disagreement between Trump and his advisors, especially at the Pentagon, where officials fear Trump's desire for a rapid troop pullout could enable the militants to regroup and give a freer hand to Russia and Iran.
Trump signaled plans for an abrupt U.S. pullout this month when he declared he wanted to remove American troops "very soon," and news reports indicated he told aides he wanted them out in six months. Pentagon and State Department officials rushed to reassure allies involved in possible contributions to a Syrian follow-on force that there is no timetable for a U.S. pullout.
Even so, the prospects for Saudi Arabia, Egypt and other Arab countries to send troops and trainers to Syria is remote, U.S. officials said. Although worried about Iran's growing presence, they fear becoming bogged down in Syria's multi-sided civil war and being handed the difficult job of controlling Islamic State.
"There is no serious appetite in the region to do that much on the ground," said a senior U.S. official involved in the talks with allies, who spoke on the condition he not be identified to discuss internal assessments. "One thing is certain: No other military, particularly from the region, will enter Syria if we are not there in some capacity."
Saudi Foreign Minister Adel Jubeir told reporters in the capital, Riyadh, this week that his government has been in discussion with Washington "since the beginning of the Syrian crisis about sending forces into Syria." It has yet to send ground troops in, however.
U.S. officials are warning the White House that the U.S. is risking repeating the same mistake it made in Iraq, when President Obama withdrew U.S. forces in December 2011 — despite warnings from the Pentagon and critics that Iraq was still unstable — only to send them back in 2014 after Islamic State fighters swept across the border from Syria and appeared on the verge of capturing Baghdad.
"We learned that the Iraqi forces were incapable of providing security inside the country, and that gave the enemy an opportunity to resurge," Marine Gen. Joseph Dunford, chairman of the Joint Chiefs of Staff, said Thursday in testimony to the Senate Armed Services Committee. "That's where, really, ISIS had the space to grow."
Hoping to prevent a recurrence, the Pentagon is discussing a plan to continue U.S. airstrikes and special operations raids against Islamic State, also known by the acronym ISIS, in Syria even after U.S. ground forces withdraw. The concept is aimed partly at reassuring allies worried that the U.S. will leave them unprotected if they contribute to a stabilization force in eastern Syria, the officials said.
U.S. ground troops would be gradually withdrawn beginning later this year. But airstrikes and ground operations staged from nearby bases in the region would aim to keep Islamic State contained, targeting leaders, bomb-making facilities, equipment and training facilities, a second official familiar with Pentagon planning said.
That would enable Trump to claim he fulfilled his vow to remove U.S. forces without completely disengaging from Syria, the officials said. But they conceded that they are unsure how long the president is prepared to let U.S. ground troops remain.
Although he has not yet set a deadline for a U.S. pullout, Trump has made clear he wants to hand off the mission in Syria as soon as possible to regional allies. That has heightened the urgency of getting pledges of financial and military support.
Hours after he won his Senate confirmation Thursday, Secretary of State Mike Pompeo left on his first official trip. Syria was high on the agenda in his visits with military allies at NATO headquarters in Brussels, as well as in planned stops in Saudi Arabia, Jordan and Israel.
Highlighting the split between Trump and his advisors, Defense Secretary James N. Mattis said the U.S. would "probably regret" not leaving troops in Syria to train local security forces in liberated areas and to protect Syrian militias that have aided the U.S. effort.
"We have to create local forces that can keep the pressure on any attempt by ISIS to try to regenerate," Mattis told the Senate Armed Services Committee on Thursday.
Sen. Lindsey Graham (R-S.C.) warned Mattis and Dunford that the Syrian Democratic Forces, a grouping of Arab and Kurdish militias that has become the main U.S.-allied ground force, could face attacks from Turkish forces.
Infuriated by Washington's support for Syria's Kurds, Turkey launched a military campaign in January, dubbed Operation Olive Branch, to rout the U.S.-backed force from near the Syrian-Turkish border, where the Kurds hope to create their own state inside Syria.
Turkey considers the Syrian Kurds to be terrorists linked to restive Kurdish separatist groups at home, against which it has fought a decades-long insurgency war.
Turkish special forces working alongside Syrian rebel groups last month captured Afrin, a Kurdish-majority enclave near Aleppo city. The town of Manbij, where some U.S. troops are stationed approximately 50 miles northeast of Aleppo, may be their next objective.
U.S. lawmakers are pressing Pentagon officials not to abandon the Kurds.
"If we leave too soon, Turkey is going to go after the Kurds that helped us destroy ISIS. Are you worried about that?" Graham asked Mattis. "We've got to get that situation right before we leave."
In a meeting Friday in Brussels with Turkish Foreign Minister Mevlut Cavusoglu, Pompeo urged Turkey to abide by its promise to reach a negotiated settlement on Manbij's future, according to a senior official who briefed reporters traveling with the new secretary of State.
The U.S. also is discussing offering other inducements to regional allies to help in Syria, such as offering to name Saudi Arabia a "major non-NATO ally," a designation held by 16 other countries that widens access to U.S. weapons sales and Pentagon stockpiles.
The United Arab Emirates pledged to contribute $60 million in humanitarian assistance for Syria at a conference this week in Brussels. But U.S. officials say such pledges are largely focused on assisting refugees, not on rebuilding infrastructure and training local police, the tasks considered most vital for stabilizing eastern Syria.
Any contributions will mean little if Trump orders an abrupt U.S. withdrawal, officials said.
"Nobody will invest hundreds of millions of dollars if they think we are just leaving," said one of the senior officials. "It is all quite uncertain."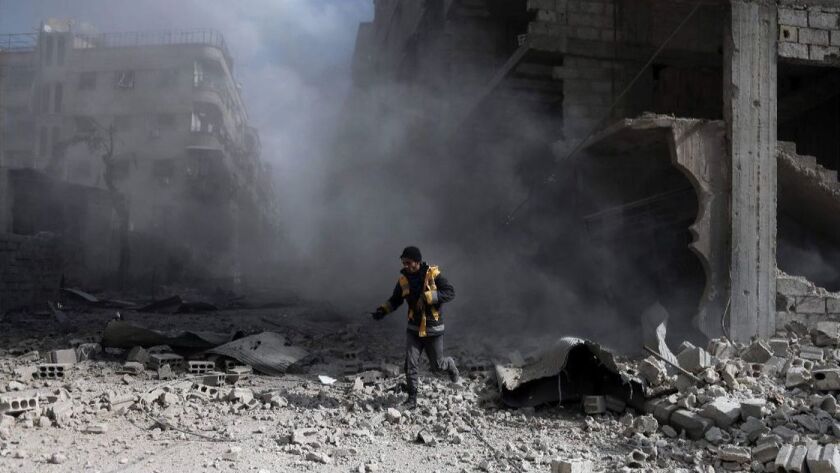 Twitter: @davidcloudLAT
---
UPDATES:
5:25 p.m.: This report has been updated with a comment from the Saudi foreign minister.
This article was originally posted at 2:35 p.m.
---
Must-read stories from the L.A. Times
Get all the day's most vital news with our Today's Headlines newsletter, sent every weekday morning.
You may occasionally receive promotional content from the Los Angeles Times.