Kentucky teachers rally at Capitol over state budget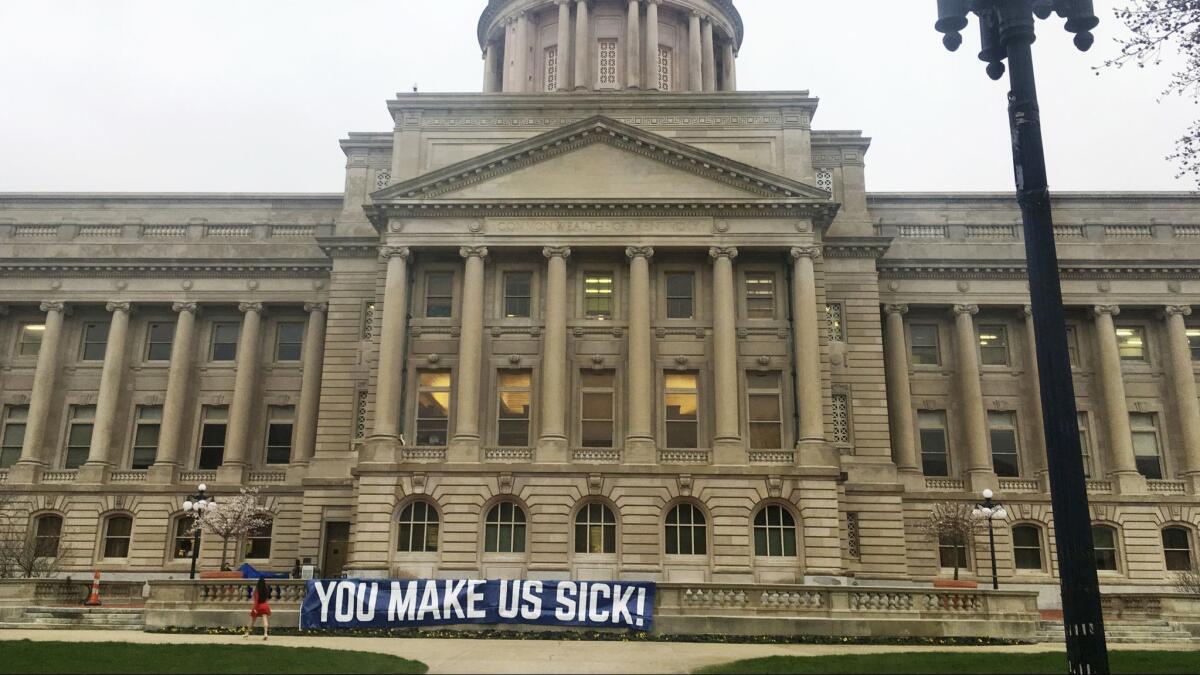 Reporting from FRANKFORT, Ky. —
Thousands of Kentucky teachers filled the streets near the state Capitol in Frankfort on a cold, overcast Monday to rally for education funding.
Teachers and other school employees gathered outside the Kentucky Education Assn. a couple of blocks from the Capitol chanting, "Stop the war on public education" and holding or posting signs that say, "We've Had Enough."
"We're madder than hornets, and the hornets are swarming today," said Claudette Green, a retired teacher and principal.
The rally is happening after hundreds of teachers called in sick Friday to protest last-minute changes to their pension system.
Teacher unrest is not just limited to Kentucky. Educators in Oklahoma were gearing up Monday to march on their state capital as well.
Oklahoma teachers are demanding that lawmakers approve more education funding just days after the Legislature did just that.
Some teachers are saying the legislation signed by Gov. Mary Fallin last week was not enough. The measure increases taxes on cigarettes, fuel and oil and gas production to provide teachers with raises of about $6,100, or 15% to 18%.
Earlier this year, teachers in West Virginia walked off the job for nine days to secure a 5% pay raise.
In Kentucky, teachers have rallied several times during this year's legislative session to protest the pension bill, but Monday's event is shaping up as their biggest event because many districts are on spring break.
Republican lawmakers passed a pension overhaul Thursday that preserves benefits for most workers and does little in the short-term to address the state's massive debt. The move was done in response to one of the worst-funded public retirement systems in the country and in defiance of a powerful teachers union that vowed political retribution.
Republican Gov. Matt Bevin has not yet signed the bill, but last week tweeted his support, saying public workers owe "a deep debt of gratitude" to lawmakers who voted to pass it.
During Monday's rally, some teachers, angry at lawmakers who supported the bill, chanted, "Vote them out."
Melissa Wash, a first-grade teacher from Gallatin County who has been teaching for 19 years, said she voted for Bevin, but now plans to become a Democrat. To the lawmakers who voted for the pension overhaul, she said: "You better not count on another year in office."
Erica Sudduth, a 29-year-old elementary school teacher in Kenton County, said frustration has been building for years.
"What used to be the way my grandmother used to teach, things used to be different, things used to be a lot simpler. And for years they have been adding more and more and more on to teachers and we have been putting up with all of it. We have held our tongue this whole time and now it is just coming to a boiling point."
Sign up for Essential California for news, features and recommendations from the L.A. Times and beyond in your inbox six days a week.
You may occasionally receive promotional content from the Los Angeles Times.