Red-state revolt continues: Teachers strike in Oklahoma and protest in Kentucky
Thousands of Oklahoma teachers went on strike Monday to demand higher pay and more education funding, digging in for a prolonged walkout as discontent spreads among public educators in conservative states.
The teachers' strike — Oklahoma's first since 1990 — came the same day thousands of Kentucky teachers packed the halls of the state Capitol, chanting and singing to protest changes to their pension plans. Most Kentucky schools are out for spring break, but some had to close because of the teachers' protest.
"We're not gonna take it," sang the Kentucky teachers, joining in a rendition of the defiant rock anthem by Twisted Sister. "No, we ain't gonna take it. We're not gonna take it anymore."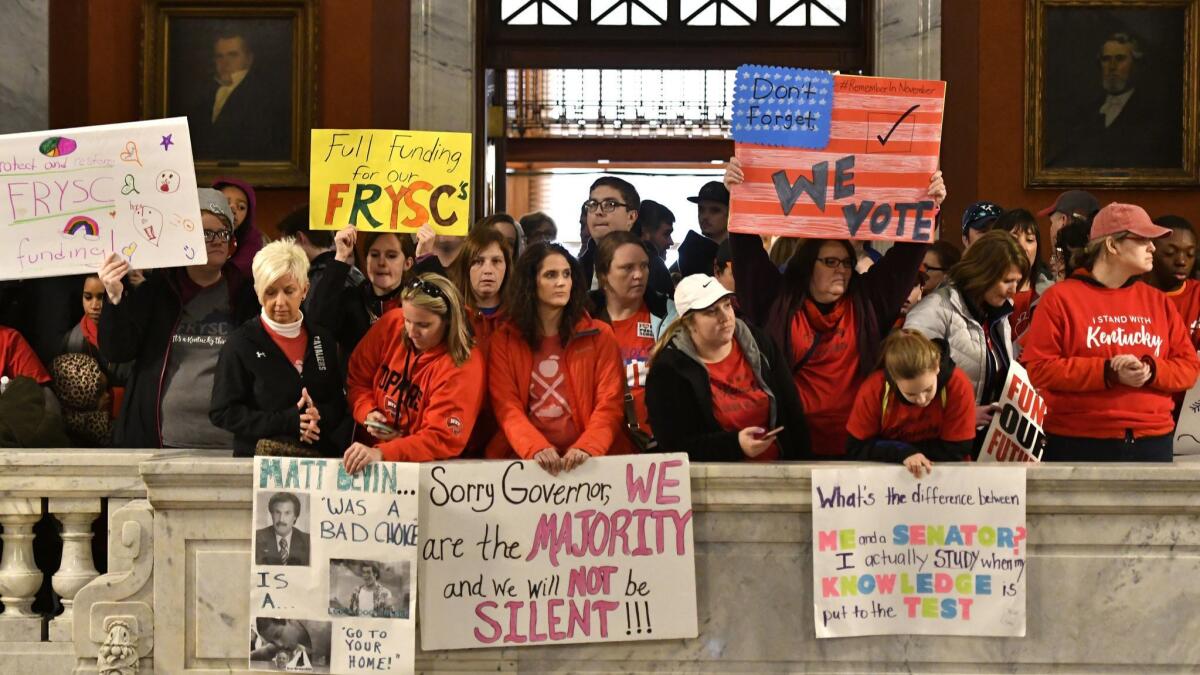 The message was similar in Oklahoma: There have been too many cuts.
"Teachers are so drastically underpaid they are forced to donate plasma, work multiple jobs and go to food pantries to provide for their families," Oklahoma Education Assn. President Alicia Priest said in a video to members kicking off the strike. "Oklahoma is better than this."
As the U.S. Supreme Court stands poised to potentially deal a major blow to organized labor in union-friendly blue states, the labor movement has shown unexpected strength this year in red states where labor protections are comparatively weak.
The national economy's upswing appears to have given little lift to many public schoolteachers, who have complained of losing ground financially under conservative legislatures that have often prioritized lower taxes to spur business growth.
The fire started in West Virginia, a right-to-work state where teachers were angered by soaring health insurance costs. One state plan required teachers to download an app on their phones, called Go365, that would track their steps during the day to make sure they would get enough exercise, or else they faced a $500 penalty.
As discontent spread, the teachers organized a statewide, 55-county strike that lasted nine days, ending when Republican Gov. Jim Justice started a commission to address the state's public healthcare system and signed a bill approving 5% across-the-board pay raises. The Go365 plan was canceled.
Following West Virginia's victory, the fire spread.
Teachers in Oklahoma, Kentucky and Arizona began private protest-themed Facebook pages that rapidly gained tens of thousands of followers. In those groups, teachers grumbled about low pay and posted photos of the sometimes shoddy classroom conditions for their students.
The massive platforms made it easier for teachers to communicate statewide, sometimes suggesting strikes like West Virginia's, while teachers from West Virginia sometimes chimed in to show their support for counterparts in other states.
In Oklahoma, as in West Virginia, teachers got a boost from their bosses as school boards and superintendents expressed frustration with the mass defections of teachers to neighboring states such as Texas, which offer much better pay.
Oklahoma schools, which are funded in large part by the state budget, have been hobbled by the decline in oil and natural-gas prices — a major source of tax revenue in Oklahoma — in addition to a requirement that legislative tax increases win at least 75% approval.
As the state Legislature failed to pass funding increases that met that high burden over the last year, discontent grew among Oklahoma school districts.
School boards across the state began debating and then approving school cancellations to support the Monday strike date proposed by the Oklahoma Education Assn., which the union threatened unless lawmakers approved $10,000 in raises for teachers across three years.
Last week, Republican Gov. Mary Fallin signed a bill that would increase average pay by about $6,000 — which would mark the state's first tax increase since 1992, and the first across-the-board raise for teachers since 2008. Teachers said it was not enough.
Priest, the Oklahoma Education Assn. president, called it a "down payment" and accused legislators of undermining the raises by failing to secure the necessary funding to back up the bill.
"We'll be back tomorrow and the next day and the next day until we get the funding we deserve," Priest said in an interview, also calling for the state "to get back on target for funding things like the arts in schools, world languages, physical education classes, [and hiring] teachers to make the class sizes smaller."
Fallin, in a statement, said she appreciated teachers coming to Oklahoma City to protest, adding that the funding increase so far "represents a 19.74% increase in the appropriations for public schools."
But Fallin added: "Significant revenue-raising measures were approved to make this pay raise and additional school funding possible. We must be responsible not to neglect other areas of need in the state such as corrections and health and human services as we continue to consider additional education funding measures."
In Arizona, teachers have asked for a 20% pay raise. They rallied at the state Capitol last week, dressed in red, with some supporters raising the idea of a strike.
In Kentucky, teachers were outraged after the Republican-led Legislature quickly introduced and passed a pension reform bill last week that — among other measures — would give lawmakers the power to adjust the pension plans of new teachers. Currently, teachers receive pension benefits that are "inviolable" under state law, meaning lawmakers can't change them.
Educators quickly mobilized in protest.
"This is just one more dig at public education as a whole, and you're seeing that all across the nation, from West Virginia to Arizona," Stephanie Winkler, president of the Kentucky Education Assn., said at a Monday news conference.
"We need to stop giving away more money in tax credits to the rich and start doing more responsible revenue measures to pay for all the vital public services that the citizens of the commonwealth deserve," Winkler said.
The bill awaits the signature or veto of Republican Gov. Matt Bevins, who expressed broader concern about the Legislature's latest budget proposal, which raises taxes, and which Bevins said "may not meet the basic standards of fiscal responsibility."
"Kentucky is poised for greatness, but future successes are very much dependent on a competitive tax structure and a budget that is fiscally responsible," Bevins said in a statement.
Matt Pearce is a national reporter for The Times. Follow him on Twitter at @mattdpearce.
Sign up for Essential California for news, features and recommendations from the L.A. Times and beyond in your inbox six days a week.
You may occasionally receive promotional content from the Los Angeles Times.