Kimberlie Jones and her daughter, Kathryn, pray at the First Baptist Church in Rockport, Texas, as husband and father Senior Pastor Scott Jones leads a service.
(Robert Gauthier / Los Angeles Times)
Despite extensive damage to it's building, the First Baptist Church in Rockport encouraged worshippers to bring their own chairs for a service outside, a week after Hurricane Harvey.
(Robert Gauthier / Los Angeles Times)
Julie Lynch, 56, is consoled as she weeps during Sunday service at the First Baptist Church in Rockport. Lynch's house was gutted by Hurricane Harvey.
(Robert Gauthier / Los Angeles Times)
The First Baptist Church conducts a service outside.
(Robert Gauthier / Los Angeles Times)
Mary and K.C. Kimbrough of Rockport attend the outdoor service.
(Robert Gauthier / Los Angeles Times)
Prayers during the outdoor service following the storm.
(Robert Gauthier / Los Angeles Times)
Ken Garrett, right, hugs Youth Pastor Jordan Mims after they both delivered prayers on the grounds of the First Baptist Church.
(Robert Gauthier / Los Angeles Times)
Jordan Mims, and his son, Ian, listen as Ken Garrett delivers a prayer.
(Robert Gauthier / Los Angeles Times)
Reporting from Houston —
Storm-tossed Texans pressed ahead Sunday with door-to-door searches for frail and elderly survivors, and accelerated an exodus from evacuation centers where some had sheltered in the wake of the most powerful hurricane to strike the continental U.S. in more than a decade.
As tens of thousands in Houston and its environs spent the Labor Day holiday weekend mucking out homes from which stormwater from Harvey had receded, the city's mayor exhorted his constituents to move ahead as quickly as possible toward some semblance of normalcy in the nation's fourth-largest city.
"I'm encouraging people: 'Get up, and let's get going,'" said Mayor Sylvester Turner, speaking on NBC's "Meet the Press."
Looking ahead to the Tuesday start of the work week, Turner exhorted businesses: "Most of the city is dry, and I'm saying if you can open, let's open up and get started."
But daunting perils remained, including chemical hazards and damaged infrastructure across the flood zone. The Environmental Protection Agency said Sunday that agency administrator Scott Pruitt was in "constant contact" with state, local and county officials about countering any hazards at 13 "Superfund" sites affected by flooding.
In some areas, the waters were slow to recede — or even rose amid controlled releases to take the pressure off overflowing reservoirs. On Saturday, the mayor ordered nearly 300 people to leave flooded homes in the western part of the city, effective Sunday morning, after which power would be cut for the safety of firefighters still carrying out door-to-door checks.
Parts of western Houston are still coping with high waters after the Army Corps of Engineers released water from two flood-swollen reservoirs. Turner said those waters might linger for another 10 days.
President Trump, who paid a second visit to Texas on Saturday, declared Sunday a national day of prayer for those afflicted by storm Harvey. In Washington, the president and First Lady Melania Trump attended services at St. John's Episcopal Church, close to the White House.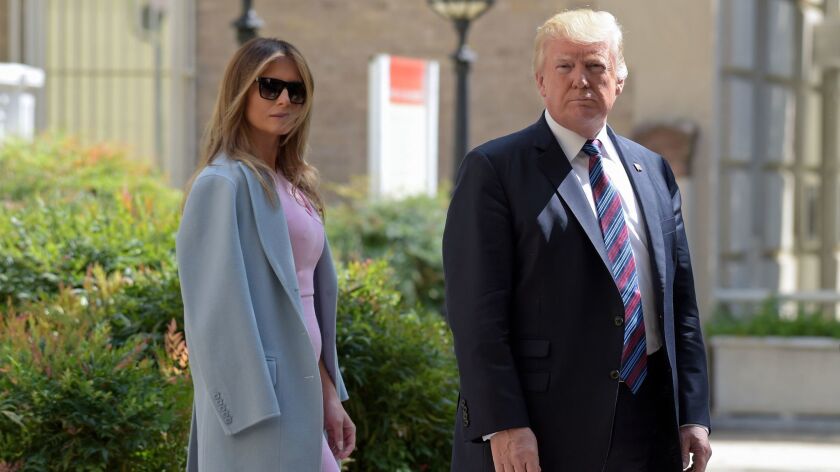 In Texas, one of the most devout states in the U.S., millions more attended services, some held in still-waterlogged or damaged churches.
About 300 worshippers gathered in a revival-style tent set up outside the damaged First Baptist Church in hurricane-hammered Rockport, Texas, exchanging news and offering one another encouragement. Parishioner Julie Lynch, 56, whose house was gutted by the storm and whose family appraisal business was cast into flux, wore a cap emblazoned "Blessed."
"The hard part is yet to come," she said, predicting it will take years for the town to recover.
As the storm's death toll approached 50, with large swaths of Houston and smaller towns still being searched for bodies, the head of the Federal Emergency Management Agency said the powerful storm should serve as a "wake-up call" to officials at all levels to intensify disaster preparations.
"I need state representatives, state legislative officials and local elected officials to listen up — this is a call, it is a wake-up call for this country," William "Brock" Long said on CBS' "Face the Nation."
"What we need are for elected officials at all levels of government to hit the reset button, sit down, evaluate where their programs are with their state emergency directors as well as their local emergency management directors, and make sure that they have everything they need to increase their levels of self-sufficiency," he continued.
There were growing concerns about Harvey-spawned flooding of "Superfund" sites – polluted locales requiring long-term cleanup. The EPA said it had carried out initial aerial-imaging assessments at 41 sites in the storm-affected area, and that 13 of them had experienced flooding.
Texas' Republican governor, Greg Abbott, said the EPA had been "very aggressive" on monitoring conditions at the sites. "They have restraints on their ability to check out some of them, just simply because of the water," he said Sunday on CNN's "State of the Union. "But they are prepared to go in as early as possible."
The EPA said federal and state officials on the ground have been able to evaluate only two of the flooded sites to see if an emergency cleanup is needed. One of them is Falcon Refinery, a 104-acre site contaminated with chemicals in Ingleside, Texas, about 200 miles southwest of Houston. The other is Brine Service, a waste disposal pit in Corpus Christi. A number of other sites are in the Houston metro area, but none in the city proper, the mayor said.
Urgent repairs to storm-ravaged infrastructure moved ahead, but with frustrating slowness for some. In Beaumont, 90 miles east of Houston, officials were still struggling Sunday to repair the water treatment plant whose failure cut the water supply to more than 118,000 people.
Northeast of downtown Houston, in Crosby, authorities were keeping a close eye on the Arkema chemical plant, where volatile chemicals ignited last week and more storage vats were considered a risk to burst into flames as well.
School is to start on Sept. 11, but the Houston school district said it will have to find new places for up to 12,000 students because of flood damage. Of the district's 245 schools, 22 had extensive damage.
Abbott said Sunday that the storm had been one of the most expensive ever, estimating recovery costs at between $150 billion to $180 billion. He said Trump expected lawmakers to quickly approve a $7.9-billion preliminary payment toward relief efforts, and then move ahead with longer-term measures.
"I think Congress understands this is a down payment on something that will cost far more," he said.
In Houston, Turner said people were eager to leave shelters and return to homes. Those still housed in city evacuation centers had dwindled to 1,400, he said Sunday, from a high of 10,000.
But he warned homeowners to be wary of mold and other toxins left behind by the epic flood. Sodden carpets and Sheetrock need to be pulled out, he said.
"What we need is rapid-repair housing so people can stay in their homes while they make the necessary repairs," the mayor said on NBC.
Turner also has promised to look soon at lifting an overnight curfew. Businesses, especially restaurateurs, have complained to the mayor about not only needing to stay open to make money, but also saying people wanted to blow off steam at bars and restaurants after a devastating week.
"Our goal is just to get back to normalcy as quickly as we can, for those who can, so we can support those who can't," Greater Houston Restaurant Assn. Director Melissa Stewart told the Houston Chronicle.
On Saturday night, there were signs of a return to Houston's former liveliness. Between the Astros' two games against the Mets on Saturday night, bars and restaurants near Minute Maid Park were packed. Ride-share cars made their rounds. In an enterprising touch, a bicycle taxi pedaled up Chartres Street, picking up passengers.
Common hardship endured over the last nine days elicited touching tales of solidarity. At the Sunday service outside Rockport's damaged church, Ken Garrett, a senior citizen and Army veteran, told fellow worshippers that when he and his wife were at a coin-operated laundry, washing their sodden, soiled clothing, they ran out of quarters.
A woman they did not know stepped up unbidden and began feeding the machine, he recounted. When they asked how she had fared in the storm, she quietly told them that except for the possessions she had been able to salvage and load into her car out front, she had lost everything.
"And she was feeding our washing machine," Garrett said. "I will never forget that as long as I live."
Branson-Potts reported from Houston, King from Washington and Hennessy-Fiske from Rockport, Texas.
molly.hennessy-fiske@latimes.com
Twitter: @mollyhf
---
UPDATES:
3:15 p.m.: This article was updated with EPA statement about flooding at "Superfund" sites and comments from governor.
11:50 a.m.: This article was updated with comments from the church service, water still out in Beaumont, chemical plant in Crosby being monitored.
This article was originally published at 9:50 a.m.
---