Ebola patient got experimental serum, missionary group says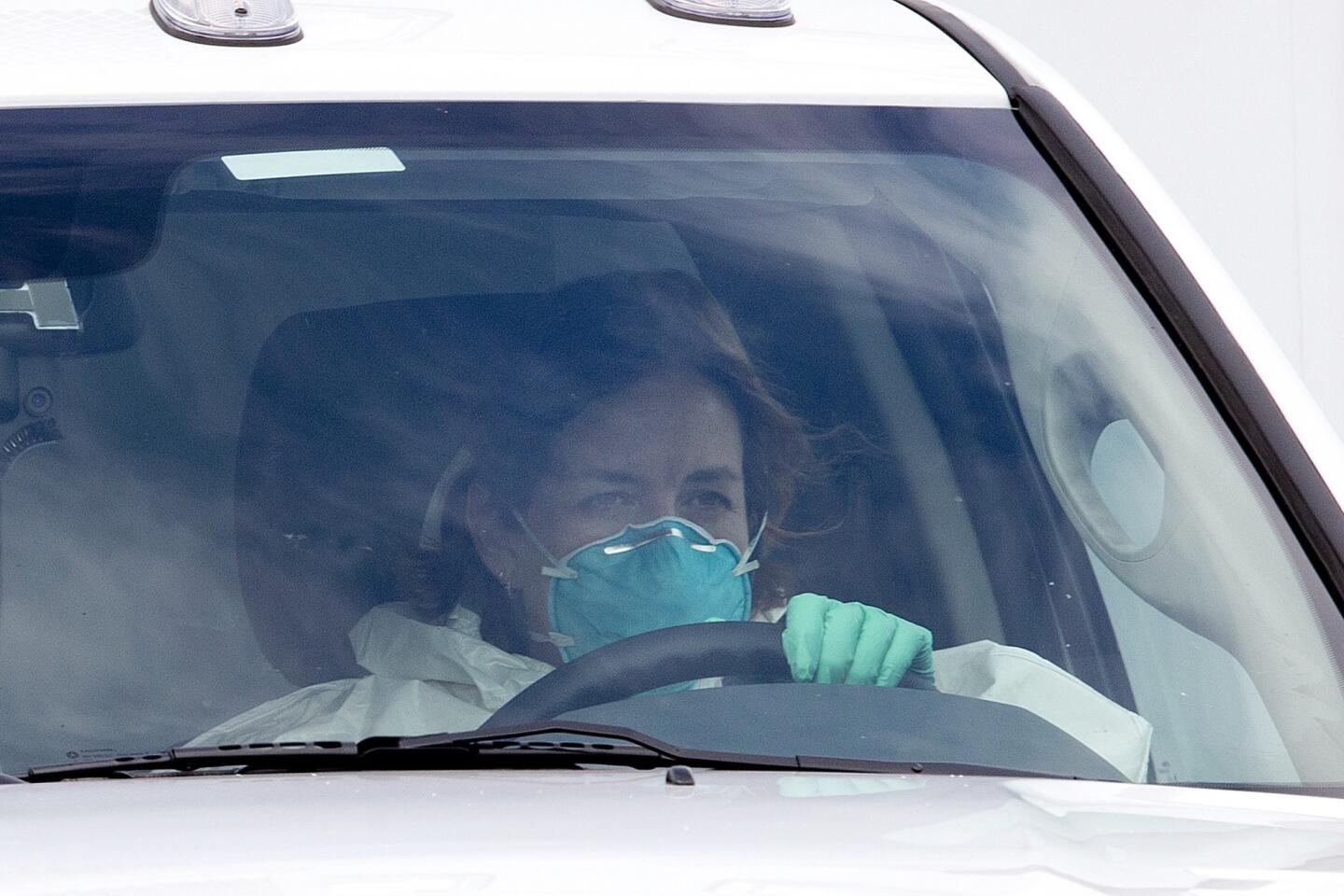 The driver of the ambulance believed to be carrying Dr. Kent Brantly from Dobbins Air Reserve Base outside Atlanta to Emory University Hospital wears mask, gloves and a protective suit.
(John Bazemore / Associated Press)
An ambulance carrying Dr. Kent Brantly, an American physician who contracted the Ebola virus in Liberia, departs Dobbins Air Reserve Base outside Atlanta headed for Emory University Hospital, where Brantly will be treated in an isolation unit.
(John Bazemore / Associated Press)
An ambulance transporting Ebola patient Dr. Kent Brantly arrives at Emory University Hospital in Atlanta.
(Erik S. Lesser / EPA)
A banner warning Liberians about the Ebola virus stretches over a street in Monrovia.
(Abbas Dulleh / Associated Press)
Liberian nurses in protective clothing prepare bodies of Ebola victims for burial in Monrovia, Liberia, on Friday.
(Ahmed Jallanzo / EPA)
Kent Brantly, an American doctor who contracted Ebola in West Africa while caring for victims of the disease, received an experimental serum before leaving Liberia for the U.S., the organization he works for said Sunday.
Samaritan's Purse said in a statement that Brantly had initially refused the serum because there was only enough for one person. He told doctors to give it to the other ailing American, Nancy Writebol. But Brantly was able to receive the serum later, the organization said.
"We praise God for the news that Kent's condition is improving," Samaritan's Purse said. "We can confirm that Kent was able to receive a dose of the experimental serum prior to leaving Liberia. Please continue to pray for Kent, the people of Liberia, and all those who are serving there in Jesus' name."
Brantly also got a blood transfusion from a 14-year-old boy who survived the disease after Brantly cared for him, the organization said.
Earlier Sunday, the director of the Centers for Disease Control and Prevention said Brantly appeared to be improving, and emphasized that the key to keeping Americans safe is to stem the spread of the disease overseas.
Brantly was transferred amid high security Saturday to Emory University Hospital in Atlanta.
"It's encouraging that he seems to be improving … and we're hoping that he'll continue to improve," CDC chief Tom Frieden told CBS' "Face the Nation." But he cautioned that the disease was "so deadly" and declined to predict whether Brantly would survive.
Frieden did seek to assuage fears that bringing Brantly back to the U.S. would set off a rash of Ebola cases in America.
"I don't think it's in the cards that we would have widespread Ebola in this country," he said. He acknowledged that other travelers might bring back the disease, leading to "a case or two." But in Africa, hospital and burial practices are feeding the spread of Ebola, and such practices are different in the United States, he said.
The key, therefore, is not to keep the virus out of the U.S. but to address the epidemic abroad, he said. "We know how to protect ourselves, but the single most important thing we can do is stop it at the source in Africa. That's going to protect them and protect us."
Asked whether Brantly might have infected his wife and children, who had been with him in Liberia, Frieden said: "When patients are exposed to Ebola but not sick, they cannot infect others. … Our understanding is that they did not have contact with him when he was sick."
Brantly is being treated in an isolation ward designed for only the rarest of serious communicable diseases. The ward, one of only a few such facilities in the U.S., was built with assistance from the CDC. It has been used only a handful of times. Loved ones cannot enter the room. Instead, they can see the patient through a glass panel and speak to him only through a phone or intercom.
Also Sunday, Samaritan's Purse released a statement from Brantley's wife, Amber:
"Our family is rejoicing over Kent's safe arrival, and we are confident that he is receiving the very best care. We are very grateful to the staff at Emory University Hospital, who have been so nice and welcoming to us. I was able to see Kent today. He is in good spirits. He thanked everyone for their prayers and asked for continued prayer for Nancy Writebol's safe return and full recovery."
Writebol, who also fell ill while working with Ebola patients in Liberia, is expected to be taken to Atlanta within days.
Dr. Bruce Ribner, an infectious disease specialist at Emory who oversees the isolation ward, said Friday that the precautions being taken virtually guaranteed there would be no secondary infections from Ebola in this country.
Ribner said Brantly and Writebol will receive the kind of care that could enable their bodies to recover enough to fight off the virus.
"The critical component … is supportive care," Ribner said. "We're talking about maintaining blood pressure. We're talking about supporting respiration up to and including a respirator if the condition becomes that severe. People with Ebola virus infection may have kidney failure, so we are potentially talking about dialysis."
There is no vaccine or cure for Ebola. The virus has a mortality rate as high as 90%, depending on the strain.
Times staff writer Tina Susman contributed to this report.
For more news, follow @raablauren on Twitter.
@conniestewartLA
Sign up for Essential California for news, features and recommendations from the L.A. Times and beyond in your inbox six days a week.
You may occasionally receive promotional content from the Los Angeles Times.