Ferguson court announces reforms, hoping to build trust with black residents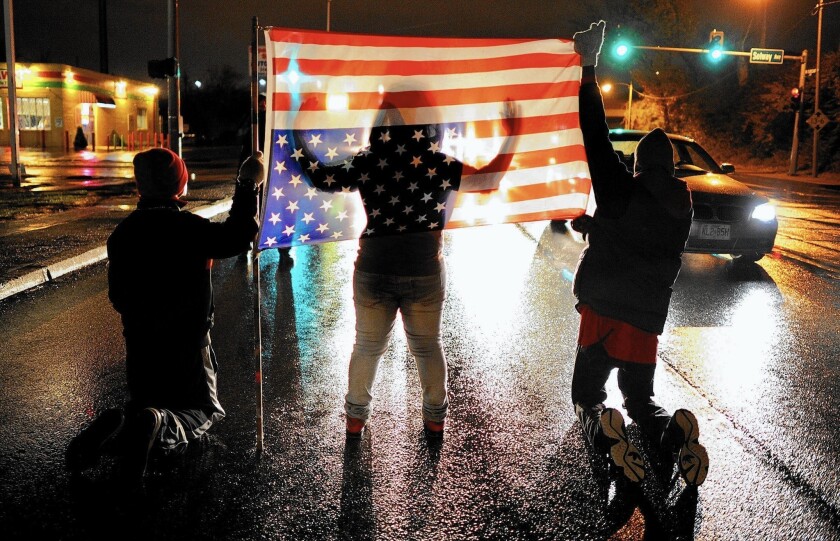 The Missouri city of Ferguson, accused in a Justice Department report of engaging in institutional racism, announced changes aimed at easing stiff repercussions for residents charged with minor crimes and traffic violations.
Newly appointed Municipal Judge Donald McCullin said Monday that he had directed the court to void all arrest warrants issued before 2015, and that he had lightened penalties for traffic defendants who failed to appear in court.
"These changes should continue the process of restoring confidence in the court, alleviating fears of the consequences of appearing in court, and giving many residents a fresh start," McCullin said in a statement.
A legal expert, however, said the reforms would do little to heal the wounds opened by the court's previous tactics and the street clashes that followed the death of Michael Brown last summer.
Thomas Harvey, executive director of Arch City Defenders, said the court should have voided the bulk of the old warrants if it truly wanted to turn a corner.
"Ferguson could be proactive and really be a leader in the region and just dump the cases," said Harvey, whose organization wrote a paper on many of the court's problems a year before the Justice Department report was released. "Say we're starting over new."
Under McCullin's new orders, traffic defendants who are taken into custody for failing to appear in court will be released and given a new court date. Under the old system, defendants could face high bails and often wound up sitting in jail until their new court date.
NEWSLETTER: Get the day's top headlines from Times Editor Davan Maharaj >>
McCullin also directed the court to reinstate the licenses of defendants who had their driving rights suspended because of a failure to appear in court.
A Justice Department report in March found that Ferguson's court system engaged in practices that were discriminatory against black residents.
The report said African Americans were far less likely to have their cases dismissed in court and far more likely to have been arrested in the first place. Records also showed that federal investigators found 96% of those arrested during traffic stops in Ferguson because of outstanding warrants were African American.
Two-thirds of Ferguson's residents are black.
Harvey said McCullin's order is not binding. The judge could choose to ignore his own edict months from now, meaning some of the more sweeping reforms -- like declining to jail defendants who fail to appear in court -- could simply vanish. A future municipal judge could do the same.
The warrant policy is also old hand, according to Harvey, who said previous judges had issued similar edicts though "none of them have changed the effect of these courts on poor people and black people."
Patricia Bynes, the city's Democratic committeewoman who has been on the street for many pivotal protests in Ferguson, said McCullin's announcement was a good first step toward healing the divide between Ferguson residents and the city's judicial system.
"At some point, we need an olive branch to move forward, and what I see is a good olive branch," she said. "This is a good segue into having a good conversation about moving forward and what's reasonable to expect from the court."
Follow @JamesQueallyLAT on Twitter for breaking news.
ALSO:
Group of black women kicked off Napa wine train after laughing too loud
Activists come up with a plan to end police killings. Here it is.
Jamyla Bolden's classmate in Ferguson asks: 'Why did she have to die?'
---
Must-read stories from the L.A. Times
Get the day's top news with our Today's Headlines newsletter, sent every weekday morning.
You may occasionally receive promotional content from the Los Angeles Times.