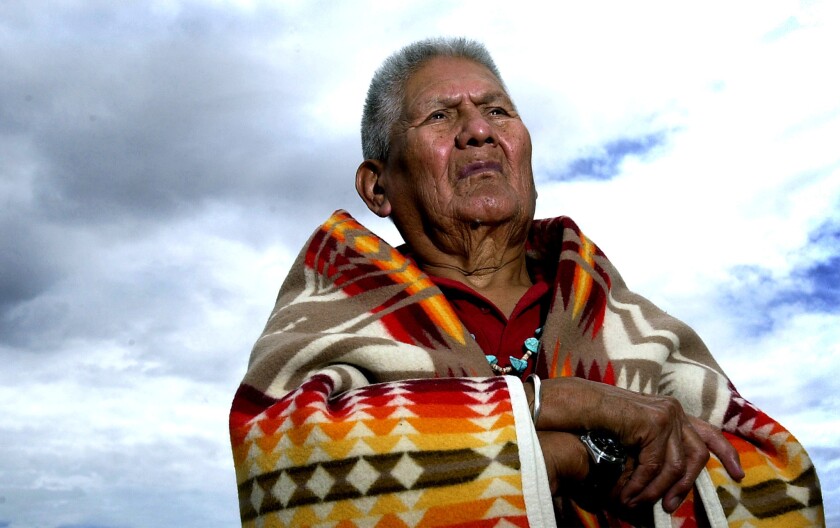 The final member of the original Navajo code talkers, the group of 28 Native Americans who played a crucial role for U.S. communications during World War II, has died.
Chester Nez died Wednesday in Albuquerque, confirmed Judy Avila, who helped Nez write his memoirs. He was 93.
------------
FOR THE RECORD
An earlier version of this post carried a caption on the secondary picture that said Nez was awarded the Congressional Medal of Honor. It was the Congressional Gold Medal.
------------
Nez, among the first recruited, helped to develop code based on the Navajo's unwritten language. The code thwarted the Japanese trying to intercept American communications in the Pacific during World War II.
The 2002 John Woo film "Windtalkers" brought the story of the code breakers to the big screen.
"The passing of Chester Nez, one of the original 29 Navajo Code Talkers, sadly marks the end of an era in our country's and Marine Corps' history," Col. David Lapan, director of the Office of U.S. Marine Corps Communication, said in a statement. "We mourn his passing but honor and celebrate the indomitable spirit and dedication of those Marines who became known as the Navajo Code Talkers."
In his memoirs, Nez said he knew he made the right decision to join the fight.
"I reminded myself that my Navajo people had always been warriors, protectors," he said. "In that there was honor. I would concentrate on being a warrior, on protecting my homeland. Within hours, whether in harmony or not, I knew I would join my fellow Marines in the fight."
The code, which they had to memorize, was based on a system in which the Navajos used their own words to substitute for the 26 letters in the English alphabet. For example, the word "wol-la-chee" means "ant" and it might have stood for the letter A in a coded message.
Because the Navajos had no words applicable to modern warfare, they settled on hundreds of descriptive words in their own language.
A tank was a tortoise; a submarine, an iron fish; a dive bomber, a chicken hawk; a grenade, a potato; a battleship, a whale. Bombs were eggs, and the commanding general a war chief.
The death in 2011 of Lloyd Oliver made Nez the last surviving member of the unit.
In 2001, when the surviving Navajo code talkers were invited to Washington to receive the Congressional Gold Medal for their service, Nez told the Los Angeles Times that their operations did not always run smoothly.
"Quite a few Navajo guys were mistaken for Japanese," he said.
But he said he had jumped at the chance to enlist when Marine recruiters came to the reservation boarding school where he was enrolled.
"I told my buddy [Roy Begay], 'Let's get the heck out of here, climb that mountain up there and see what's on the other side,'" Nez said.
Follow @theryanparker for breaking news.
---