Mexican law enforcement accused of firing on U.S. border agents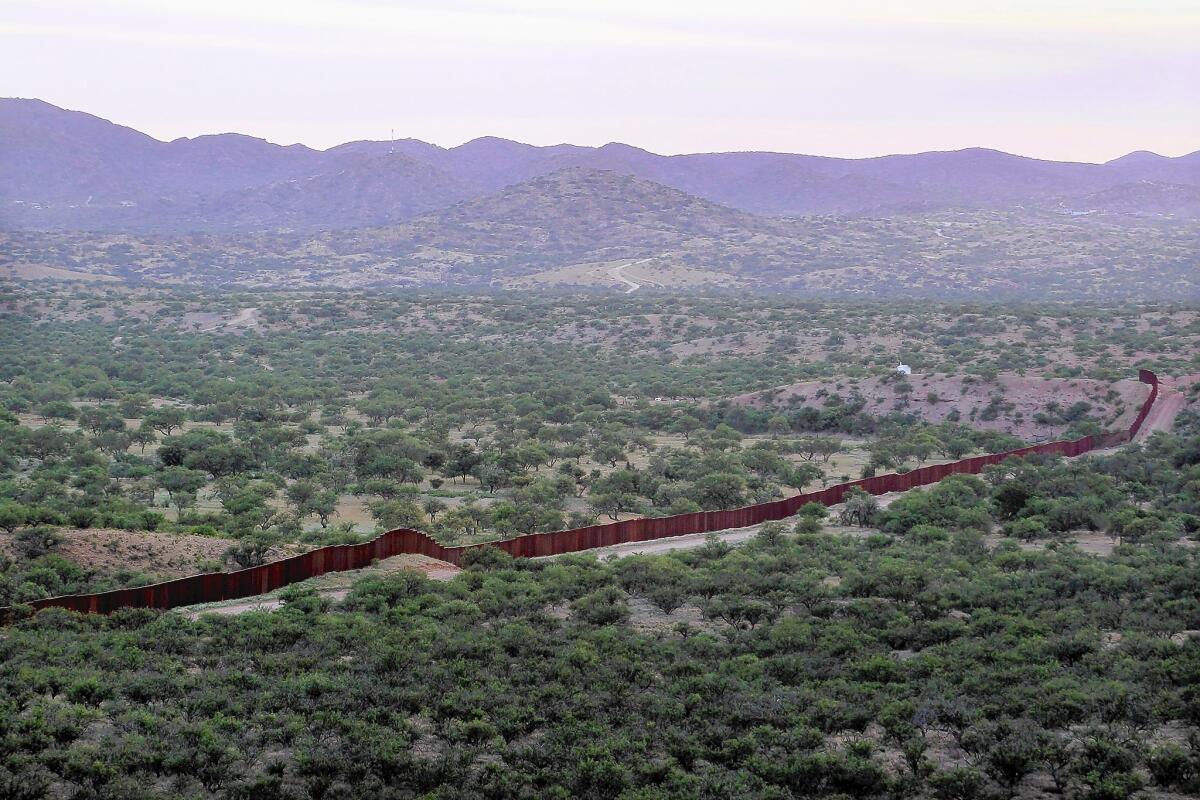 Reporting from Washington —
A Mexican law enforcement helicopter crossed into U.S. airspace and fired two shots, just missing American Border Patrol agents and prompting a quick apology from Mexican authorities in what is the second incursion this year of Mexican forces into United States territory, U.S. law enforcement officials said Friday.
The incident, now the subject of an FBI criminal investigation, occurred about 5:45 a.m. Thursday in southern Arizona, about 100 yards north of the U.S.-Mexico border, as Mexican law enforcement officers were chasing kidnapping suspects trying to escape into the United States, U.S. officials said.
No one was injured, U.S. officials said, but gunfire came within 15 yards of two U.S. Border Patrol agents and their vehicle near the town of San Miguel, Ariz.
According to U.S. agents, Mexican authorities immediately apologized and said the shots were a mistake. But Mexican officials disputed the American version of events, saying their officers had not fired and that the gunshots had come from the suspects.
In a similar incursion in January, two heavily armed Mexican soldiers crossed into Arizona near the same spot and drew their weapons on U.S. Border Patrol officers. No one was injured in that incident either, and Mexican soldiers retreated back across the border.
Mexican authorities called the January incident an "isolated and unintended occurrence," saying soldiers simply didn't see signs marking the border crossing. They also said that U.S. officials occasionally cross into Mexico as well.
In the latest incident, Tomas Zeron, director of criminal investigations division of Mexico's federal attorney general's office in Mexico City, denied that shots were fired from the helicopter and that instead the aircraft was fired upon by Mexican smugglers on the ground.
"I don't think we crossed the border because we had our navigators along," Zeron said at a news conference. "There were only shots fired by the detained suspects." He said those who fired were subsequently arrested.
Zeron said the Mexican federal police and the army were involved in an operation near the Arizona border to rescue 39 migrants who had been kidnapped by drug cartel operatives. The operation took place at a ranch called La Sierrita, in the town of Altar in Sonora state, about 150 yards from the border, Zeron said.
FBI agents in Arizona have launched a criminal investigation to determine why the shots were fired so close to the U.S. agents, a U.S. official said.
The official, who was not authorized to speak publicly about the investigation, added that U.S. border agents were aware at the time that a Mexican law enforcement operation was underway.
"This is certainly not a situation where we were fearful this was a Mexican cartel trying to take out some of our guys," he said. "We know this is a situation where they were Mexican law enforcement conducting an operation. We had units there in an unmarked vehicle close to the international boundary."
After the shots were fired, the official said, "there was a verbal exchange between our federal law enforcement and the Mexican agents, and there was an apology."
With border tensions rising sharply this year and thousands of Mexican and Central American minors crossing into the U.S., some experts predict more such international incidents.
"It's becoming more than normal," said James Phelps, a border and domestic security professor at Angelo State University in San Angelo, Texas, adding that such incursions usually happen only once every two or four years.
He said sometimes Mexican police simply get lost. "We all have GPS systems here, but not all members of the Mexican military have high-quality cellphones," he said. "So it does happen. They cross the border inadvertently."
A more ominous explanation, however, according to Phelps, would be that some Mexican law enforcement officials are secretly working for drug cartels in Mexico, helping smugglers enter safely into the U.S. "They are essentially a subcontracted armed force that works for the cartels," he said.
richard.serrano@latimes.com
Sign up for Essential California for the L.A. Times biggest news, features and recommendations in your inbox six days a week.
You may occasionally receive promotional content from the Los Angeles Times.