Trump sets time for vice presidential reveal
Trump to announce running mate Friday, aide says
More Trump talk on Ginsburg
The public feud of Ginsburg vs. Trump casts harsh spotlight on court's liberal lion
It's a strange week when Donald Trump — known for his provocations and unconventional behavior — lectures a Supreme Court justice on what's "highly inappropriate," and even some of Trump's most ardent critics have to admit: This time, he's right.
Justice Ruth Bader Ginsburg's unprecedented public criticism of the presumed GOP presidential nominee has left legal experts and her own supporters scratching their heads. No one could recall a similar instance of a justice on the nation's highest court openly and repeatedly denouncing a candidate running for its highest office.
Trump's campaign is already exploiting Ginsburg's attack as the latest example of the high court's growing politicization. He called upon her to step down and predicted her attacks would only serve to energize his conservative base.
Donald Trump polling stronger with evangelicals than Mitt Romney four years ago
Donald Trump does not speak often about his Christian faith, but it's not a problem for many evangelical voters.
A new poll released Wednesday by the Pew Research Center shows that 78% of white evangelical voters would vote for Trump if the election were held today. That's higher than the 73% of evangelicals who voiced support for Mitt Romney, an active member of the Mormon Church, at the same point in the 2012 presidential race.
The survey, which queried 2,245 voters and was conducted June 15-26, found about a third of white evangelical respondents said they strongly support Trump's campaign. By contrast, about a one-quarter of evangelicals said they "strongly" supported Romney at this point four years ago.
Evangelicals are a key voting bloc for Republicans. White evangelical Protestants make up one-fifth of all registered voters in the U.S. and, according to Pew, one-third of all voters who say they identify with or lean Republican.
Despite winning over the support of a majority of evangelicals throughout the Republican primary, many remain divided and are concerned about the depth of Trump's faith. Earlier this year, Trump, a Presbyterian, drew scorn from some religious leaders after he inaccurately cited "Two" Corinthians during a speech at Liberty University. The more common expression is "Second" Corinthians.
In recent weeks the presumptive GOP nominee has visited with evangelicals in large groups and in one-on-one meetings.
James Dobson, founder of Focus on the Family and a high-profile evangelical leader, said following a recent visit with the billionaire businessman that he had accepted a relationship with Christ.
"believe he really made a commitment, but he's a baby Christian," Dobson said of Trump.
Trump seeks $10 million from former aide in disclosure case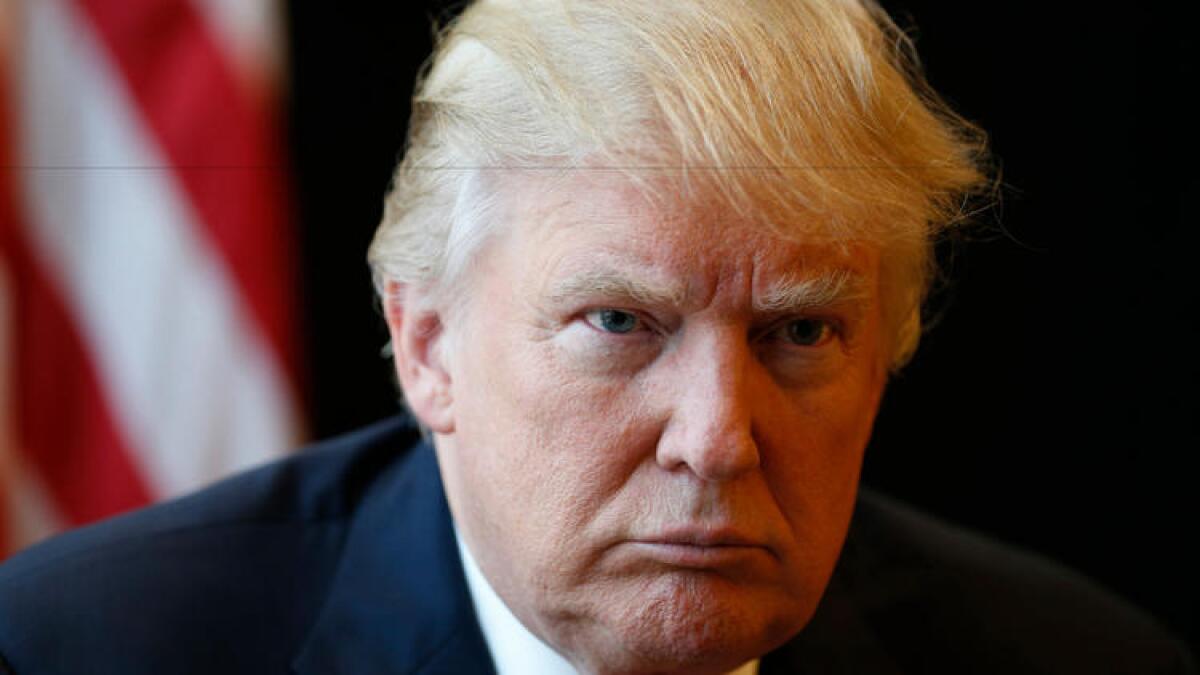 Republican presidential candidate Donald Trump is seeking $10 million in damages from a former senior campaign consultant, Sam Nunberg, alleging that Nunberg leaked confidential information to reporters in violation of a nondisclosure agreement.
In a court filing obtained by the Associated Press, Nunberg accused Trump of trying to silence him "in a misguided attempt to cover up media coverage of an apparent affair" between two senior campaign staffers.
The highly unusual legal dispute reflects Trump's efforts to aggressively protect the secrecy of his campaign's inner workings.
The AP reported last month that Trump requires nearly everyone in his campaign and businesses to sign lnondisclosure agreements prohibiting them from releasing any confidential or disparaging information about the real estate mogul, his family or his companies. Trump has also said he would consider requiring such agreements in the White House.
Trump huddles with top VP candidates in Indiana
Donald Trump stirred a storm of speculation Thursday about his upcoming choice for a running mate as he met privately in Indianapolis with three of his top prospects.
Joined by his adult children Ivanka, Eric and Donald Jr., the Republican presidential hopeful and his campaign chairman, Paul Manafort, paid a visit Thursday morning to the home of Indiana Gov. Mike Pence.
The Trump group returned later to their Indianapolis hotel, where reporters spotted former House Speaker Newt Gingrich and Sen. Jeff Sessions of Alabama.
Manafort has said he expects Trump to announce his decision by Friday, which would make Trump's running mate a major story on the weekend before the Republican National Convention begins Monday in Cleveland.
Trump, who is heading to California to raise money Wednesday night in Rancho Santa Fe and Thursday night in Bel-Air, has said he is looking for someone with expertise in getting legislation through Congress, but also someone who can help get him elected.
He has shot down reports that he would make the announcement Friday. "When I heard I was doing it on Friday," Trump told Fox News on Wednesday, "I was saying, I wonder if those people know me very well."
Hillary Clinton: The party of Lincoln is becoming the 'party of Trump'
Hillary Clinton argued Wednesday that Donald Trump's "dangerous" candidacy threatens to exacerbate the divisions she said are holding the country back, as she vowed to unite Americans herself.
In a somber but scathing address at the Old Illinois State House from which Abraham Lincoln once declared that a nation divided against itself could not stand, Clinton was careful to say the country's challenges are hardly in the same category as the 19th century debate over slavery that ultimately led to the Civil War.
But she lamented growing "violence and hate" in the wake of police-involved killings in Baton Rouge, La., and outside St. Paul, Minn., as well as the shooting rampage targeting police in Dallas; a lack of "trust and common ground" that the political system has played a part in rather than made better; and the economic inequality that she said undermined the foundation of our democracy.
In times like these, she said, the country needs "a president who can help pull us together, not split us apart," and argued that Trump's campaign was "as divisive as any we have seen in our lifetimes."
"It is built on stoking distrust and pitting American against American," she said, listing his proposals to ban Muslim immigration, deport the American-born children of immigrants, and order the military to "commit war crimes" like torture.
The party of Lincoln, she said, is becoming the "party of Trump."
"And that's not just huge loss for our democracy, it is a threat to it. Because Donald Trump's campaign adds up to an ugly, dangerous message to America," she said.
Clinton attacks Trump for making shooting deaths 'all about him'
Hillary Clinton's speech on race relations in Springfield, Ill., pivoted to an attack on Donald Trump's proposed policies, which Clinton said will divide the country at a time it needs to be united.
Clinton admitted that she has contributed to the partisan divide in this country, but Trump is running a campaign designed to pit Americans against one another.
Hillary Clinton, echoing President Obama, calls for improved relations between minority communities and law enforcement
Hillary Clinton said more needs to be done to improve the relationship between minority communities and law enforcement officers in a speech on race relations in Springfield, Ill.
Clinton referenced President Obama's address in Dallas at a memorial service for the five police officers killed during a protest march there last last week. Obama said the experiences of minorities in the United States need to be taken seriously, while citizens need to appreciate and respect law enforcement officers and the work they do to keep communities safe.
Hillary Clinton channels Abraham Lincoln while discussing race relations in the United States
Hillary Clinton referenced Abraham Lincoln's "house divided" speech about slavery in the United Stated before the Civil War while discussing race relations Wednesday in Springfield, Ill.
Clinton said the problems the nation currently faces are not as challenging as those Lincoln faced as president, but that the country's struggle with race is "far from finished."
Trump says Ginsburg's 'mind is shot,' escalating feud with Supreme Court justice
Hillary Clinton takes the 'Hamilton' stage for $2,700 a ticket
Hillary Clinton raised funds for her campaign with a special matinee showing of "Hamilton" on Tuesday at $2,700 a ticket — and $100,000 for an "event chair" ticket.
Clinton joined "Hamilton" creator Lin-Manuel Miranda onstage after the show. Miranda introduced the presumptive Democratic nominee as the "45th president."
Bernie Sanders sides with Justice Ginsburg over Trump criticism
Justice Ruth Bader Ginsburg's bold criticism of Donald Trump got no argument from Sen. Bernie Sanders on Wednesday.
The Vermont senator first deflected a question about the ongoing exchange between Trump and Ginsburg — but only for a moment.
"I agree with what Justice Ginsburg said," Sanders said on ABC's "Good Morning America." "I think that Trump is a total opportunist. … I do not believe anything that comes out of his mouth."
Ginsburg laid out her uncensored opinion of the presumptive GOP nominee in an interview with the New York Times and later added that she sees him as a "faker." Trump fired back several responses, calling for her resignation early Wednesday morning.
Atty. Gen. Loretta Lynch deflects questions about Clinton emails
Republican lawmakers Tuesday lambasted Atty. Gen. Loretta Lynch over her refusal to discuss the details of the Justice Department's recent decision not to prosecute Hillary Clinton for using a private email server as secretary of State.
As a hearing of the House Judiciary Committee stretched into the afternoon, GOP representatives grew increasingly frustrated and angry as they pushed Lynch -- without success -- to answer their specific questions about the email probe.
Lynch responded time and time again that she had accepted the unanimous recommendation of career agents and prosecutors, including FBI Director James Comey. But she said it would be "inappropriate to comment further" on the facts of the case or the decision-making process.
Lynch also faced criticism from lawmakers over her decision to meet with former President Clinton last month, which she has previously admitted cast a shadow over the Justice Department's probe.