Donald Trump calls school choice 'new civil rights issue' of our time
Donald Trump had nothing to say at his rally Saturday about the recent police shootings of black men that have mobilized civil rights activists across the country -- but he did talk talk about what he sees as the "new civil rights issue of our time."
In Trump's view, it is school choice.
"Too many African Americans have been left behind and trapped in poverty," Trump said in Roanoke, Va., stressing that he, not Democratic nominee Hillary Clinton, will foster better schools and create more jobs for African Americans.
"I will fight to make sure every single African American child in this country is fully included in the American dream. That includes the new civil rights issue of our time: School choice," he said.
Republicans have often invoked school choice in their efforts to woo minority support from Democrats.
Trump, in the final stretch of a campaign marked by racially divisive rhetoric, is making an overt pitch to black voters. But the appeals, rarely made before black audiences, also appear to be aimed at easing concerns of moderate white voters uneasy with Trump's racially coded rhetoric.
Still, Trump has also muddled his message to blacks and Latinos in recent weeks, advocating policing tactics such as stop-and-frisk, which has been widely condemned for promoting racial profiling.
"I would do stop-and-frisk. I think you have to. We did it in New York; it worked incredibly well. And you have to be proactive," Trump said earlier this week.
While he did not address the current unrest in Charlotte, N.C., and Tulsa, Okla., following recent police shootings of black men, Trump did acknowledge Saturday's opening of the National Museum of African American History and Culture in Washington.
"It's a very beautiful place and we're all very proud of it," he said.
In Twitter spat with Mark Cuban, Trump jabs at Bill Clinton sex scandal
It's supposed to be a relatively slow weekend on the campaign front, with both nominees devoting most of their days to prepping for the first presidential debate on Monday.
But so long as Donald Trump is tweeting, it's never truly quiet. On Saturday, he took this shot at Dallas Mavericks owner Mark Cuban:
Trump appears to be responding to Cuban's announcement earlier this week that the "Shark Tank" star scored prime seats to watch Monday's debate in person.
The two entrepreneurs have sparred in the past. Cuban, a Hillary Clinton supporter, has publicly mocked Trump and offered the GOP nominee $10 million to talk policy for four hours.
Trump, on Saturday, didn't sound too thrilled with Cuban's front-row debate perch. In addition to calling the billionaire "dopey," he suggested he'd counter with a special guest of his own: Gennifer Flowers, who nearly upended Bill Clinton's 1992 presidential run by alleging she had an extramarital affair with him. Clinton denied the accusation at the time, but later acknowledged he did have a sexual encounter with her.
(Trump initially posted a tweet misspelling Flowers' first name as 'Jennifer.' He then re-posted with the correct spelling.)
An assistant to Flowers told Buzzfeed on Saturday she'd accept Trump's invitation to attend the debate.
This post was updated at 12:56 p.m. to include a report that Flowers plans to attend the debate.
New York Times editorial board sides with Hillary Clinton
Hillary Clinton is way ahead with Latinos -- but should she be doing better?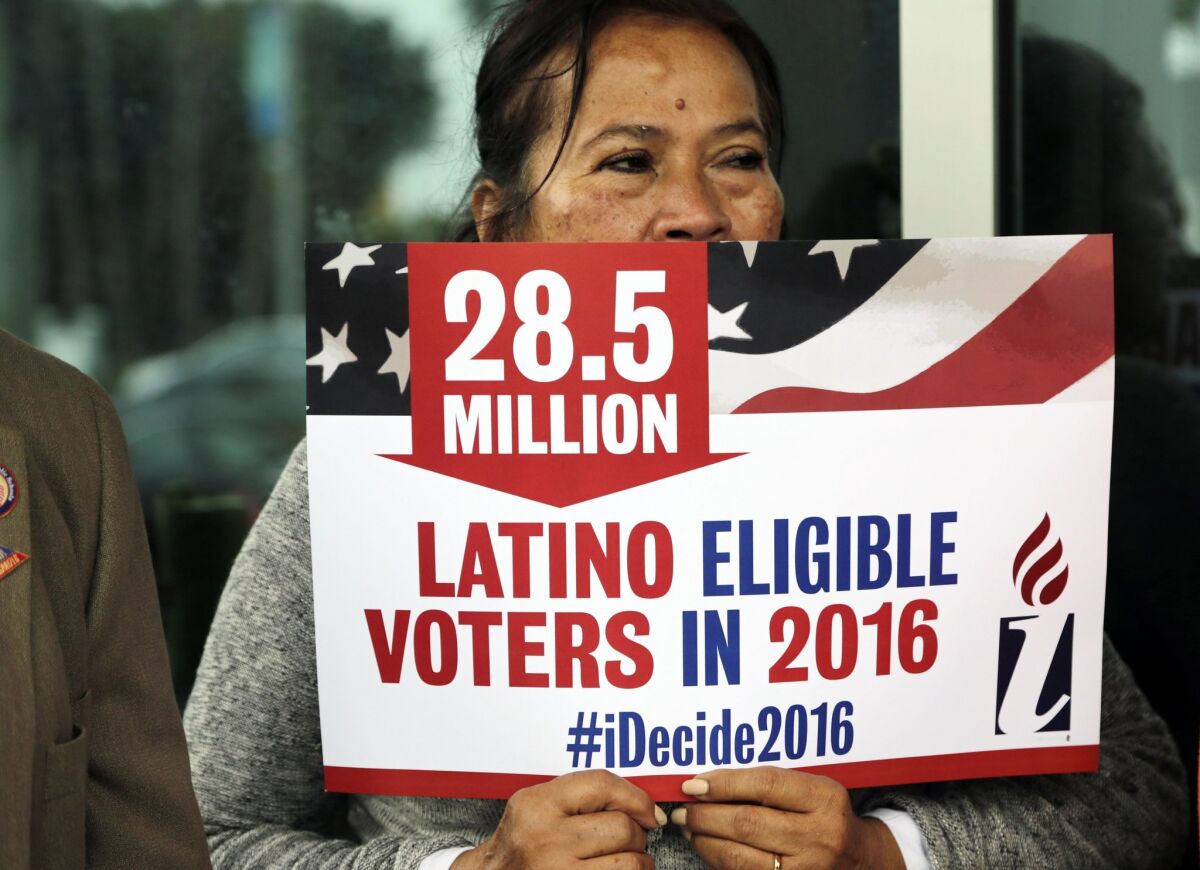 Democrats be warned: Don't take the support of Latinos for granted.
It's a message, to the surprise of some, coming from Latino elected officials upset over the party's outreach to that crucial voting bloc in races up and down the ballot.
"I am disappointed to this day with the Democratic Party, with the Democratic Congressional Campaign Committee, the Democratic National Committee, and I would like to see Hillary Clinton's campaign hire more consultants who are of the communities," Rep. Tony Cárdenas (D-Los Angeles) chairman of the Congressional Hispanic Caucus' fundraising arm, Bold PAC, told The Hill this week.
Cárdenas said he and other members of the caucus were dismayed by many of the consultants hired by party leadership. He said they often lack an understanding of the communities they're trying to help turn out.
In the presidential race, Hillary Clinton, the Democratic nominee, has strong support among Latino voters, compared with that of Donald Trump, the Republican nominee. But the Latino Democrats critical of her campaign and the party say Clinton should be doing even better, considering how hostile Trump is toward Mexican immigrants.
A Univision poll of Latino voters in Arizona, Colorado, Florida and Nevada released this month shows Clinton way ahead, but she does not appear to be performing any better than President Obama did in 2012.
In Florida, Trump trails Clinton by 24 percentage points among Latino respondents — the closest margin out of the four states. Among Latino respondents, Clinton leads Trump 68% to 18% in Arizona, 65% to 19% in Nevada and 62% to 17% in Colorado.
Florida, Colorado and Nevada are three battleground states where Latinos are likely to make up more than 10% of the electorate this year.
Still, some Congressional Hispanic Caucus members are rankled by Democratic leaders and point to California's Senate race between state Atty. Gen. Kamala Harris and Rep. Loretta Sanchez.
The caucus, minus Rep. Xavier Beccera (D-Los Angeles) who is not endorsing, is backing Sanchez. And the party's establishment -- including President Obama -- is supporting Harris.
Presidential debate expected to set audience record
If NBC News anchor Lester Holt is nervous about moderating the first presidential debate, he wasn't showing it earlier this week as he rocked his electric bass on the rooftop lounge overlooking the Hudson River.
Playing with a rock band made up of cohorts from the network's news magazine show "Dateline," Holt ably soloed on the Alabama Shakes song "Always Alright" in front of a throng of cheering colleagues. It was a break from his intensive preparation for Monday's showdown between Hillary Clinton and her Republican opponent, Donald Trump.
Holt's homework sessions kept him away from his anchor duties on "NBC Nightly News" in the days before the live telecast from Hofstra University in Hempstead, N.Y. Airing across the major broadcast networks, Spanish-language channels and cable services, the anticipated match-up is expected to top the previous debate audience record of 80.6 million TV viewers set in 1980 for the single meeting between Ronald Reagan and Jimmy Carter.