Newsletter: Laotian-style barbecue comes to Southern California
Good morning. Unless you're one of the lucky folks who are reading this from Mammoth, it's a good weekend to stay home and do some cooking, maybe curl up with a blanket — yes, this is cold for us — and a stack of cookbooks. We can help with that last part, as we have a story about the couple who run the only cookbook store in Los Angeles, a jewel box of a shop in Chinatown's Far East Plaza.
If you're heading out, we have two new restaurant reviews: of a highly anticipated place in the Arts District, and a Laotian-style barbecue spot in Corona. We also have restaurant news (Mélisse is closing, Burgers Never Say Die has opened), an ode to pizza crust dips, and a piece on what's on the menu at this year's Coachella music festival. And if you're on the road north, remember your tire chains and, if your route includes fast food, maybe reread our recent French fry power rankings piece before you hit the drive-thru. Have a good weekend.
A SUBURBAN MEAT PALACE
Patricia Escárcega checks out Kra Z Kai's in Corona, likely the only Laotian-style barbecue joint in Southern California, maybe even the country. What she finds there: Laotian-style beef short ribs, marinated for 48 hours in a garlic-infused oyster sauce and then grilled; also papaya salad; and sticky rice, lots of sticky rice.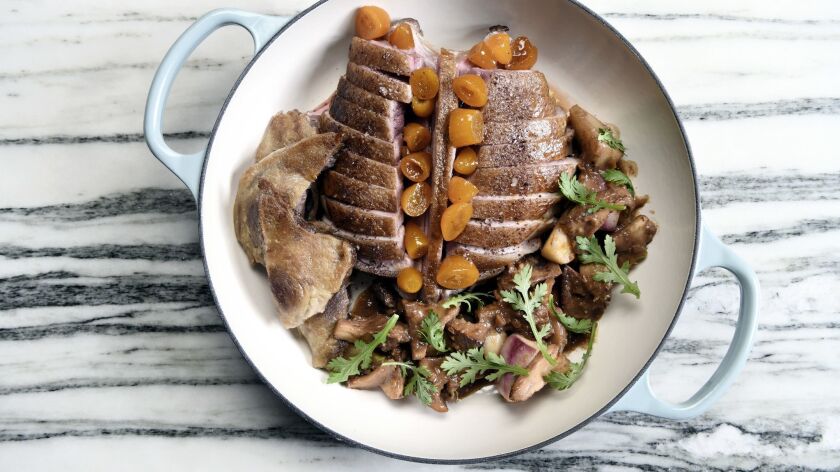 SIMONE SAYS
Bill Addison considers Simone, the new restaurant from Jessica Largey, and finds as many problems as solutions. It took Largey, a Manresa alum, three years to open her Arts District restaurant, and Bill finds that the place is going to need a bit of time to coalesce. Because although there are gems (order the duck), there are also a lot of issues with both dishes and service.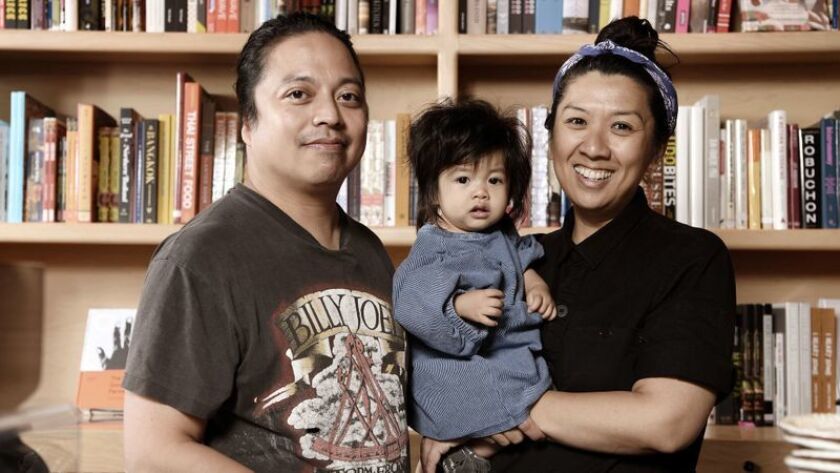 THE JOY OF COOKBOOKS
I profile the folks behind Now Serving, the only cookbook shop in Los Angeles. Bonus coverage: a list of seven other great American cookbook shops. Cookbook lovers were without a cookbook-only bookstore after the beloved Cook's Library closed, until former Cut chef de cuisine Ken Concepcion and his wife, Michelle Mungcal, opened their shop in Chinatown.
WHAT TO DO WITH YOUR PIZZA CRUSTS
Jenn Harris tells us what to do with pizza crusts — or at least what to do with them at Jon & Vinny's in Brentwood. You dip them, in little bowls of creamy Italian, ranch or marinara crust dip that chefs Jon Shook and Vinny Dotolo have thought to put on their Brentwood menu for just this reason.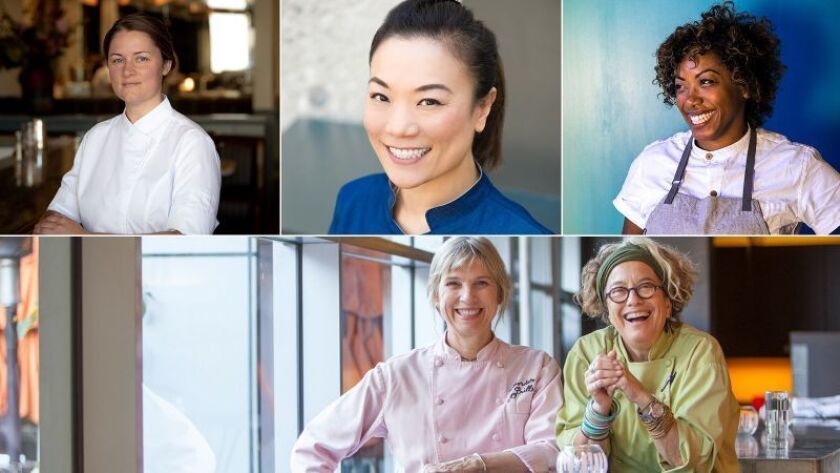 MORE FOOD IN THE DESERT
Jenn Harris tells us what to eat at Coachella this year, where many of us go for the food as much as the music. What's happening this year, besides Childish Gambino, Billie Eilish and H.E.R.? Look for chefs Jessica Largey, Shirley Chung, Nyesha Arrington, Mary Sue Milliken and Susan Feniger, and Ray Garcia.
Food Bowl 2019 is coming. Our annual monthlong food festival is happening again this May. We hope you'll join us for #31daysoffood. If you'd like to hold an event at your bar, café, hotel or restaurant; have breakfast in a kitchen garden or cocktails on a rooftop; host a charity bake sale or market tour, let us know at lafoodbowl.com.
Our 101 Restaurants We Love list for 2018 is out. The list incorporates restaurants and trucks from around Los Angeles and Orange County, in alphabetical order (no rankings this time). Plus, there's a bonus list of 10 classic restaurants.
Check us out on Instagram at @latimesfood.
And don't forget the thousands of recipes in our California Cookbook recipe database.
Feedback? We'd love to hear from you. Email us at food@latimes.com.
---