Newsletter: Essential California: The realities of Orange County's homeless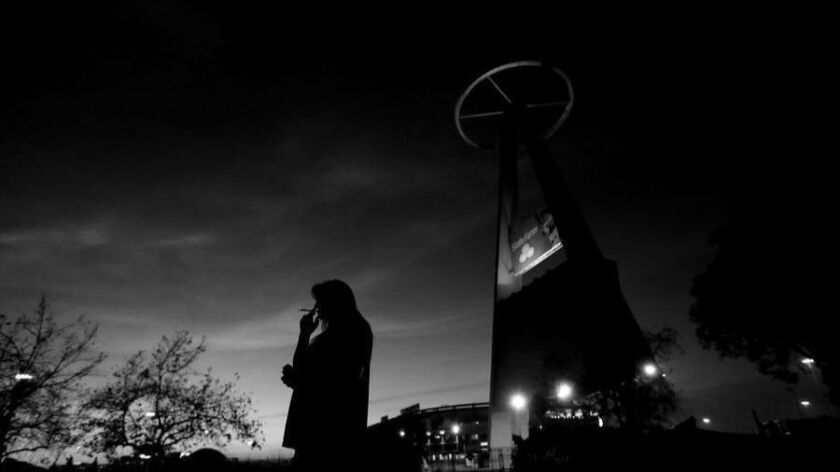 Good morning, and welcome to the Essential California newsletter. It is Saturday, Aug. 4, Here's what you don't want to miss this weekend:
TOP STORIES
The Santa Ana riverbed was the largest homeless encampment in Orange County. It swelled with hundreds of residents — with men and women whose teeth were decayed from drug use, their skin bronzed by the blistering sun. They napped during the day and tried to stay awake at night to guard their few belongings. The acrid, skunky smell of pot filled the air, riding the scent of grilled burgers and human waste. Then it was cleared by the county earlier this year, and for one couple who were forced from the riverbed into temporary motel living — the road ahead looms empty, filled with hunger, loneliness and drugs. Los Angeles Times
Plus: After moving from the riverbed to a motel, a homeless couple find themselves in a new kind of "prison." Los Angeles Times
ICYMI: Living in a beat-up Jeep after mounting hardship, a homeless veteran and his wife cling to hope, waiting for a place to call home. Los Angeles Times
Fires across the state
Officials said more than 13,000 firefighters are on duty, fighting nearly 20 large fires that have burned more than 410,000 acres and displaced more than 40,000 residents across the state. Seventeen states have offered assistance to California over the last week, sending help from as far away as Maine and Florida. And in a conservative Northern California county, a team of Mexican immigrants is helping battle the Carr fire. Los Angeles Times
Red flag danger: Gusty weekend winds are expected to fan the fires. Los Angeles Times
And: For nearly three weeks, Yosemite has been besieged by fire. It's a summer without any crowds — the park is closed — but a lot of smoke and worry. Los Angeles Times
— Congress is sending seven firefighting planes to California, but they won't help this year. McClatchy
— "As California wildfires rage, politicians, timber companies and environmentalists are debating whether to thin overly dense forest lands that fuel the state's deadly infernos." CNBC
AROUND CALIFORNIA
More about those skull tattoos: L.A County Sheriff's Deputy Oleg Polissky said last month he acquired a skull tattoo a few years ago as part of an exclusive crew of deputies at the Palmdale Station. His testimony is the latest account of deputy cliques that have been active in recent years, despite department reform efforts. Los Angeles Times
Pushing back: Harvey Weinstein's lawyer on Friday filed an extensive motion to dismiss Weinstein's indictment on multiple sex charges, arguing that grand jurors never saw exculpatory evidence, including emails in which a woman he is accused of raping allegedly professed her love for him years afterward. Los Angeles Times
Scary stuff: When a woman needed an emergency caesarean section at an Oceanside hospital last year, the anesthesiologist could not be quickly found — so the surgery was done without anesthesia, according to the woman, her fiance and their lawsuit. San Diego Union-Tribune
Hollywood drama: In a surprise move that could have major implications for Hollywood, the U.S. Department of Justice is scrutinizing antitrust rules that for decades have governed the way movie studios do business with theaters. Los Angeles Times
Click! "L.A.'s Awesome History of Weird, Food-Shaped Restaurants." LAist
Financial woes: L.A. City Council President Herb Wesson said in a statement that he and his wife have resolved an outstanding credit card bill that prompted a lawsuit by Discover Bank — two years after he narrowly avoided a foreclosure auction on a house he owns in Ladera Heights. Los Angeles Times
Drama in Silicon Valley: "Google bosses were scrambling to contain leaks and internal anger on Wednesday after the company's confidential plan to launch a censored version of its search engine in China was revealed by The Intercept." The Intercept
Staying on the books: "A federal appeals court on Friday upheld the constitutionality of two California laws restricting the ability of people to buy and carry firearms, rejecting appeals by gun rights advocates." Reuters
Plus: A federal appeals court has for a second time upheld a $4.1-million award against Los Angeles County sheriff's deputies for shooting a homeless couple who were staying in a friend's backyard shed. Los Angeles Times
Immigration talk: The Trump administration said family separation was the result of a "zero tolerance" prosecution strategy. But a new analysis shows that parents with children were the ones sent to court, while adults without kids weren't. BuzzFeed
Green thumbs, beware! When watering a plant is the biggest mistake you can make. Los Angeles Times
Get the Essential California newsletter »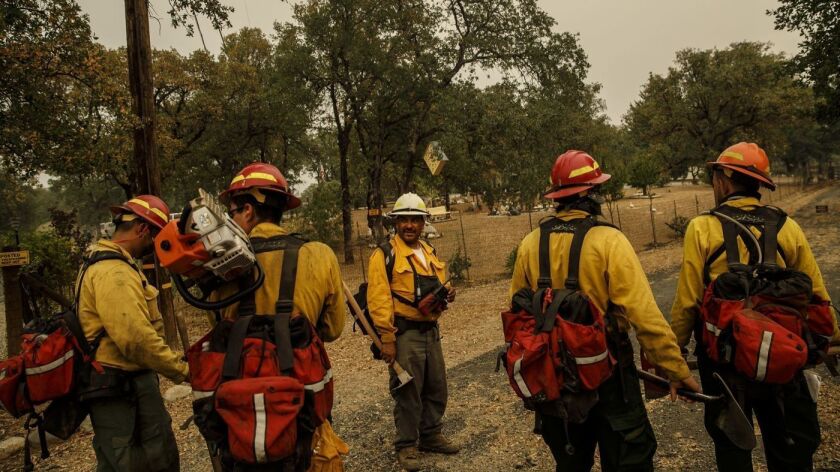 THIS WEEK'S MOST POPULAR STORIES IN ESSENTIAL CALIFORNIA
1. Architects were asked to design appealing homeless shelters on a $1-million budget. Here's what they came up with. Los Angeles Times
2. "Meet the Sexual Candy Man of Hollywood's Closeted Elite, from Cary Grant to Katharine Hepburn." Vanity Fair
3. Drivers are fed up with the DMV. So are California lawmakers. Sacramento Bee
4. In the California desert, a farm baron is building a water and energy empire. Desert Sun
5. An Aryan Brotherhood leader dies in prison, leaving behind a bloody legacy in the Bay Area. Mercury News
ICYMI, HERE ARE THIS WEEK'S GREAT READS
Amazing tale: About halfway through the three-hour siege at Trader Joe's in Silver Lake, the wounded gunman, Gene Atkins, looked at one of his hostages, MaryLinda Moss, and told her it was all over for him. "I just shot at a cop," he said. Moss, a 55-year-old artist who exudes calm, feared a suicidal gunman could spark a bloodbath. Through a series of disastrous decisions by Atkins, dozens of strangers had ended up at the grocery store on a hot Saturday afternoon, drenched in fear and surrounded by SWAT teams, helicopters, squad cars and ambulances. She put her hand on his heart. Los Angeles Times
Dire warning: "Losing Earth: The Decade We Almost Stopped Climate Change." New York Times Magazine
Book excerpt: "Steve Jobs and Chrisann Brennan were 23 when their daughter was born. Lisa Brennan-Jobs remembers the pride and pain of a childhood spent navigating the vastness between her struggling single mom and Apple's mercurial founder." Vanity Fair
Where do I get one? The inside story behind the sold-out Tesla surfboards, made by a San Clemente shaper and now on eBay for $4,500. Orange County Register
Border tales: How Trump's family separation policy deterred at least one mother from seeking asylum. Desert Sun
Great shots! Check out this awesome spread about female big wave surfers. California Sunday Magazine
If you have a memory or story about the Golden State, share it with us. Send us an email to let us know what you love or fondly remember about our state. (Please keep your story to 100 words.)
Please let us know what we can do to make this newsletter more useful to you. Send comments, complaints and ideas to Benjamin Oreskes and Shelby Grad. Also follow them on Twitter @boreskes and @shelbygrad.
---