Newsletter: Essential California: A closer look at the $119.5-million Aliso Canyon settlement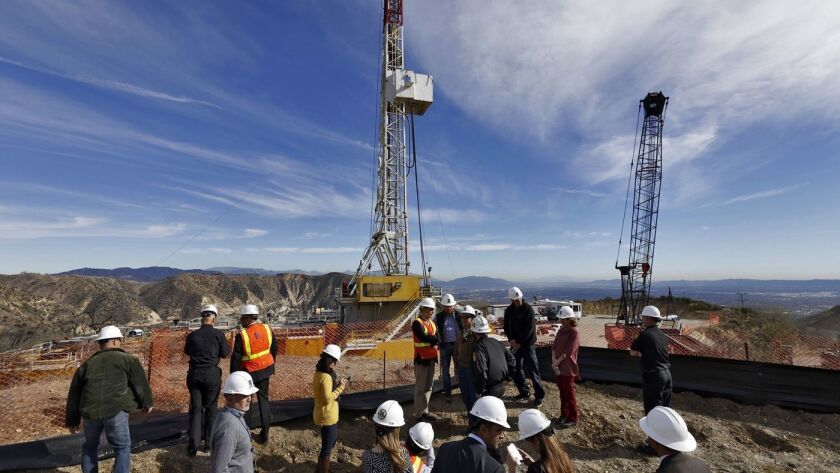 Good morning, and welcome to the Essential California newsletter. It's Thursday, Aug. 9, and here's what's happening across California:
TOP STORIES
State and local officials on Wednesday announced a tentative settlement in lawsuits filed against Southern California Gas Co. over the biggest methane leak in U.S. history. The $119.5-million settlement with city, county and state officials and prosecutors will resolve agencies' claims against the gas company. In exchange, the utility will pay civil penalties and fund expanded air monitoring, a government-administered health study and environmental and climate mitigation projects across the region and state. But many questions remain. Los Angeles Times
New fire, same problems
The Holy fire in the Cleveland National Forest pushed closer to some homes Wednesday, prompting a new round of mandatory evacuations. The fire, which has burned more than 6,000 acres, is forcing evacuations in McVicker Canyon, Rice Canyon, Horsethief Canyon, El Cariso, Rancho Capistrano, Indian Canyon, Glen Eden, Sycamore Creek and Mayhew Canyon, according to the National Forest Service. Los Angeles Times
In custody: A man suspected of starting the Holy fire has been arrested, officials announced. Los Angeles Times
More California fire coverage: Eighteen blazes scorch 600,000 acres across the state. Los Angeles Times
In photos: Times photographers go on the front lines. Los Angeles Times
And: Here's what the Mendocino Complex fire looks like overlaid on Los Angeles and New York. Los Angeles Times
A new Oscars category
In a series of moves that could shake up the very nature of the Oscars, including the types of films nominated and the length of the telecast, the Academy of Motion Picture Arts and Sciences on Wednesday announced sweeping new changes that are among the most dramatic in the tradition-bound group's more than 90-year history. Among the three changes — which were approved by the 54-member board of governors and announced to the organization's members in a letter Wednesday morning — the most consequential and potentially controversial one is a new category for "outstanding achievement in popular film" that would stand apart from the traditional best picture award. Los Angeles Times
Get the Essential California newsletter »
L.A. STORIES
Did he do it or not? Comatose and near death, the alleged "Skid Row Stabber" still awaits retrial — or freedom — in a decades-old serial killer case. Los Angeles Times
On the Eastside: Art galleries are leaving Boyle Heights but more anti-gentrification battles loom on the horizon. Los Angeles Times
More backlash: Some residents of Bell worry that a planned gravel yard will bring traffic and pollution to their city. NBC LA
Hey, batter! Baseball in Los Angeles is about much more than the Dodgers and Angels, of course. A look at the Aztecas and more. LAist
IMMIGRATION AND THE BORDER
Border numbers: The number of people who were apprehended trying to cross the U.S.-Mexico border illegally did not decrease significantly after the Trump administration's "zero tolerance" policy began this year — but the number who attempted to cross legally did, according to government figures released Wednesday. Los Angeles Times
POLITICS AND GOVERNMENT
He said what? Republicans need to keep control of the House to protect President Trump from the Russia investigation, House Intelligence Committee Chairman Devin Nunes said at a recent fundraiser, according to an audio recording released Wednesday. Los Angeles Times
Endorsement for sheriff: The union representing rank-and-file Los Angeles County sheriff's deputies announced its endorsement Wednesday of upstart candidate Alex Villanueva, boosting his bid to upset Sheriff Jim McDonnell in a November runoff election. Los Angeles Times
In Sacramento: Dozens of wildfire survivors turned out for a rally on the steps of the state Capitol during a week in which lawmakers are working on legislation dealing with wildfire response and liability of electric utilities for billions of dollars in damage. Press Democrat
Columnist Michael Hiltzik's take: Following Trump, the federal government is using California wildfires as an excuse to attack endangered species protections. Los Angeles Times
CRIME AND COURTS
Some accountability: After the recent death of 10-year-old Anthony Avalos, state officials will conduct an audit of L.A. County's Department of Children and Family Services to determine whether the agency is doing enough to protect children. Los Angeles Times
Big sweep: Law enforcement officials conducted a series of raids across Southern California on Wednesday morning that resulted in 22 arrests and disrupted a large-scale drug operation linked to the Sinaloa cartel after a years-long investigation. Los Angeles Times
Identified: Authorities on Wednesday identified a murder suspect who was killed in an officer-involved shooting in South Los Angeles that left an FBI agent wounded. Press-Enterprise
THE ENVIRONMENT
Seaside mansion or public beach? Which will the California Coastal Commission save? Los Angeles Times
CALIFORNIA CULTURE
Unsettling stats: There's been a startling jump in the number of NFL player claims for Parkinson's and ALS, and it's pushing the payout projections past a 65-year total in just 18 months. Los Angeles Times
"Roseanne" update: Roseanne Barr lost her sitcom in June after posting a racist tweet. But the fate of her character Roseanne Conner may be a lot worse this fall. Los Angeles Times
Not good news: "Housing affordability in the Bay Area fell sharply in the second quarter, as record home prices and rising mortgage rates failed to offset rising incomes." San Francisco Chronicle
Hollywood talk: "James Gunn may have been fired by Walt Disney Studios from 'Guardians of the Galaxy Vol. 3,' but many in Hollywood are looking to work with the controversial filmmaker." The Hollywood Reporter
Yum: "The six best veggie burritos in Sonoma County." Sonoma Magazine
CALIFORNIA ALMANAC
Los Angeles area: Sunny, 93, Thursday. Sunny, 91, Friday. San Diego: Partly cloudy, 91, Thursday. Sunny, 87, Friday. San Francisco area: Partly cloudy, 65, Thursday. Sunny, 69, Friday. San Jose: Sunny, 87, Thursday. Sunny, 88, Friday. Sacramento: Partly cloudy, 99, Thursday. Sunny, 97, Friday. More weather is here.
AND FINALLY
Today's California memory comes from Fran Miller:
"It was about 1968 when my family lived in Orange County, about a 10-minute drive from Disneyland. On random summer nights, my brothers and I would don our pajamas, grab our pillows and blankets and hop into the rear of our Volkswagen square back (no seat belts) and our parents would drive us (never any traffic) to the Disneyland parking lot, which then was a paved lot and free to anyone. There, we had a front-row seat to Disneyland's nightly fireworks show. My favorite part was watching Tinker Bell 'fly' down from the top of the Matterhorn during the finale. My brothers always said they could see the wire from which she dangled, but I knew she was truly flying."
If you have a memory or story about the Golden State, share it with us. Send us an email to let us know what you love or fondly remember about our state. (Please keep your story to 100 words.)
Please let us know what we can do to make this newsletter more useful to you. Send comments, complaints and ideas to Benjamin Oreskes and Shelby Grad. Also follow them on Twitter @boreskes and @shelbygrad.
---