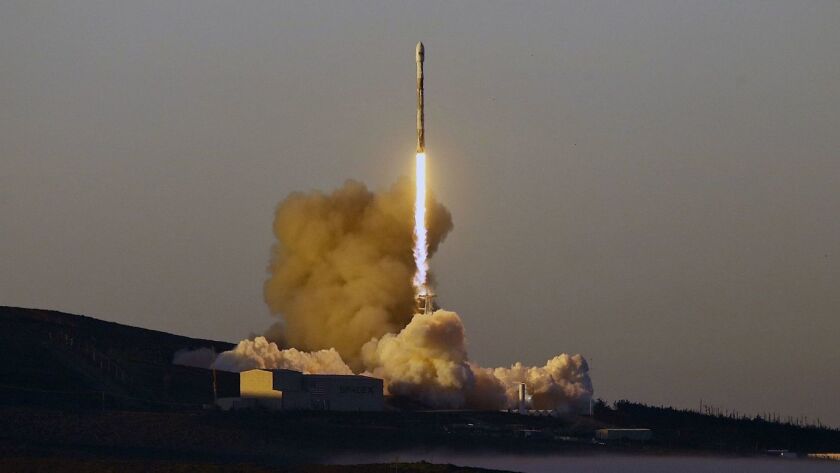 Good morning, and welcome to the Essential California newsletter. It is Saturday, Sept. 1. Here's what you don't want to miss this weekend:
TOP STORIES
One of the big winners from President Trump's push for a new military service called "space force" may be one of his least favorite places: California. It stands to see a surge in government and industry jobs and billions of dollars in contracts for satellites and other technology if Congress approves the space force when it takes up the proposal next year, industry experts and former military officials said. Los Angeles Times
Story behind the story
Republican gubernatorial candidate John Cox often cites his role in the financial turnaround of a Chicago potato-chip company as evidence of the sharp business mind he'd use to run California. But there is another aspect of his relationship with the family that owned the snack company. They alleged financial misconduct, a case that led to Cox paying a $1.7-million settlement in 1999, according to court documents obtained by the The Times. Cox has denied any wrongdoing and called it a "frivolous lawsuit." Los Angeles Times
Net neutrality update
Nearly nine months after federal regulators voted to do away with net neutrality rules instituted under the Obama administration, state lawmakers sent a broad proposal to Gov. Jerry Brown that would bring the rules back to California. Los Angeles Times
AROUND CALIFORNIA
A faster DMV? An inside look at how the Department of Motor Vehicles is cutting wait times in some offices. Sacramento Bee
Yikes: The costly bill ahead for California from climate change. CALmatters
Time to breathe: The author of a high-profile measure to curb paid "conversion therapy," which purports to change a person's sexual orientation, said he is shelving his bill Friday in hopes of finding consensus with religious communities that vigorously opposed the proposal. Los Angeles Times
Sad story: "ER" actress Vanessa Marquez was shot and killed by South Pasadena police after, officer say, she pointed what turned out to be a BB gun at them during a welfare check. Marquez was best-known for her recurring role as nurse Wendy Goldman on the popular medical drama. Los Angeles Times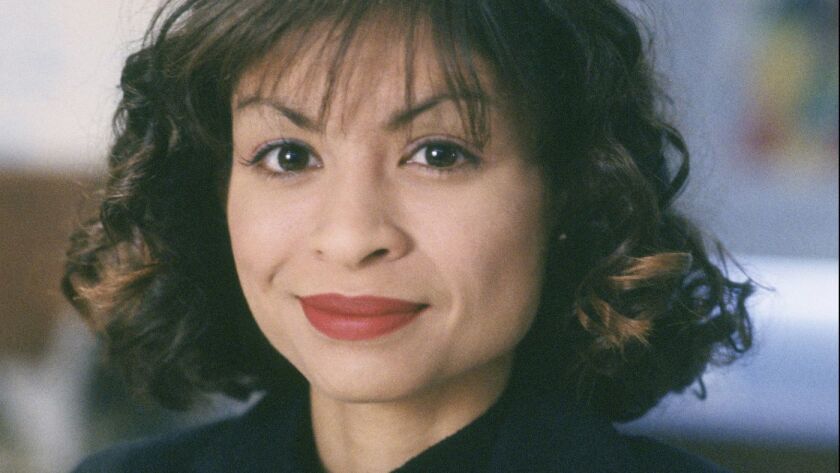 Man with the money: The Rams on Friday agreed to terms on a contract extension for star defensive lineman Aaron Donald, who will be the NFL's highest-paid defensive player. He is reportedly receiving a six-year, $135-million contract. Los Angeles Times
Fighting back: The crackdown on tech immigrant workers sparks a backlash in Silicon Valley. Mercury News
Dangerous move: Homeless people, pushed out of the Santa Ana River, are going into storm drains. Orange County Register
E-I-E-I-O: A judge rules that Rep. Devin Nunes is indeed a farmer. Fresno Bee
Made with tiger blood? Probably not a surprise that a strain of pot named after Charlie Sheen is pretty potent. L.A. Taco
It's legit: As its film division heats up, Netflix has its sights set on a best-picture Oscar nomination, and step one is to dominate the fall film festivals. Los Angeles Times
Going gaga: A new "Star Is Born" is captivating Hollywood. Hollywood Reporter
Get the Essential California newsletter »
THIS WEEK'S MOST POPULAR STORIES IN ESSENTIAL CALIFORNIA
1. Building a vast new city on L.A.'s northern edges: A solution for the region's housing crunch? Los Angeles Times
2. "A cliffhanger in Pacific Palisades." New York Times
3. "Ode to Alcatraz: How the Rock went from 'perfect prison' to tourist mecca." San Francisco Chronicle
4. It seemed like a done deal, but new efforts are underway to open Hollister Ranch to the public. Los Angeles Times
5. "The Lebowski property tax break." CALmatters
ICYMI, HERE ARE THIS WEEK'S GREAT READS
A desperate search: Sometimes equipped with only a name, and sometimes not even that, advocates are searching Guatemala for deported parents whose children are still in the United States. A wrenching story about the detective work that could reconnect families. Los Angeles Times
To infinity and beyond: How much money will Elon Musk's ego cost him? Wall Street Journal
Meet Malcolm D. Lee: Despite earning Hollywood success with movies like "Girls Trip," this African American director says he's still playing his dues. California Sunday Magazine
Drinking the ...: The cult that created a California wine empire. San Francisco Chronicle
Please let us know what we can do to make this newsletter more useful to you. Send comments, complaints and ideas to Benjamin Oreskes and Shelby Grad. Also follow them on Twitter @boreskes and @shelbygrad.
---
UPDATES:
10 a.m.: The item about GOP governor candidate John Cox was updated to include his denial of any wrongdoing.
---