Newsletter: Essential California: Can two former Republicans turn Orange County blue?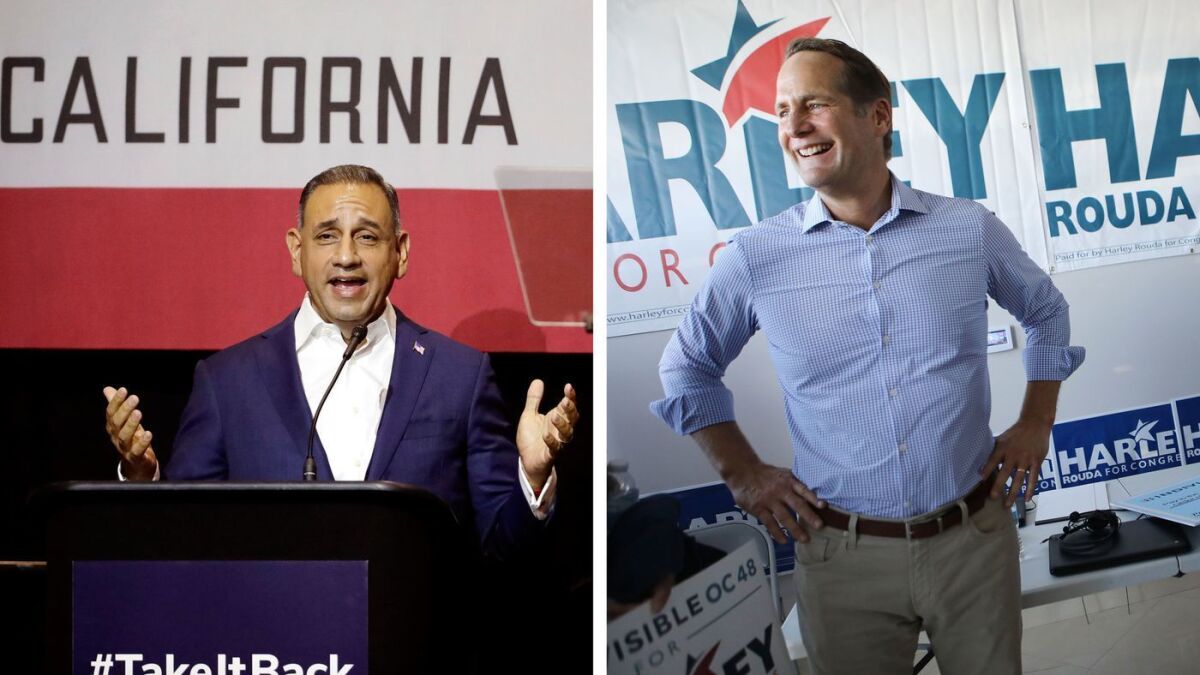 Good morning, and welcome to the Essential California newsletter. It's Thursday, Oct. 25, and here's what's happening across California:
TOP STORIES
Coastal Orange County is definitely not the deep red region of the Nixon and Reagan eras. But can the Democrats turn it blue, and in doing so offer a much more serious challenge in Washington to President Trump? The effort is being led by former Republicans who say their party has has narrowed its base, moving away from fiscal responsibility, free trade and its internationalist outlook. Is Orange County anti-Trump country? Los Angeles Times
— Changing demographics across red California give Democrats a narrow margin once thought impossible. The Atlantic
— The news gets a bit better for embattled Rep. Dana Rohrabacher. Los Angeles Times
— The campaign of John Cox for governor can tell you a lot about where the California GOP is now. Politico
— A poll shows Sen. Dianne Feinstein is comfortably ahead of Kevin De Leon, while Republicans aren't sure how to vote in an all-Democratic field. The Hill
Get more election coverage on our Decision California page.
Another suspicious package
The FBI said a suspicious package addressed to Rep. Maxine Waters that was found at a South Los Angeles mail facility Wednesday is similar to packages sent to other critics of President Trump on the East Coast. Law enforcement sources said the package contained materials capable of exploding under the right circumstances. Los Angeles Times
— Authorities said several suspicious envelopes mailed to the Los Angeles Times headquarters in El Segundo were deemed safe by a hazardous materials team. Los Angeles Times
— A downtown San Diego building that houses the San Diego Union-Tribune was briefly evacuated after a stack of suspicious-looking packages, later determined to contain an assortment of random items, was spotted. San Diego Union-Tribune
Exposing white power tactics
Private messages offer a dark window into a Southern California white supremacist group linked to violent incidents here and in Virginia. Court records show the group prided itself on secrecy and tried to keep a low profile on social media and avoid saying anything that could attract authorities. They also thought the movement needed a makeover. "Think it's time to reimagine the nationalist look and playbook, we have become predictable that needs to change," one leader said in a text. Los Angeles Times
Plus: Federal authorities are trying to break the back of the Rise Above Movement. Los Angeles Times
Get the Essential California newsletter »
L.A. STORIES
See you in court: A former staffer with Los Angeles City Councilman Jose Huizar is suing the city of Los Angeles, alleging she faced retaliation after voicing concerns that her boss was having an affair with an aide and committing "potential legal and ethical violations." Los Angeles Times
Coming not so soon: Southern California's first new freeway in years is coming, eventually. It will connect Perris to San Jacinto. Press-Enterprise
Developer wars: Slow growth remains a powerful issue on the Westside, with Santa Monica now considering new limits on tall buildings. Curbed Los Angeles
Kind of blue: Bullied for the second game in a row at Fenway Park, the Dodgers will return to Los Angeles with their season in jeopardy of ending this weekend at Dodger Stadium. After a 4-2 defeat in Game 2 of the World Series, the Dodgers trail by two games and have little immediate reason for optimism. Los Angeles Times
Guess it's working: Boston Mayor Marty Walsh refused to place a bet on the World Series with Los Angeles Mayor Eric Garcetti, citing a recent string of bad luck. Los Angeles Times
CRIME AND COURTS
No joke: The disturbing story of a California swatting scammer whose pranks eventually turned deadly. Wired
Suspicious blazes: A string of fires at construction sites in the Oakland area has some questioning whether this is an attack on gentrification. San Francisco Chronicle
More from Oakland: He asked to be removed from the priesthood after being convicted of molestation. But it didn't immediately happen. Mercury News
CALIFORNIA POLITICS
Getting out the vote: Young voters have been a particular target of outreach leading up to the November midterm elections because they are underrepresented. They're especially sought after by Democrats because they lean liberal, especially in California, where they could help flip Republican seats and unseat the Republican majority in the U.S. House of Representatives. Los Angeles Times
— A look at why some Latinos vote, and why some don't. New York Times
What if: Weeks after the election, Rep. Duncan Hunter is expected in a courtroom to face felony charges. Hunter, who has called the case a "witch hunt," refused to withdraw from the race after his indictment. So what happens if he is reelected and then convicted? Turns out that's a difficult question even for experts to answer: There are few rules and no requirement that even an imprisoned member of Congress must resign or be removed. It may come down to which party controls the House after the midterms. Los Angeles Times
Prop. 12: Animal-welfare activists have split over an initiative on the statewide ballot next month that would phase-in requirements to provide more space for egg-laying hens, breeding pigs, and calves raised for veal in California. Los Angeles Times
Brother, could you spare a billion? The first four measures Californians will see on their statewide ballot this year ask for permission to borrow lots of money. Los Angeles Times
Fail: New signs that state regulators are not being a watchdog for for-profit college abuse. CALmatters
2020 watch: Sen. Kamala Harris became a political star in Iowa. But it's far from clear how that may play later. BuzzFeed News
CALIFORNIA CULTURE
Blistering: Jim Carrey has created a show of his own anti-Trump artwork in Los Angeles. "I will not accept a liar as my leader," he says. "There is only one true enemy of the state and that's the president." Naturally, it's attracting the attention of Hollywood. Los Angeles Times
Texas and California: So similar, but also so different. Curbed
The "data-industrial complex": "We shouldn't sugarcoat the consequences. This is surveillance and these stockpiles of data serve only to make rich the companies that collect them. This should make us uncomfortable." — Apple CEO Tim Cook's warning about dangers of tech privacy. Wall Street Journal
Their stories: Twelve homeless people explain how they got onto the streets of California. SF Gate
Do not try this at home: Authorities said a Fresno man set his parents' home ablaze while trying to exterminate black widow spiders with a blowtorch. Los Angeles Times
Old school: Yes, you can still get a new Thomas Bros. map guide in paper. But it's getting harder. Los Angeles Magazine
CALIFORNIA ALMANAC
Los Angeles area: sunny, 81, Thursday; sunny, 85, Friday. San Diego: sunny, 73, Thursday; sunny, 78, Friday. San Francisco area: partly cloudy, 66, Thursday; partly cloudy, 67, Friday. San Jose: partly cloudy, 75, Thursday; partly cloudy, 77, Friday. Sacramento: partly cloudy, 83, Thursday and Friday. More weather is here.
AND FINALLY
Today's California memory comes from Jim Hooper:
"My greatest memory of living in California happened yesterday on my drive into town. We have the most pristine undammed river in United States, the serpentine-infused, green and blue clear waters of the Smith River. I get to marvel at it daily on my drive into town in what is said to be the tsunami capital of the United States, Crescent City. On the drive I am under the canopy and beside the huge trunks of the tallest trees in the world, the coastal redwood. The memory I have of California is appreciating living in it daily and remembering what it offered me yesterday and its promise for tomorrow. It is its very diversity of people and biomes that make it the Golden State and the mecca of past, present and future generations of immigrants of which I am the beneficiary."
If you have a memory or story about the Golden State, share it with us. Send us an email to let us know what you love or fondly remember about our state. (Please keep your story to 100 words.)
Please let us know what we can do to make this newsletter more useful to you. Send comments, complaints and ideas to Benjamin Oreskes and Shelby Grad. Also follow them on Twitter @boreskes and @shelbygrad.
---