Newsletter: Today: Your Government at Work, Again
Moderates in the Senate helped end the government shutdown. Is this the start of something?
TOP STORIES
Your Government at Work, Again
The federal government shutdown is over, at least until Feb. 8, but perhaps more significant is how the deal got done. Rather than President Trump or congressional leaders taking the reins, it was the new Common Sense Coalition, a group of 30 or so moderate senators from both parties. The quesiton is whether it will last. Meanwhile, some liberals are complaining that Senate Minority Leader Charles E. Schumer caved on getting nothing beyond a promise from Republicans to consider a bill to help the "Dreamer" immigrants. As for what's next on the DACA front, much depends on Trump, who has been — how shall we say it? — less than clear on where he stands.
Trump's Solar Tariffs: Who Will Feel the Burn?
Trump has long talked about going after foreign imports that he blames for undercutting American manufacturing. Now he's starting to put those words into action, with heavy tariffs on solar panels and washing machines. The move rattled the U.S. solar power industry, which has rapidly expanded thanks to cheap panels from China and now says thousands of blue-collar jobs could be lost. At the same time, few analysts project the tariffs will revive American panel manufacturers. California will be among the hardest-hit states.
More Politics
-- Officials have said building an embassy in Jerusalem could take years, but Vice President Mike Pence told the Israeli parliament the U.S. will open one there by the end of next year.
-- "Don't touch California. If you want to drill, do it off Mar-a-Lago," former Gov. Arnold Schwarzenegger says of Trump's offshore oil drilling plans.
-- The #MeToo movement is putting increased scrutiny on California politicians as they seek endorsements.
A Quiet Scene of Devastation in Montecito
The mudslides that killed at least 21 people and destroyed more than 100 homes have left a scene of devastation few have witnessed firsthand. On Sunday, columnist Robin Abcarian was among the reporters and workers allowed into the Montecito evacuation area. "Squishy muck covered lawns and driveways. Backyards were boulder fields. Front doors were flung off their jambs.… It was dead quiet, except for the cawing of crows poking around piles of fast-food wrappers left by work crews."
'Where Do You End Up When Every Door Is Shut?'
For the hundreds of people at a homeless camp along the Santa Ana River in Anaheim, the time to move has come, even if they don't know where to go. On Monday, workers from Orange County's Health Care Agency and the Sheriff's Department began looking for volunteers. Later this week, if the homeless don't leave, they'll be subject to arrest. Some of them will no doubt end up in other public spaces. More from the scene.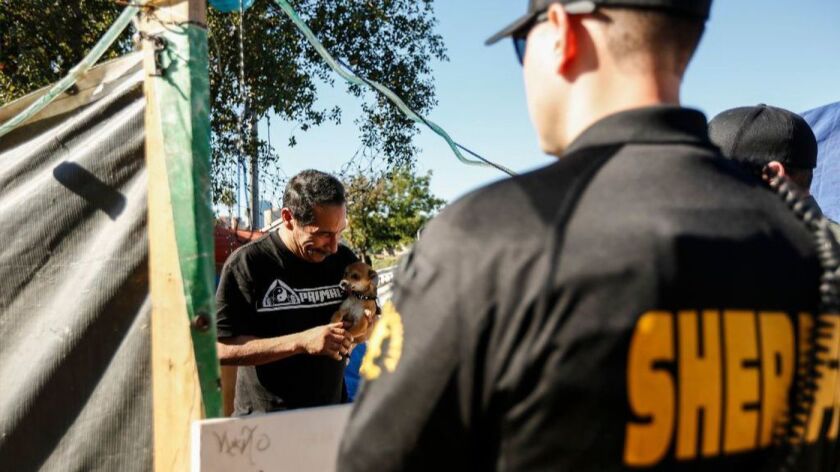 Hollywood's Biggest Morning of the Year
The Oscar contenders may say they forgot and are sleeping in, but the rest of Hollywood will be watching as the Academy Awards nominations are announced today at 5:22 a.m. Pacific time. The race has been wide-open, with "Three Billboards Outside Ebbing, Missouri" and "The Shape of Water" among the expected nominees. There are also some new envelope procedures after last year's best picture snafu. Get our complete coverage here.
By the way: Yes, our website has a new look. Check it out.
MUST-WATCH VIDEO
-- With the film "Yardie" showing at the Sundance Film Festival, Idris Elba hopes to change the way black characters are portrayed in films.
-- The cast of "Ophelia," also at Sundance, discusses adapting Shakespeare's "Hamlet" for a new film from a woman's point of view.
CALIFORNIA
-- State lawmakers are angling for another fight with the Trump administration, this time to revive federal net neutrality rules that they say are crucial to a fair, open and free internet.
-- For L.A. County's annual homeless count, thousands of volunteers will fan out starting tonight for three days of tallying.
-- Romana Acosta Bañuelos, who became the first Latina U.S. treasurer in 1971 under President Nixon, has died at age 92.
-- The California Real ID driver's license, which can be used as identification for getting on a plane starting in October 2020, is here. Our travel editor found out what it was like to get one.
HOLLYWOOD AND THE ARTS
-- Neil Diamond is retiring from touring after he says he was diagnosed with Parkinson's disease.
-- Out in Pioneertown, Mike Nesmith revisited his influential post-Monkees country-rock.
-- "Transformers: The Last Knight" and "Fifty Shades Darker" got the most Razzie Award nominations, celebrating the worst in film.
-- Mexican actor Gabino Rodríguez spent months living under an assumed identity as a worker making less than $5 a day. The experience became the basis for a staged work at the Skirball Center.
CLASSIC HOLLYWOOD
Minnie Mouse finally got her star on the Hollywood Walk of Fame on Monday as part of the 90th anniversary celebration of the Walt Disney film "Steamboat Willie." As Katy Perry noted at the ceremony, it was just "a brief 40 years after Mickey got his star."
NATION-WORLD
-- The Pennsylvania Supreme Court struck down the state's congressional map, which was drawn to give Republicans a 13-5 majority. It's the third court decision in a year to find a state election map is a partisan gerrymander.
-- Pope Francis has apologized to abuse victims for his comments in Chile but is still defending a bishop accused of covering up the alleged sexual abuse of minors.
-- Saudi Arabia says it will donate $1.5 billion in humanitarian assistance to Yemen, a country its military coalition has devastated with bombings that allegedly killed civilians indiscriminately.
-- Taiwan's government has taken action against pressure from Beijing by freezing applications from two major Chinese airlines. It could set the stage for retaliation.
-- The video dance craze "Satisfaction Challenge" is sweeping the Russian nation, but not everyone is happy about seeing civil aviation cadets prancing in their underwear.
BUSINESS
-- Movie rental company Redbox's struggle to stay relevant as consumers switch from DVDs to streaming is all the more complicated as it fights with the Walt Disney Co. over copyright.
-- Consumer columnist David Lazarus found out firsthand what it's like when an insurer denies a valid claim because of "lack of medical necessity."
SPORTS
-- USA Gymnastics says a gold-medal-winning Olympic coach has been suspended and three board members have resigned amid the fallout from a sexual abuse scandal.
-- Outfielder Vladimir Guerrero is expected to be elected to the baseball Hall of Fame on Wednesday. What's not clear is whether he'll enter as an Angels player.
OPINION
-- California needs taller, denser development near transit stops, but not at the expense of affordable housing.
-- The best use for Trump's border wall is as a bargaining chip, columnist Jonah Goldberg writes.
WHAT OUR EDITORS ARE READING
-- Sources say FBI Director Christopher Wray threatened to resign amid pressure from above. (Axios)
-- A look at why rich kids in China keep changing the color of their expensive cars. (The Globe and Mail)
-- Board games are back, and many are from Germany. (The Atlantic)
ONLY IN L.A.
Steven Manfro used to run 40 yards in 4.41 seconds as a running back on the UCLA football team, before a shoulder injury ended his career on the gridiron. Now he's a newly minted graduate of the Los Angeles Police Academy — and a rookie cop you probably can't outrun.
If you like this newsletter, please share it with friends. Comments or ideas? Email us at headlines@latimes.com.
---