Newsletter: Today: The Firefighters' Eyes in the Sky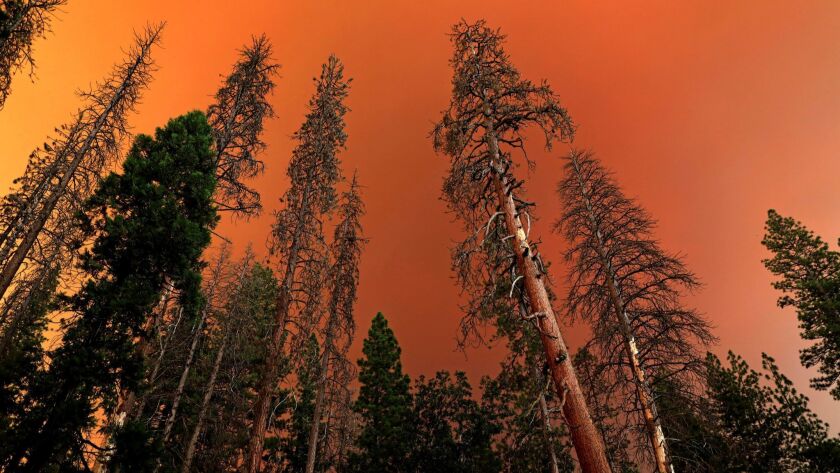 In the Yosemite Valley, a new era of using real-time intelligence from the sky to fight fires has begun.
TOP STORIES
The Firefighters' Eyes in the Sky
As California contends with ever worse wildfires, officials are turning to new technology to gain an upper hand. Case in point: the Ferguson fire near Yosemite, where a California Air National Guard aircraft with infrared capability flew thousands of feet above. For the first time, incident commanders were able to tell firefighters on the ground what was being reported from the craft in exact detail almost in real time. Officials hope to refine the technique and make it more efficient. Meanwhile, crews in Northern California have also gotten a break of the old-fashioned kind: some cooler-than-expected temperatures have allowed them to work on better containing the Mendocino Complex fire.
This School Safety Panel Is a Gun-Control-Free Zone
President Trump's school safety commission has hosted discussions about mental health, violent entertainment, "hardening" campuses and even arming teachers. Gun control, not so much. An Education Department spokesperson denies there's been any effort to limit debate. But interviews with participants and a review of video recordings shows that commission officials have largely avoided, limited and, in at least one case, suppressed discussion of gun control.
Lies, Lies and More Lies
The defense team for former Trump campaign manager Paul Manafort in his trial on charges of tax evasion, bank fraud and conspiracy has a strategy: Attack the prosecution's star witness for his own lack of truthfulness. Yesterday, Manafort's attorneys portrayed Trump deputy campaign manager Richard Gates as a thief, liar and adulterer. "After all the lies you've told and all the fraud you've committed, you expect the jury to believe you?" one of them asked. "Yes," Gates responded. "I'm here to tell the truth. I took responsibility for my actions." He'll be back on the stand today.
More Politics
-- Republican candidate Troy Balderson narrowly led a closely watched special election Tuesday in an Ohio congressional district that his party has dominated for decades.
-- California is firing back at the Trump administration with a state Air Resources Board plan to safeguard the state's greenhouse gas emissions rules from a proposed federal rollback.
-- A look at the shifting explanations for that Trump Tower meeting, and why it matters.
USC's New Course of Action
More than two months after it appeared USC President C.L. Max Nikias was resigning from the post, he has indeed done so — after some faculty members began to worry that he might stay. Nikias was given the titles of president emeritus and life trustee. In his place steps USC board member Wanda Austin to run the university temporarily, while a search for a permanent successor gets underway. The moves are the most concrete steps yet aimed at recovering from a series of scandals.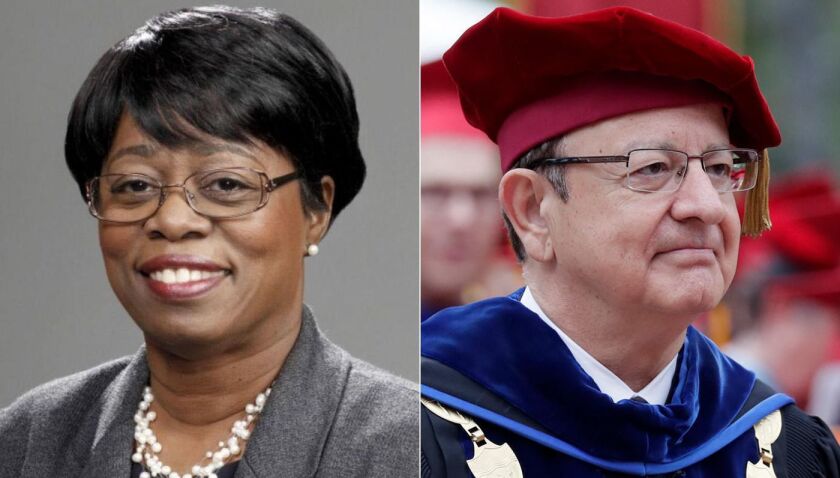 Make Tesla Great Again?
With one tweet, the true believers swooned, while the critics called for an investigation. This time, though, it was not from Trump; it was from Elon Musk. By tweeting that he's considering taking his car company private, Musk not only sent investors' heads spinning but also broke with the norms of how Wall Street works. Tesla's stock soared, even though no actual deal had been announced or source of funding identified. That led to questions of whether the billionaire had improperly manipulated the stock price.
Sign up to get Today's Headlines delivered to your inbox. »
MUST-WATCH VIDEO
-- At a street bazaar in Mexico City, you can get plucked, scrubbed and waxed for cheap.
CALIFORNIA
-- A federal appeals court appeared uncertain whether it had authority to weigh in on a dispute about the Trump administration's plans to replace border fencing. The state and several environmental groups have challenged the projects.
-- State lawmakers grilled the leader of the Department of Motor Vehicles, who apologized for a recent sharp increase in hours-long wait times.
-- The West Hollywood City Council wants Trump's star removed from the Hollywood Walk of Fame, even though it doesn't have the authority to do so and the star is in L.A., not WeHo.
-- Fake news or the future? Steve Lopez imagines an escalating spat between Trump and California.
HOLLYWOOD AND THE ARTS
-- "BlacKkKlansman" is Spike Lee's latest movie and, in film critic Kenneth Turan's view, one of his best. It takes on the true story of an African American undercover cop who became a member of the Ku Klux Klan.
-- The new film "The Captain" is set during World War II, but its themes echo into today's world of populists and demagogues.
-- With the "Double Vision" exhibition at the Los Angeles County Museum of Art, 3-D art strives to find a new dimension.
-- HGTV is the winning bidder for the Brady Bunch house in Studio City, beating out a small crowd of buyers that included 'N Sync singer Lance Bass.
CLASSIC HOLLYWOOD
In 1928, Mickey Mouse made his movie debut in the animated short film "Steamboat Willie," playing the song "Turkey in the Straw" on a cow's teeth. To celebrate his 90th birthday, the Disney-owned network ABC is planning a special for Nov. 4, two weeks before the big day. As with most 90-year-olds, Mickey has changed over the decades. Yet somehow he still has his youthful good looks.
NATION-WORLD
-- A Kansas man who opened fire in a suburban Kansas City bar, killing an immigrant from India and wounding two other men, was sentenced in federal court to three consecutive life prison terms.
-- The death toll in Sunday's 6.9-magnitude earthquake in Indonesia has risen to more than 100, but on Tuesday, rescue workers pulled a man alive from the rubble of a mosque.
-- The Trump administration has urged Canada and Saudi Arabia to settle a diplomatic fight yet it avoided voicing support for the women's rights activists whose jailing is at the heart of the dispute.
-- In crisis after crisis, Israel is losing the public relations war. Is it winnable?
BUSINESS
-- The small roster of Fortune 500 companies led by women will shrink after PepsiCo Chief Executive Indra Nooyi steps down. Yet in the defense industry, three of the top U.S. firms will have female CEOs by next year.
-- Snap Inc.'s second-quarter revenue beat projections but for the first time reported a quarterly decline in daily users.
SPORTS
-- Columnist Bill Plaschke says Angels Manager Mike Scioscia will indeed leave the team. His toughness will remain with the organization, though.
-- At 42, Tiger Woods prepared for this week's PGA Championship not with a warmup round of golf but with a long soak in an ice tub.
OPINION
-- Can hard work and saving still buy you a house in Southern California? Columnist Gustavo Arellano says it's harder than before to pull off the American Dream.
-- Don't believe the hype about about 3-D printed guns, writes Jon Stokes, a co-founder of the Ars Technica website.
WHAT OUR EDITORS ARE READING
-- "The Mar-a-Lago Crowd": Documents show that three members of Trump's private club have been wielding influence over the Department of Veterans Affairs. None has ever served in the military or government. (ProPublica)
-- A young American couple were realizing their dream of bicycling around the world when an Islamic State-inspired attack killed them in Tajikistan. (New York Times)
-- In this take-no-prisoners interview, Kathleen Turner dishes on her former costars, the rage that's driven her and Trump's "gross" handshake. (Vulture)
ONLY IN L.A.
The Alpine Village shopping center may be a slice of Bavaria in Torrance, but for at least one night, it set aside the oompah music for the sounds of the beach. The Surf Guitar 101 convention brought together bands not only from Southern California, the birthplace of surf music, but also Denmark, Argentina and France, for a weekend that was totally not a wipeout.
If you like this newsletter, please share it with friends. Comments or ideas? Email us at headlines@latimes.com.
---