Newsletter: Today: Fact-Checking Trump's State of the Union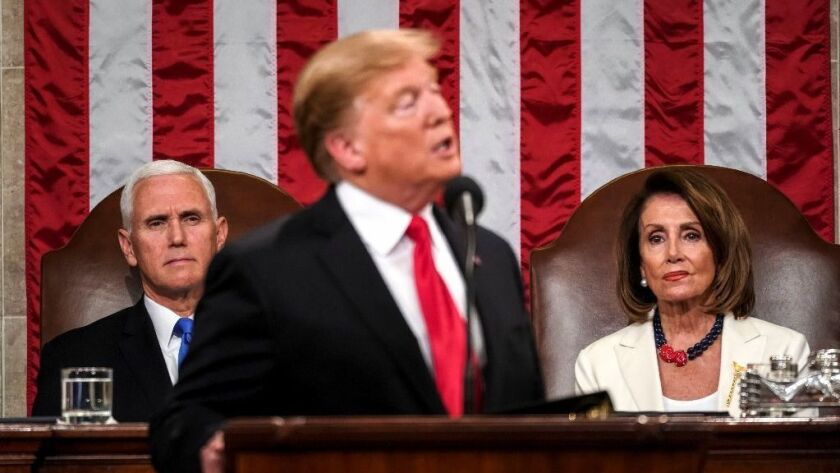 How did President Trump's State of the Union address hold up?
TOP STORIES
Fact-Checking Trump's State of the Union
"Together, we can break decades of political stalemate.… Tonight I ask you to choose greatness." That was the sentiment President Trump expressed near the beginning of his 82-minute State of the Union address, one of the longest on record. (Read the full text here.) By the end, he had hit upon topics including criminal justice, drug prices, trade, infrastructure, healthcare, national security, curing childhood cancer and ending AIDS in America. He also announced that the second summit with North Korean leader Kim Jong Un will be Feb. 27-28 in Vietnam. But he spoke the most about one of his most divisive issues — illegal immigration and his proposed wall along the border with Mexico — and threw in plenty of jabs at Democrats and "ridiculous partisan investigations," prompting more than a few eye rolls from House Speaker Nancy Pelosi. So what did Trump get right and wrong in his speech, one that had two conflicting missions? Our fact-checkers worked overtime to break it down for you here.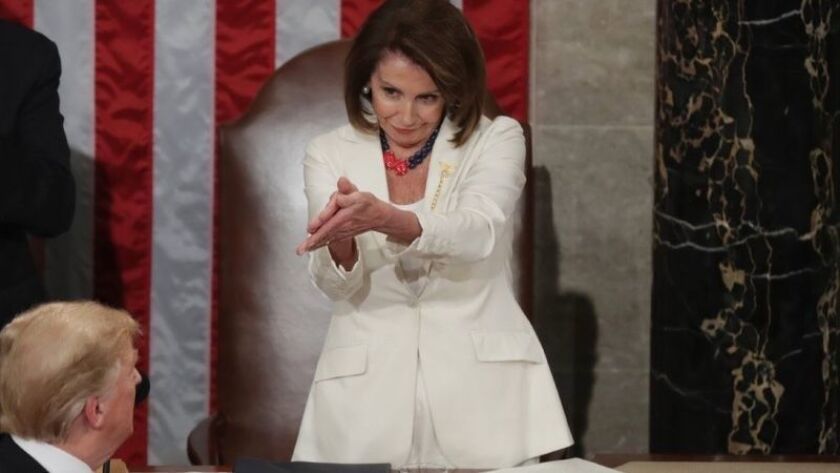 More Politics
-- Sen. Elizabeth Warren said she was sorry that she identified herself as a Native American for almost two decades.
-- When federal prosecutors subpoenaed Trump's inaugural committee, they reportedly showed particular interest in its dealings with one donor: Imaad Zuberi. So who is he?
-- Is Beto O'Rourke running? In talking with Oprah Winfrey, he sounds like a candidate again.
'The Perfectly Benign Storms'
California is still recovering from severe drought, but the latest series of storms has brought a wet winter — a rare occurrence over the last couple of decades. The good news, so far, is that the weather has not only replenished reservoirs and the snowpack but also has proved not terribly destructive. As one climatologist put it: "All things considered, instead of the perfect storm, it's been, literally, the perfectly benign storms."
A Push to Fight Fake News
In India, 2 out of 3 smartphones today use the Facebook-owned messaging platform WhatsApp, with people sending not only private messages but also sharing stories and images. Just as with other social media, it has a fake-news problem. Now, with India heading into a bitter campaign season involving parties that have frequently peddled half-truths and doctored videos, WhatsApp is battling fake news and trying to teach users how to spot hoaxes.
Just His Type
Unlike the pager, the PDA, the floppy disk and the VCR, the typewriter has escaped the heap of gadgets defunct and disused. Martin Quezada would know. As the owner of International Office Machines in San Gabriel, he still repairs typewriters, which have become the obsession of collectors and people looking to add a personal touch to their correspondence. Still, the curiosity factor isn't enough to match the pre-computer era when it comes to running a business.
Sign up to get Today's Headlines delivered to your inbox. »
PODCAST OF THE DAY
New sports columnist Arash Markazi delivers his post-Super Bowl report and looks ahead at the world of esports.
CALIFORNIA
-- State officials say they will investigate whether DMV voter registration errors resulted in any votes being wrongly rejected and whether the final results in any state or local races should be reconsidered.
-- A lawsuit filed against Boeing and Southern California Edison alleges that the two companies failed to protect the public from the threat that fire posed at the Santa Susana Field Lab, a former rocket testing facility.
-- Researchers have announced a new scale to describe the strength of atmospheric river storms, weather events that cause many of the West Coast's heaviest rains.
-- A Los Angeles County coroner's report says that a woman struck by a foul ball at Dodger Stadium last August died four days later as the result of bleeding in her brain.
HOLLYWOOD AND THE ARTS
-- A USC study of the music industry has found that female songwriters and producers remain "vastly outnumbered" by their male counterparts on Billboard's Hot 100 chart.
-- The horror film "Velvet Buzzsaw" on Netflix presents an over-the-top portrayal of an L.A. art critic. How close is it to the real thing? Our art critic, Christopher Knight, gives his verdict.
-- The red carpet for the New York premiere of Liam Neeson's "Cold Pursuit" was canceled amid a backlash over comments the actor made about wanting to kill a black person out of revenge.
-- The Hollywood Bowl lineup this year features John Legend, Hugh Jackman, Cyndi Lauper and, yes, Harry Potter.
NATION-WORLD
-- Sources say David Malpass, a senior Treasury Department official and World Bank critic, has accepted Trump's offer to be nominated to lead the world's largest development lender.
-- Paris' deadliest fire in more than a decade killed at least 10 people as flames engulfed a nine-story apartment building, sending residents to the roof and clambering across balconies to escape.
-- Pope Francis says he received a request from Venezuelan President Nicolas Maduro to help relaunch talks to end the country's political crisis but ruled out any involvement unless opposition leader Juan Guaido also requests it.
-- In South Korea, government jobs have become the most sought-after careers among teenagers and young adults, rather than jobs innovating and helping companies grow in the private sector.
BUSINESS
-- The Standard & Poor's 500 is up 9.2% so far this year. These five stocks are beating the market despite their own bumpy rides.
-- Calvin Klein's hiring of designer Raf Simons was supposed to be a game-changer. Here's why it wasn't.
SPORTS
-- The Lakers have pulled out of conversations aimed at trying to acquire New Orleans All-Star forward Anthony Davis. Columnist Dylan Hernandez explains why it's no surprise the trade talks were going to hit an impasse.
-- The Clippers have agreed to trade leading scorer Tobias Harris to Philadelphia as part of a larger trade with the 76ers, a person not authorized to speak publicly on the matter said.
-- Rams players and coaches are still processing their loss to the New England Patriots but say they will use it as motivation as they begin looking to next season.
OPINION
-- The anti-vaxx movement is a worldwide pandemic.
-- In an op-ed, Stormy Daniels takes on a recent California Supreme Court decision and writes that strippers need to be treated as freelancers, not employees.
WHAT OUR EDITORS ARE READING
-- The yuck factor: "Liberals and conservatives react in wildly different ways to repulsive pictures." (The Atlantic)
-- How fire-ravaged Paradise, Calif., put on "The Nutcracker" ballet, even if it was a month late. (San Francisco Chronicle)
-- The pirate radio broadcaster who occupied Alcatraz. (Narratively)
ONLY IN L.A.
It may be Los Angeles, but it's a jungle out there. Over decades of living here, columnist Steve Lopez has had to deal with skunks and raccoons at his house. One time, he got so desperate in his dealings with the masked bandits in his yard that he hired an animal communicator, who delivered a transcript of her communications with the creatures. Now he's got a new set of unwelcome visitors. Rats!
If you like this newsletter, please share it with friends. Comments or ideas? Email us at headlines@latimes.com.
---