Newsletter: Today: Trump, the Wall and the Waiver
President Trump has repeatedly bypassed a slew of environmental laws to speed up construction of border barriers.
TOP STORIES
Trump, the Wall and the Waiver
Under the Trump administration, the Department of Homeland Security has used a little-known waiver as a tool to bypass numerous environmental laws that threaten to impede the president's plans for a barrier on the country's southern border. The waiver, invoked six times over the last two years — compared with just five times during George W. Bush's entire eight-year presidency — has proved an effective tool to fast-track fencing and barrier projects and to neutralize legal action from environmentalists. The U.S. 9th Circuit Court of Appeals, which has blocked the administration's moves in other areas — such as asylum and travel ban policies — has supported Trump's use of the waiver. An environmental advocate says the laws being waived comprise "our entire toolkit, and we can't use any of them here."
More Politics
-- For many young Americans who came of age after the Cold War, "socialism" has sunny connotations, including greater economic opportunity and wealth distribution. But the term remains divisive, even in a Democratic Party that has shifted leftward, and the GOP hopes to make Democratic socialists like Bernie Sanders and Alexandria Ocasio-Cortez synonymous with their party. When Ocasio-Cortez unveiled the "Green New Deal" to fight climate change, a Republican Party spokesman derided it as "a socialist wish list," suggesting how President Trump may frame the stakes of the 2020 election. Says one Democratic Party strategist: "If the label is 'capitalism vs socialism,' capitalism wins and socialism loses."
-- Sen. Lindsey Graham of South Carolina says he wants to investigate whether Justice Department officials discussed an "administrative coup" to remove President Trump from office in 2017. The statement from Graham, the Republican chairman of the Senate Judiciary Committee, follows a claim from former FBI Director Andrew McCabe that Deputy Atty. Gen. Rod Rosenstein raised the issue of using the 25th Amendment to oust the president.
The Complicated Reality of China's Film Market
Seven years after a landmark deal to open the world's second-largest film market to the U.S., caution has replaced optimism among filmmakers hoping to reap profits in the Chinese market. Box-office growth has slowed, and censorship is a constant specter. One of China's top stars was arrested for tax evasion, and the resulting scandal has hobbled the Chinese industry. Complicating matters even further: The ongoing trade war between the Trump administration and China. Some films, like Sony Pictures' "Venom," have been massively profitable in China, but Hollywood executives show signs of wariness. "It's very, very difficult to get anything done at all," said one U.S. studio executive.
Elusive Licenses Frustrate Pot Entrepreneurs
It has been a year since California legalized recreational marijuana, but many aspiring retailers are frustrated that they still cannot apply for a license to sell. As part of a "social equity" program, L.A. leaders have promised to give advantages to would-be entrepreneurs who were hit hard by pot laws in the years before legalization, but the city has given priority to approving pot shops that were already operating under prior regulations for medical marijuana. Says a spokesman for Mayor Eric Garcetti: "Bringing cannabis above ground is an incredibly complex process, and L.A. is doing it on an unprecedented scale." But many new operators have leased storefronts, only to find them useless without a license.
Sign up to get Today's Headlines delivered to your inbox. »
FROM THE ARCHIVES
On Feb. 17, 1938, authorities tried to serve an eviction notice on George Farley at a home south of downtown Los Angeles. Farley opened fire on them, killing Deputy Marshal T. Dwight Crittenden and Leon W. Romer, and was convicted of two counts of manslaughter and ordered to serve 10 to 20 years in San Quentin State Prison. The photo below captures the shootout.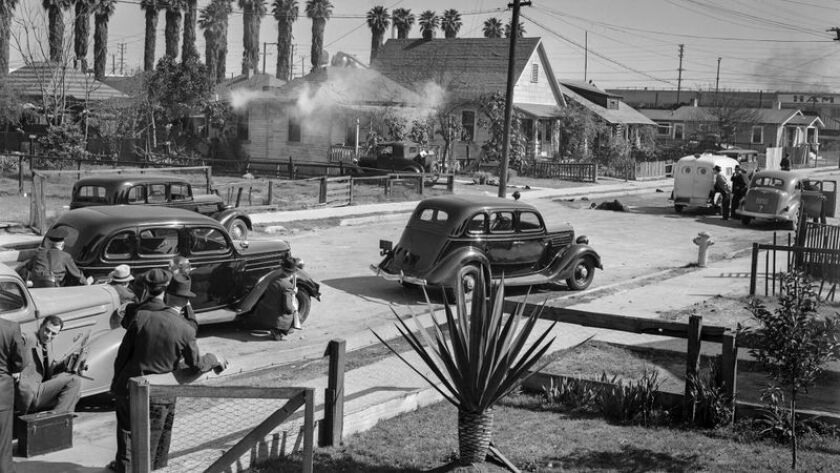 CALIFORNIA
-- The recent infection at City Hall has put typhus in the news, but the disease has been on the rise for more than a decade in California.
-- Gov. Gavin Newsom and California lawmakers are seeking to strengthen ties with Mexico.
-- As litigation roils, Forum lawyers question the Inglewood mayor about his relationship with an aide.
-- The snow mounts in the Sierra Nevada.
HOLLYWOOD AND THE ARTS
-- Kenneth Turan argues that "Black Panther" deserves the best picture Oscar.
-- Chicago police say the Jussie Smollett case has "shifted."
-- British photographer Nick Brandt confronts ecological threats in sub-Saharan Africa.
-- The grim story of Norwegian black metal is explored in a new film, "Lords of Chaos."
NATION-WORLD
-- As Islamic State shrivels, what will become of its foreign-born fighters?
-- Israel's Benjamin Netanyahu stirs controversy in Poland.
-- A British teen who joined Islamic State has given birth, her family says.
-- Disgraced former congressman Anthony Weiner is released from federal prison.
BUSINESS
-- Amazon's New York retreat and the backlash to corporate subsidies.
-- Clean-energy loans are put to questionable uses.
SPORTS
-- Denny Hamlin wins the Daytona 500.
-- Maya Brady, niece of the Patriots quarterback, is a top softball player who hit .519 last season.
OPINION
-- Trump is right on Venezuela.
-- What medics see at the border.
WHAT OUR EDITORS ARE READING
-- A look at Gavin Newsom's stance on California's high-speed train. (The New Yorker)
-- A review of critic Janet Malcolm's new collection. (The New York Times)
-- A visit to a bird hospital in Old Delhi. (The Atlantic)
ONLY IN L.A.
The LAX Dunes Preserve, a two-mile ghost town where the vanished Surfridge community once stood, has become a haven for elusive species. Among them: legless lizards and burrowing owls. Experts say the 302-acre preserve, which is off-limits to the general public and sits between the airport and the Pacific Ocean, is a sign of nature's resilience.
If you like this newsletter, please share it with friends. Comments or ideas? Email us at headlines@latimes.com.
---