Newsletter: Today: In Hong Kong, an Apology Is Not Enough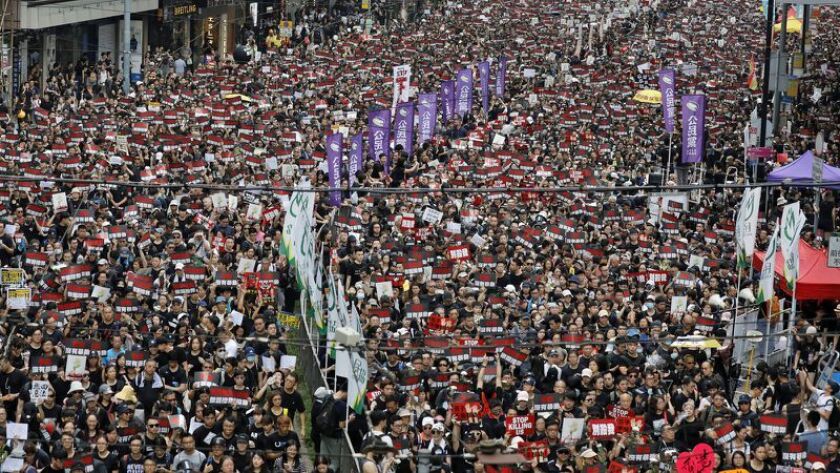 Protesters in Hong Kong want the city's leader to do more than just apologize for and suspend a bill that would allow extradition to China.
TOP STORIES
In Hong Kong, an Apology Is Not Enough
Massive peaceful demonstrations in Hong Kong have prompted the territory's Chief Executive Carrie Lam to apologize and suspend a bill that would let Hong Kong send people to China for trial — a measure that's seen as a way for Beijing to silence opposition in a semiautonomous city where citizens still have the rights of freedom of speech and assembly. For the protesters, Lam's response is not enough. They are calling for her to withdraw the bill and to resign.
A Candidate's Inconvenient Demand
Jay Inslee has warned about climate change for more 20 years as a congressman and the governor of Washington. Now he has based his presidential campaign on it, as scientists warn that world leaders are running out of time to prevent a future of worsening natural disasters — and as President Trump's administration rolls back policies meant to limit climate change. Inslee wants a primary debate focused on the climate, a demand that Democratic Party leaders have resisted.
More Politics
-- The Pentagon has accused Iran of attempting to shoot down a U.S. Reaper drone on June 13 as the unmanned surveillance aircraft was flying over one of two crippled tankers in the Gulf of Oman. Also, on Monday, a spokesman for the country's atomic agency said Iran will break the uranium stockpile limit set by the 2015 nuclear deal with world powers in the next 10 days.
-- Trump drew a storm of criticism for saying he would not tell the FBI if a foreign country offered him dirt on an opponent. Even after Trump backed off Friday, his maneuvering still has raised questions about what's legal and what's not.
The Death Penalty Divide
What do Californian voters think of the death penalty? It's complicated. A new poll conducted for The Times by UC Berkeley shows that just over 61% of voters in the state support keeping the death penalty as a "possible punishment for serious crimes." But 52% support Gov. Gavin Newsom's moratorium on death row executions. The results suggest a split in how they view capital punishment in theory and in practice.
Return of the Lake Show?
After coming off another losing season, the awkward departure of basketball operations head Magic Johnson and stories of organizational dysfunction, the Lakers made some positive headlines with the announcement of a trade next month for superstar Anthony Davis, to go alongside superstar LeBron James. (Next month? Yes. And that complicates matters.) The Lakers are giving up a lot to land Davis, but columnist Bill Plaschke thinks it's a trade not just for a player, but for a championship.
Sign up to get Today's Headlines delivered to your inbox. »
OUR MUST-READS FROM THE WEEKEND
-- After lambasting leaders, specifically L.A. Mayor Eric Garcetti, for their response to the homelessness crisis, columnist Steve Lopez spent some time with the mayor and his team. This is what he saw.
-- With its apostle accused of rape and sexual abuse, the religious organization La Luz del Mundo has come out fighting.
-- In another sign that California's legal cannabis market is in deep trouble, state officials plan to extend the period that growers and sellers can operate with provisional licenses by five years. Environmental groups oppose the proposal.
-- L.A. Times Executive Editor Norman Pearlstine reflects on a personal lesson from a pre-Roe vs. Wade experience: Men cannot be silent on abortion rights.
Your support helps us deliver the news that matters most. Subscribe to the Los Angeles Times.
FROM THE ARCHIVES
Twenty-five years ago today, Los Angeles police announced that O.J. Simpson had not turned himself in for his arraignment in the killings of his former wife Nicole Brown Simpson and Ronald Goldman. Hours later, with Simpson crouched in the back of a white Bronco and his friend Al Cowlings behind the wheel, a chase seen around the world would take place on the freeways of L.A. Here's how a helicopter news crew spotted it.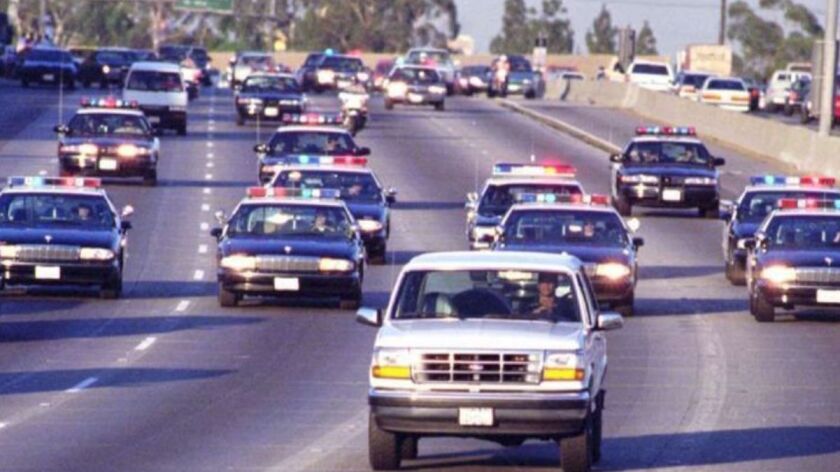 CALIFORNIA
-- A family member says a 32-year-old man shot and killed by an off-duty LAPD police officer in a Costco store in Corona was nonverbal and had an intellectual disability. Police say the officer was attacked while holding his young child.
-- UCLA failed to warn the public about a gynecologist accused of sexual battery.
-- How can Republicans in the state stop "dying at the box office," as former Gov. Arnold Schwarzenegger once put it?
HOLLYWOOD AND THE ARTS
-- Filmmaker Alma Har'el is the driving force behind Free the Bid, a nonprofit venture started in 2016 that successfully pushed the world's biggest ad agencies to hire more female directors. Now she has her sights on the larger entertainment industry.
-- With HBO's teen drama "Euphoria" and its gritty depiction of sex, drugs and nudity, stars Zendaya and Hunter Schafer aren't afraid to raise eyebrows.
-- Video game critic Todd Martens looks at 10 games at E3 that made a lasting impression, including one about the mystery and intrigue of Earth's oceans.
NATION-WORLD
-- 12 million pills and 700 deaths: How a few pill mills helped fan the U.S. opioid inferno.
-- A Jerusalem magistrate court has sentenced Sara Netanyahu, the wife of Israel's Prime Minister Benjamin Netanyahu, to pay a fine of more than $15,000 for misusing state funds. Meanwhile, the prime minister has unveiled Trump Heights, a tiny settlement of 10 people in the Golan Heights ringed by high grass and land mines.
-- Guatemalans went to the polls to elect a new president, congressional members and other lawmakers amid widespread disenchantment with a corruption-plagued political system.
-- Libya's two wars: One on the battlefield and one on Facebook.
BUSINESS
-- Companies including Google, Amazon and Netflix are gobbling up vast chunks of L.A.-area office space in a race to set up shop for their entertainment divisions. That, in turn, has prompted developers to make big changes to their properties.
-- Two years in, Amazon has made a mark with Whole Foods, but it has hardly started the revolution many predicted.
SPORTS
-- Gary Woodland won the U.S. Open on Father's Day, stepped off the 18th green at Pebble Beach and made a beeline for his parents. "Thank you," his father, Dan, said at almost a whisper. "Thank you." Ten years ago, Dan's heart stopped beating for four minutes.
-- The U.S. clinched a spot in the round of 16 of the Women's World Cup with a 3-0 victory over Chile.
OPINION
-- Norway, if you're listening: Feel free to hack our presidential race. Trump says he'd welcome an offer from a foreign government to slip him derogatory information about his opponents.
-- California's wildfire commission has delivered its reform plan, only to be promptly ignored.
WHAT OUR EDITORS ARE READING
-- "There's never been a time in the history of our country where somebody was so mistreated as I have been": The transcript of Trump's interview with George Stephanopoulos. (ABC News)
-- Who filled a French art gallery with fakes? (The Guardian)
ONLY IN CALIFORNIA
The Neptune Pool and the Roman Pool at Hearst Castle in San Simeon have been among the most photographed parts of the 165-room mansion built by newspaper publisher William Randolph Hearst. But not many people have had the chance to go for a swim there. This summer, they'll be open for pool parties — with a splashy ticket price that some might think is all wet.
If you like this newsletter, please share it with friends. Comments or ideas? Email us at headlines@latimes.com.
---