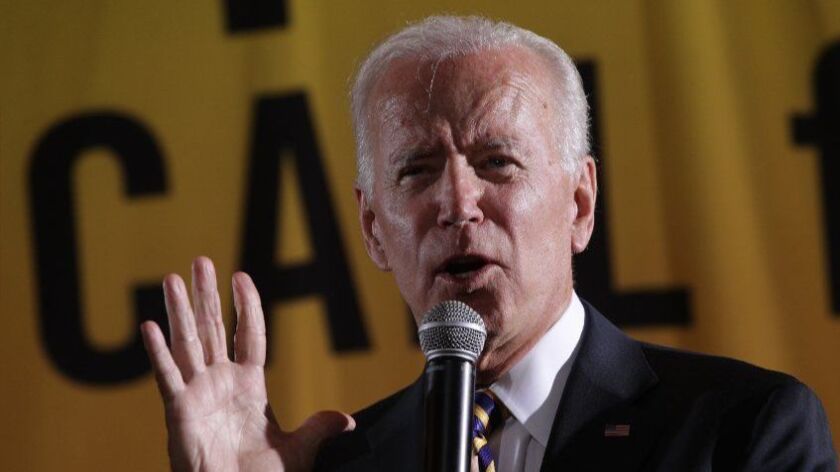 Democrats have a field of diverse candidates running for president, but a poll of likely primary voters shows most think an older white man would have the best chance to defeat President Trump.
TOP STORIES
Who Could Best Dump Trump?
If you had to create an ideal Democratic candidate to defeat President Trump in the 2020 election, who would that person be? The answer, according to the latest USC Dornsife/L.A. Times national poll of likely Democratic primary voters: white, middle-aged and male. That, even though the candidate field includes a selection of women, people of color and millennials. Politically speaking, a small majority in the poll favored a moderate over a more liberal or progressive candidate. Of course, some question whether the so-called electability of a candidate should be a focus. But many polls have found that a majority of Democrats say candidates' policy views matter less than their ability to beat Trump, who officially kicked off his reelection campaign Tuesday night with a rally that often resembled a time warp to 2016 — with multiple references to Hillary Clinton and her emails.
Is There a Plan to Deport 'Millions'?
Before his big reelection rally, Trump made a bold but vague pledge on Twitter to deport "millions" of migrants facing removal orders, starting next week. Perhaps not surprisingly, that vastly overstates the number of likely deportees and the ability of federal agents to round them up. Besides Immigration and Customs Enforcement already being stretched thin, it's not clear whether an actual plan exists. Still, the threat has stirred up fears in immigrant communities.
More Pentagon Upheaval
Acting Defense Secretary Patrick Shanahan has withdrawn his candidacy to lead the Pentagon permanently after media reports disclosed domestic violence incidents involving his ex-wife and son nearly a decade ago. Shanahan's abrupt withdrawal adds to disarray in the top ranks of the Department of Defense, which has not had a confirmed leader since James N. Mattis resigned in December. It also comes amid rising tensions with Iran, and with U.S. forces engaged in Iraq, Syria, Afghanistan and beyond. Up next: Army Secretary Mark Esper, a retired Army officer and former lobbyist for defense contractor Raytheon, will take over — again in an acting capacity.
More From Washington
-- Trump says he'll hold trade talks with Chinese President Xi Jinping next week at a summit of G-20 nations in Japan.
-- Is the Federal Reserve about to cave to Trump's demand to cut interest rates?
Found in Paradise: A Canvas
In November, the town of Paradise was devastated in the Camp fire. Homes and buildings were reduced to charred rubble and rusted metal. Now, a muralist is aiming to help the community heal by using ruins as his canvas. See his work in the latest Column One feature.
Your support helps us deliver the news that matters most. Subscribe to the Los Angeles Times.
Sign up to get Today's Headlines delivered to your inbox. »
FROM THE ARCHIVES
On this date in 1977, "on an otherwise calm Father's Day at Dodger Stadium, Reggie Smith became enraged after being hit on the right ankle by a pitch thrown by Chicago's Rick Reuschel in the third inning. So Smith hobbled to the mound like a wounded crab and threw a round-house right at the pitcher." That's how longtime Times sportswriter Mal Florence began his report on the Dodgers-Cubs game the next morning.
CALIFORNIA
-- A state bill aimed at tightening vaccine law has undergone some major changes and now has the support of one former critic, Gov. Gavin Newsom. The new version sharpens its focus on unscrupulous doctors while easing the list of medical conditions that physicians could cite in allowing schoolchildren to skip required immunizations.
-- Newsom issued an executive order apologizing on behalf of the citizens of California for a history of "violence, maltreatment and neglect" against Native Americans. Some tribal leaders say it could begin a healing process.
-- Los Angeles school leaders have voted to end a policy of randomly searching students with metal detectors during the school day, a decades-old practice that a coalition of students and advocates has been trying to eliminate for years.
-- The lottery, public schools and the mystery of the "missing" money. Columnist Steve Lopez explains.
HOLLYWOOD AND THE ARTS
-- How guerrilla art on the streets of South L.A. confronts scars from the 1992 riots.
-- The AIDS documentary "5B," co-directed by Paul Haggis, uses its star power to raise awareness.
-- An amped-up Emmy campaign season has seen big names, bigger parties and some rule breakers.
-- The opening of Star Wars: Galaxy's Edge has led to shorter lines at Disneyland's classic attractions, like 20-minute waits for Splash Mountain.
NATION-WORLD
-- In New York, attorney Michael Avenatti faces a November trial date on charges he tried to extort millions of dollars from sportswear company Nike.
-- A U.S. Navy explosives expert said Wednesday the limpet mine used on an oil tanker last week "bears a striking resemblance" to similar Iranian mines.
-- Here's how a U.S. "tanker war" with Iran would be more complicated than the 1980s version.
-- The "Great Firewall": China's censors are working to squelch videos and social media posts of the Hong Kong protests
BUSINESS
-- Google is pledging to invest $1 billion to develop housing in and around Silicon Valley, where the success of the search giant and its competitors has contributed to soaring home prices.
-- Facebook wants its own "global currency" called Libra. Here's why that scares its critics.
SPORTS
-- Clayton Kershaw and the Dodgers' offense dominated in a shutout win over the San Francisco Giants.
-- Despite their woes, the Lakers have remained a financial gold mine in the competitive L.A. sports market.
OPINION
-- If we genuinely want to avoid conflict with Iran, Trump had better find a new playbook.
-- Why one motorcyclist no longer warns his fellow riders about nearby police.
WHAT OUR EDITORS ARE READING
-- Today is Juneteenth, a day to commemorate the end of slavery in the United States. Ta-Nehisi Coates and Danny Glover will testify in a House hearing on slavery reparations. (USA Today)
-- Meet the black beauty vloggers who led the natural hair revival. (Wired)
-- How museums have increasingly come into the spotlight as sites of protest. (ARTNews)
ONLY IN L.A.
For 25 years, a glittery sculpture of Marilyn Monroe in a pose from "The Seven Year Itch" has perched high above the "Four Ladies of Hollywood" gazebo, which serves as a kind of gateway to the Walk of Fame at La Brea Avenue and Hollywood Boulevard. But in the predawn hours of Monday morning, Marilyn went missing. So, who would take part of an installation that Times art critic Christopher Knight once called a "depressingly awful work of public art"?
If you like this newsletter, please share it with friends. Comments or ideas? Email us at headlines@latimes.com.
---