Editorial: How to get more affordable housing in Los Angeles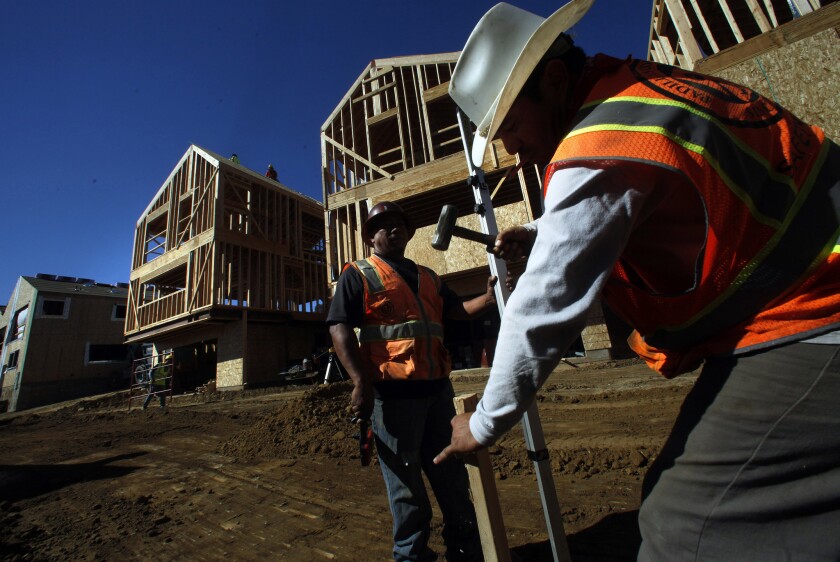 Los Angeles has an affordable housing crisis. Housing prices in Los Angeles have grown four times faster than incomes since 2000. And half of all households in the region spend more than the recommended 30% of their income on rent or mortgage payments, leaving less money for food, healthcare, transportation and savings. Yet Los Angeles leaders haven't done enough to create more affordable housing. Mayor Eric Garcetti and the City Council leaders must act, and they can start by sponsoring legislation that empowers cities to require new developments to include low- and moderate-income units.
This policy — known as inclusionary zoning — generally mandates that new market-rate developments include some "affordable" units — that is, apartments priced low enough for households earning at or below the median income, which is about $55,000 in Los Angeles. That helps ensure that new development doesn't completely displace or price out the preschool teachers, nurses aides, security guards and other workers who can't afford market-rate housing. (A worker would need to earn about $30 an hour to afford a median-priced one-bedroom apartment, or about $40 an hour to buy a median-priced home.) And it allows cities to rely on the real estate market instead of dwindling public subsidies to produce much-needed low-income housing.
New York City has had voluntary inclusionary zoning for years, but Mayor Bill de Blasio has proposed requiring that up to 30% of new apartments be affordable when a development or neighborhood is rezoned to increase density. In California, nearly 200 cities have adopted inclusionary zoning laws, but they've operated under a cloud in recent years because of lawsuits. A California Supreme Court ruling this year partially removed the roadblock, allowing inclusionary zoning in new for-sale housing projects. Los Angeles leaders should consider imposing that requirement.
But under another court decision, cities are barred under state law from imposing the same requirements on new rental housing. The decision stems from a case brought by downtown Los Angeles developer Geoffrey H. Palmer, who wanted to build an apartment complex in a neighborhood that required a percentage of new units to be affordable. He successfully sued the city, asserting that the mandate violated a 1995 law that limits rent control. The Legislature passed a bill by Assembly Speaker Toni Atkins (D-San Diego) in 2013 that would have allowed inclusionary zoning for apartment projects, but Gov. Jerry Brown vetoed it, saying he wanted to wait for the Supreme Court ruling on the issue.
Atkins is focused on other affordable housing legislation this session, including her Assembly Bill 1335 to raise funds for low-income homes by levying a $75 fee on certain documents required for real estate transactions. But there's no reason Garcetti and the City Council couldn't begin laying the groundwork now for legislation to restore a valuable tool for increasing affordable housing in Los Angeles and other cities.
Follow the Opinion section on Twitter @latimesopinion and Facebook
---
A cure for the common opinion
Get thought-provoking perspectives with our weekly newsletter.
You may occasionally receive promotional content from the Los Angeles Times.