Editorial: California needs more transparency about its lawmakers who sexually harass or discriminate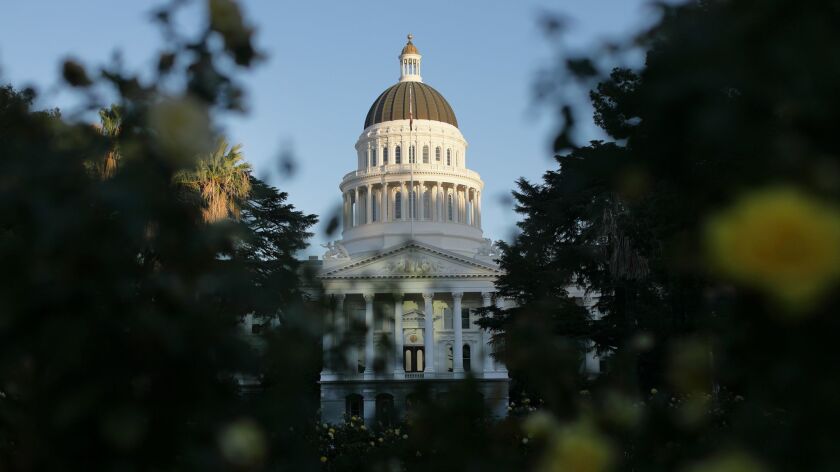 An investigation of sexual harassment allegations against California Assemblyman Devon Mathis concluded last month that the Visalia Republican frequently engaged in "sexual 'locker room talk,'" including making sexual comments about his colleagues, in violation of the Assembly's internal policies. That was the only bit of substantive information in the heavily redacted letter to Mathis from the Assembly Rules Committee released publicly on Wednesday, other than that "appropriate remedial actions shall be taken."
That's disclosure of a sort, enough to check a box on the state Legislature's post-#MeToo Action List. But it's not particularly useful or illuminating. How can the public draw any conclusions without knowing what constitutes locker-room talk?
Does it mean Mathis cracked the occasional off-color joke — or did he embarrass women by making vulgar propositions? Did he brag about his own sexual exploits or make comments about his colleagues' bodies or simply use profane words that offended others? The details matter, and "locker room talk" is an awfully nonspecific description. President Donald Trump brushed off the recording in which he bragged about grabbing women by the "pussy" as just locker-room talk. Congressman Jim Jordan (R-Ohio), who has been accused of ignoring reports of sexual abuse by a team doctor during his time as an assistant wrestling coach at Ohio State, said he thought it was just "conversations in a locker room."
When the #MeToo movement blew up last year, the leaders of both houses of the California Legislature quickly and appropriately developed policies governing the handling of sexual harassment complaints and investigations, including the release of documents to the public once misconduct investigations were finished. This was a big deal, since legislators had previously kept such details secret, claiming they were exempted from disclosure under state open records law.
The public has a right to know if the people they elect — hire, really — to represent their interests in Sacramento have groped staffers.
But as has become clear, these new policies didn't yield consistent results. Here's an example: While the Mathis letter gave very little away, the one provided to the public summing up the substantiated allegations against Democratic Assemblyman Raul Bocanegra was quite explicit. While he served as chief of staff to another legislator, Bocanegra's transgressions involved "sliding [his] hand across a female Assembly employee's stomach" and "taking a subordinate's bracelet, placing it in [his] front pants pocket and asking her to retrieve it." When the state Senate was preparing to suspend Tony Mendoza from its ranks, it did more than release just a few sentences about the allegations that investigators had declared well founded. The media was provided a four-page summary of the investigation and its conclusions.
To be more consistent, the Assembly Judiciary Committee proposed a bill requiring that documents relating to concluded investigations be subject to public release under the Legislative Open Records Act if they substantiated allegations of workplace misconduct by elected officials or their top aides. (That would include investigations into sexual harassment, as well as gender and racial discrimination.) That proposal died this spring, in deference to a bicameral subcommittee that was working on a comprehensive package of sexual harassment policies governing how the Legislature handles internal complaints, including the release of documents.
Enter the Fray: First takes on the news of the minute from L.A. Times Opinion »
When the bicameral committee made its recommendation last month, however, it proposed that fewer documents be made public than would have under the bill. In fact, it proposed that only two be released: the initial claim and the letter to the subject with a summary of findings. The Mathis case shows that this is insufficient. Furthermore, the committee's recommendations were adopted last month as rule changes and not laws. Rules can be changed or ignored in a way that laws cannot. What happens when the public spotlight on sexual misconduct wanes, as it most certainly will? Will legislative leaders revert to opacity and quietly bend the rules to protect misbehaving political allies?
People a right to know if the people they elect — hire, really — to represent their interests in Sacramento have groped staffers in their offices or discriminated against people of another race. And they deserve to know whether those who misbehave are being overpunished or underpunished. To ensure that is the case, the public must have access to the information it needs as a matter of law.
Follow the Opinion section on Twitter @latimesopinion and Facebook
---
A cure for the common opinion
Get thought-provoking perspectives with our weekly newsletter.
You may occasionally receive promotional content from the Los Angeles Times.