Editorial: Overzealous voter purges are undermining our democracy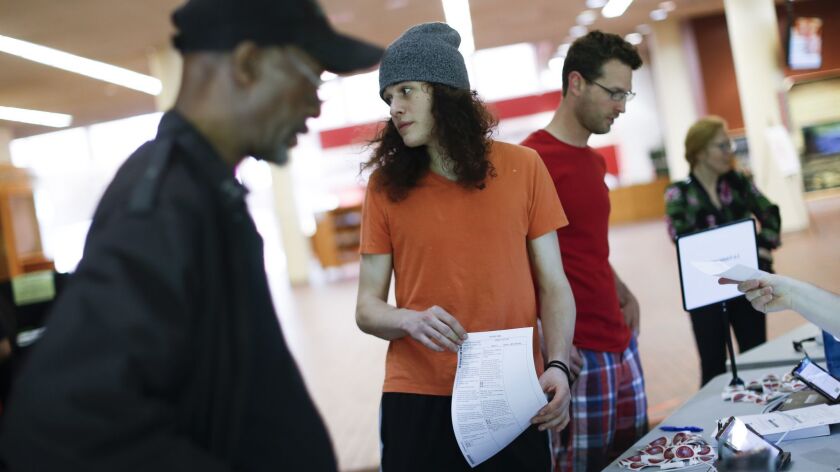 A new report by the left-leaning Brennan Center for Justice at New York School of Law suggests that there has been an alarming spike in the number of registered voters who are being purged from the election rolls, often in error.
"Purges: A Growing Threat to the Right to Vote" comes after a Supreme Court decision in June making it easier for election officials to remove voters who have skipped one or more elections. But the report details troubling developments that emerged long before that ruling.
The report's most arresting finding is that almost 4 million more names were purged from voter rolls between 2014 and 2016 than between 2006 and 2008 — a 33% increase that far outstripped growth in both total registered voters (18%) and total population (6%).
Those numbers in themselves don't demonstrate that the purges were based on inaccurate information. But the report also offers persuasive evidence that too many purges are made in error or without an opportunity for voters to contest their exclusion. And it raises the possibility that the push to purge voters is especially a problem in states with a history of discriminating against minority voters.
An obsession with accurate records is disenfranchising some Americans.
The report found that four states have conducted voter purges since 2013 that violate the provisions of the National Voter Registration Act and four others have adopted purge policies that violate the federal law.
The report is particularly critical of the Interstate Voter Registration Crosscheck Program, a database developed in 2005 by officials in bizarrely voter-fraud-obsessed Kansas in a bid to identify duplicate registrations across multiple states' voter-registration records. It says the system creates the possibility that parents and children with the same name will be confused with one another and that voters with common surnames will be wrongly matched — a phenomenon that has a disproportionate effect on minority voters.
Finally, the report raises the disturbing possibility that the Supreme Court's decision in 2013 to gut a key provision of the Voting Rights Act propelled some of the increase in voter purges in states with a history of blocking minority voters. In that decision, Shelby County vs. Holder, the court struck down a formula for determining which states and localities had to "pre-clear" changes in election procedures with the Justice Department or a federal court.
The Brennan Center researchers found that after the decision the rate of voter purges jumped by more than a third in jurisdictions that previously had to pre-clear election changes, while remaining steady elsewhere. The change led to an estimated 2 million more voters being excluded. The report doesn't prove a causal connection, but the correlation is concerning. It's one more reason why Congress should amend the Voting Rights Act so that the states with a history of racial discrimination in voting are again subject to federal oversight.
That's not all Congress should do. It needs to reverse the court's decision in June allowing states to purge voters because they missed one or more elections and hadn't responded to an inquiry about whether they had moved.
Recognizing that not every voter will want to participate in every election, the National Voter Registration Act of 1993 prohibits states from removing anyone from the federal rolls "by reason of the person's failure to vote." A 5-4 majority said that Ohio didn't violate that provision because under its rules, failure to vote wasn't the "sole" reason for a purge. Instead, officials used non-voting as a reason to send a notice to a voter seeking to determine if he or she had moved. Only if a voter failed to return a postcard and failed to vote for another four years would he or she be removed.
Enter the Fray: First takes on the news of the minute from L.A. Times Opinion »
That decision violated the spirit, if not the letter, of federal law. Congress should make it clear that failure to vote can't be used to trigger a process in which a voter can be removed simply for not acknowledging (or perhaps even not receiving) a notice. There are more accurate ways to keep track of voters who move or die.
States also must ensure that purges aren't carried out on the basis of erroneous information. The Brennan Center report urges that states notify voters who may be removed from the rolls so that errors can be averted. It also urges more states to join the 12 that, along with Washington, D.C., provide for automatic voter registration when a citizen interacts with a state agency (in California, the Department of Motor Vehicles). Automatic registration, it says, better tracks changes of address, reducing the need for purges.
Obviously it's desirable to keep rolls up to date, a goal enshrined in the National Voter Registration Act alongside the objective of increasing turnout. Even if inaccurate records don't result in fraudulent voting (and they rarely do), they can undermine public confidence. But even more disillusioning is the reality that an obsession with accurate records is disenfranchising some Americans.
Follow the Opinion section on Twitter @latimesopinionand Facebook
---
A cure for the common opinion
Get thought-provoking perspectives with our weekly newsletter.
You may occasionally receive promotional content from the Los Angeles Times.