Endorsement: Reelect Sheriff Jim McDonnell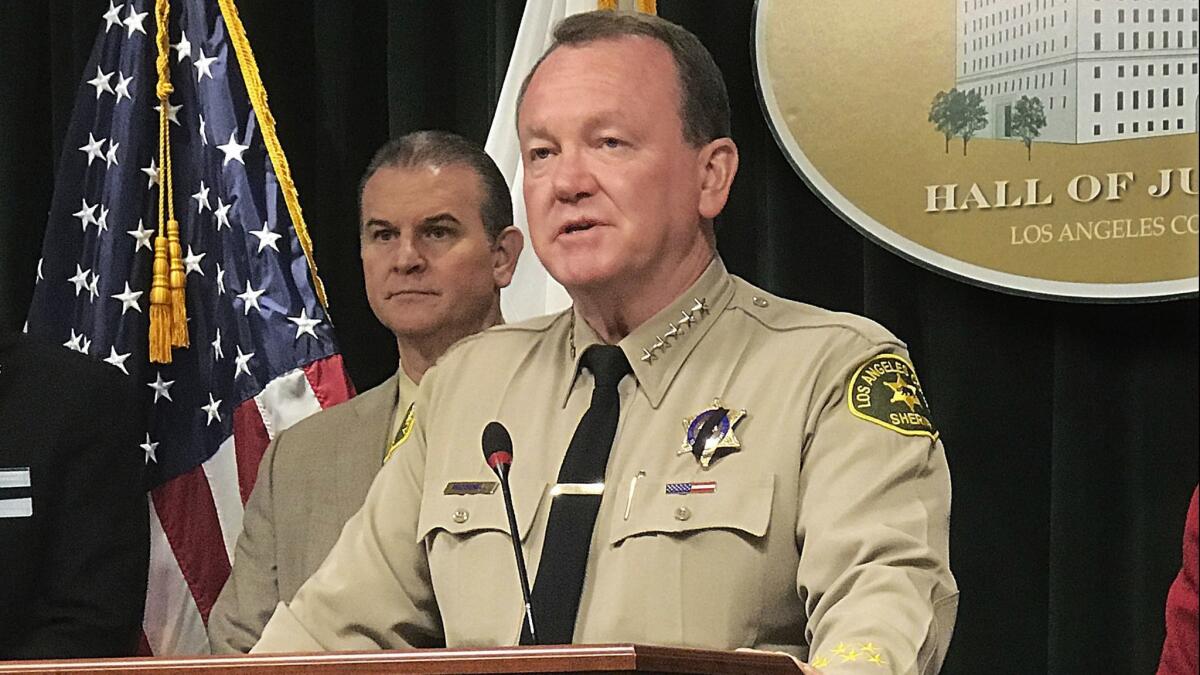 Sheriff Jim McDonnell is an outsider-turned-incumbent who in his first term has sometimes struggled to improve the performance and remake the culture of the scandal-plagued Los Angeles County Sheriff's Department. Though progress has been slow, he is clearly the better choice in the Nov. 6 election than challenger Alex Villanueva, a long-tenured and recently retired sheriff's lieutenant who never rose past the middle ranks and offers a limited record of leadership. Villanueva pushed McDonnell into a runoff after coming in second in a three-man race in June.
The Sheriff's Department needs someone at the top with command experience in law enforcement, and McDonnell has it, having served as the No. 2 man at the Los Angeles Police Department and chief of the Long Beach Police Department before being elected sheriff in 2014. He is the first Los Angeles County sheriff in a century not to have risen through the department's ranks, and that fact contributes to tension between him and those he leads and is one of the factors that has generated some enthusiasm inside the department for Villanueva.
But outside leadership is warranted, given where up-through-the-ranks leadership brought the department in the years just prior to McDonnell's election: The previous sheriff, Lee Baca, was sentenced to three years in federal prison and Undersheriff Paul Tanaka to five for obstruction of justice in connection with an FBI probe into abuse of jail inmates by deputies. The same federal investigation led to felony convictions of more than a dozen other sheriff's personnel. McDonnell won voter support four years ago precisely because he was a seasoned law enforcement leader who racked up his achievements in other departments.
The Sheriff's Department needs someone at the top with command experience in law enforcement, and McDonnell has it.
He has had some successes. Aided by a series of lawsuits and resulting settlement agreements, McDonnell has overseen the reduction in uses of serious force in the jails. But another suit has stalled his effort to flag deputies with records of dishonesty and other serious misconduct. His attempts to discipline deputies have been scuttled by the civil service process. There has been a string of reports, in the Los Angeles Times and elsewhere, about misbehavior by sheriff's deputies, including allegations of inmate rape.
Villanueva was not a member of the Baca-Tanaka team, and he in fact argues that he was repeatedly passed up for promotion over the years because he wouldn't play ball with a pre-McDonnell regime that rewarded loyalty over competence and integrity. Furthermore, he says, McDonnell promoted to his command staff many of the same glad-handers who enabled Baca and Tanaka. Villanueva promises to finish a weeding-out process that he says McDonnell began, but did not complete. But the challenger overestimates a sheriff's legal power to dismiss personnel absent evidence of misconduct and — perhaps — underestimates the importance of experience in a top command staff, even if that experience is colored in part by some past brush with corrupt leadership. Villanueva at his best raises some legitimate points about McDonnell's first-term performance, but makes an unconvincing case that he has the insight, knowledge, skill or experience to do as well or to move the department faster or in a better direction.
Sheriffs command enormous political and fundraising clout and generally win reelection with little difficulty, so it is noteworthy that McDonnell failed to win an outright majority in the June 5 election. He has undermined himself with sometimes inconsistent or baffling statements on a number of subjects. Does he support or oppose cooperation with immigration authorities? Is he a critic or a champion of treating mentally ill accused criminals in jail? Does he or does he not believe deputies are still organizing themselves into gangs that encourage improper uses of force against African American suspects?
Enter the Fray: First takes on the news of the minute from L.A. Times Opinion »
If voters believe they are being asked to consider tiny, tedious or specialized issues — which candidate is the real outsider, for example, or whether the current undersheriff was tied too closely to the prior administration — they have a point. Police chiefs, prison wardens and generals are appointed, evaluated and dismissed at arm's length from the political process, but we elect sheriffs for reasons that have more to do with ancient British history or fringe political theory than thoughtful structuring of government.
Would we be better off with appointed sheriffs? It's a question worthy of some attention. But for the present, voters must choose between an experienced law enforcement leader who has run into some roadblocks and a mid-level career officer who has never led or even helped to lead a large and complex organization. McDonnell is the better choice.
Follow the Opinion section on Twitter @latimesopinion and Facebook.
A cure for the common opinion
Get thought-provoking perspectives with our weekly newsletter.
You may occasionally receive promotional content from the Los Angeles Times.