Column: South O.C.'s solution to homelessness is class warfare at its NIMBYest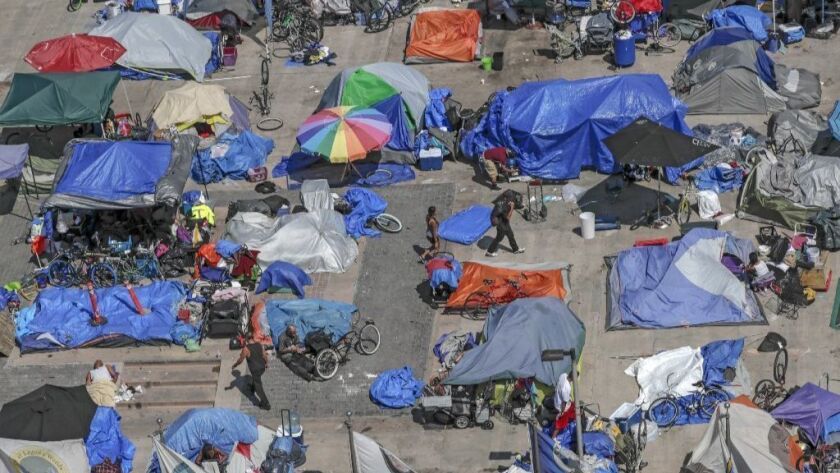 Last week, the mayors of 12 cities in South Orange County had the opportunity to cut the Gordian knot that is homelessness. They met at the behest of U.S. District Court Judge David O. Carter, who'd issued them a warning: Step up and help solve this problem, or I'm striking down the HOA-approved hedge of laws you think guard your perimeter.
See, for decades cops and sheriff's deputies in South County have picked up the destitute and then dropped them off in blue-collar North County towns including Costa Mesa and Anaheim, but especially Santa Ana, which just happens to be the most Mexican city in Orange County.
It was class warfare at its NIMBYest. Homelessness metastasized in North O.C., most notably along the Santa Ana riverbed that numbered more than 1,000 people at its height. But South County simply shrugged, because it had the political power and wealth to do so.
The issue came to a head in February, when advocates for the homeless filed a lawsuit against the county's plan to clear 1,000 people out of the riverbed tent city. The case landed with Judge Carter. In front of a stunned courtroom during a rare weekend session on March 17, he told cities and the county to figure out something, and fast.
If civic revenge is the only way to make places such as South County face the homelessness problem, then so be it.
Then he went further. He mocked those "communities that are pristine and virtuous" that had long shirked any responsibility. Everyone knew he was pointing at South O.C. If they ever dumped homeless persons in other cities again, he vowed, he would sic the U.S. attorney general's office on them. And finally, this: If county officials and South County towns didn't come up with a humane solution, he would to lift all the anti-camping ordinances in O.C. that are designed to criminalize homelessness.
The O.C. Board of Supervisors seemed to get the message; it tried to open temporary shelters for about 400 individuals on county land in Irvine, Laguna Niguel and Huntington Beach. But furious residents blasted the move, and those cities' officials vowed to sue the county. So the supes kicked the can over to the 12 mayors of South County cities.
Now, here was a chance for the area's leaders (and residents) to figure out a humane and sane way to shoulder their share of this crisis. They could've been trailblazers, using their wealth and privilege to help out less-affluent communities. They could've created a moment of civic unity in a time of increased stratification. They could've provided a shining example to other Fortress California communities such as La Jolla, Simi Valley and Carmichael.
The South County mayors revealed their plan Friday: Put emergency housing not in any of their towns, but in remote, unincorporated Silverado Canyon. Mayorless and politically powerless, Silverado Canyon is 40 minutes from the cliffs of Dana Point — but just a few miles down Santiago Canyon Road from the El Modena barrio in Orange.
(This was only a slight improvement on an idea the mayors had floated earlier: Throw the homeless in a former juvenile detention facility deep in the Cleveland National Forest.)
The rest of O.C. collectively groaned. South County still doesn't get it, and doesn't even pretend to care. Even a NIMBYer like Supervisor Shawn Nelson — who, as a Fullerton City Council member, once wanted to literally whitewash historic Chicano murals — was disgusted, telling the Voice of OC, "Putting the homeless out in a canyon somewhere so the [South County] cities can avoid dealing with the issue is not realistic or reasonable."
I'm not surprised at all at South County's lack of interest in solving a regional problem. They are suburbanites who have long pretended they live a world apart from increasingly diverse O.C. The housing crisis is but a rumor here, where everyone wants to live on a street with a florid Spanish name and few residents bother to venture north of the El Toro Y.
But those days of blissful ignorance are over. If share-the-burden proposals or judicial nudges don't work, expect some legal diktats. Already the Santa Ana City Council is planning to sue the Board of Supervisors, Laguna Niguel, Irvine and Huntington Beach for their recalcitrance. Judge Carter seems like the kind of guy to see the Silverado Canyon proposal as just more South County NIMBYism. How long before he makes good on his threat to allow anyone to camp in O.C.'s parks and other public spaces?
I hope this South County farce also serves as a warning to other hoity-toity towns: The rest of us have had enough of your arm's-length attitude and we're ready to drag you kicking and screaming into reality.
So thanks, guys. I've always dismissed South County as the land of snooty fools blessed with great Persian food. But you've given Judge Carter a great excuse to make an example of NIMBYs once and for all. It shouldn't have had to get this far, but if civic revenge is the only way to make places such as South County face the homelessness problem, then so be it. Enjoy the RVs in front of your house, y'all!
Twitter: @gustavoArellano
---
A cure for the common opinion
Get thought-provoking perspectives with our weekly newsletter.
You may occasionally receive promotional content from the Los Angeles Times.