Op-Ed: Black Friday retail workers are treated like yo-yos. They need scheduling protections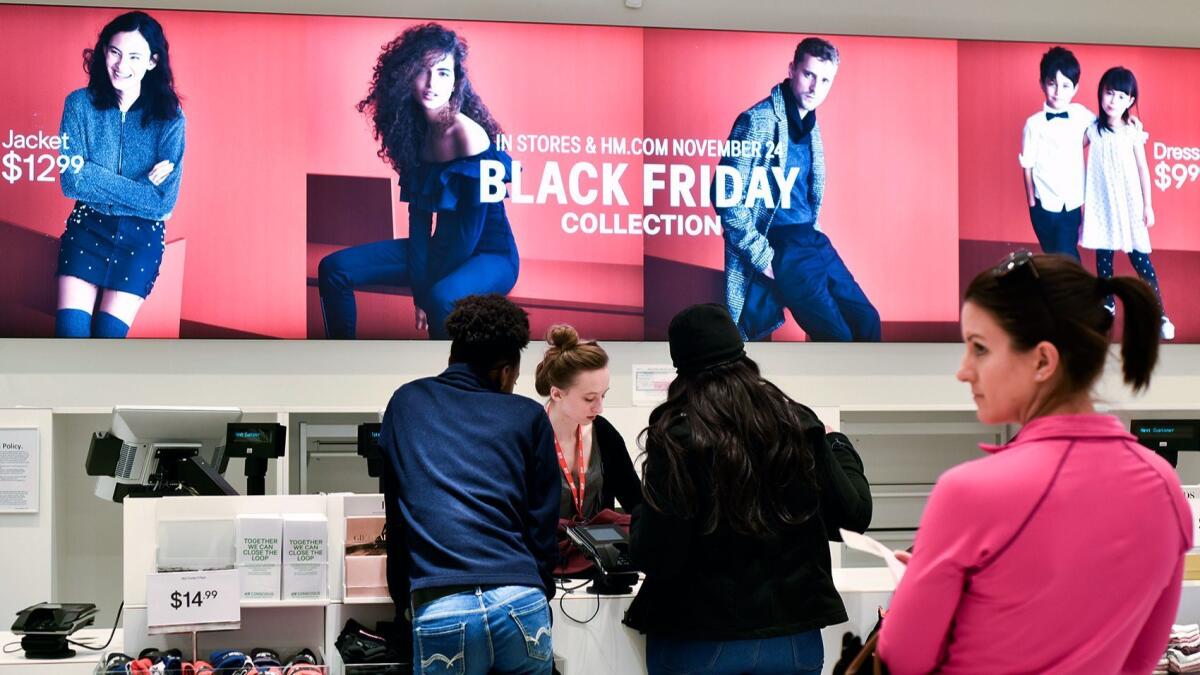 When you go shopping this holiday season, you'll no doubt come across smiling cashiers and perky sales clerks. But behind the holiday cheer, many retail workers have very un-merry tales to tell about the craziness of their work schedules.
I've heard many tales of woe over the last five years — of unpredictable, ever-changing, stress-inducing work schedules — as I've researched labor conditions in retail and elsewhere in the service sector. Whether at big-box stores, department stores or specialty stores, many workers complain that their managers have ramped up the scheduling chaos as retail competition has grown ever fiercer, partly because Amazon is eroding the sales of brick-and-mortar retail.
A man who worked at a Zara in Manhattan when I interviewed him in 2015, Brandon Wagner, sometimes had to work until 11 p.m., getting home around midnight, and then be back at the store at 8 next morning. That meant he'd get just five or six hours of sleep.
Unpredictability makes it difficult to schedule child care or doctor's appointments or to juggle college classes while holding a job.
Mirella Casares, a Victoria's Secret worker in Florida, told the New York Times earlier this year that her weekly hours swung wildly, from a low of 15 hours a week to a high of 39, making it hard to plan her life or her budget. Frequent last-minute scheduling changes made it difficult to find care for her 2-year-old and 6-year-old.
An aspiring actor, Desmond Anthony, told me that the Express in Manhattan where he used to work would often schedule him for two days of work, plus two or three on-call days. That meant he had to call his boss first thing in the morning and be ready to rush in if the store needed him. If he wasn't needed, he went unpaid, even though his on-call status made it impossible for him to schedule auditions or make other plans.
The stories pile up. One Milwaukee worker, Mary Coleman, said she once made the hour-long bus commute to her job at a Popeye's only to be told that she shouldn't clock in. Business was slow and they didn't need her that day, her boss said. (She wasn't paid.) Another retail worker told me she didn't learn her work schedule for the next week until Saturday, two days before her workweek began. A Wal-Mart worker in Orlando, Fla., said she was inexplicably assigned zero hours one week, sandwiched between 20-hour and 25-hour weeks.
Much of this herky-jerky scheduling grows out of new money-saving management practices. Thanks to advances in software, many stores and restaurants now monitor their sales minute by minute, hewing to a strict employees-to-sales ratio. When sales jump or dip, a store might suddenly call in unscheduled workers or tell scheduled workers to go home.
Although this helps businesses hold down costs and serve customers better, it creates havoc for many workers. A 2014 study led by Susan Lambert, a professor of organizational theory at the University of Chicago, found that 41% of early-career workers received one week or less advance notice of their work schedule. This unpredictability makes it difficult to schedule child care or doctor's appointments or to juggle college classes while holding a job.
UCLA researchers recently surveyed 800 retail employees in the L.A. area and found that ever-varying work hours create chaos in many workers' lives, problems compounded by the city's size and transportation woes. Some workers complained to the researchers, who are finalizing their study, that they could barely make ends meet because of their part-time hours and because their unpredictable schedules made it difficult to hold a second job.
Just as low wages in the fast-food industry spawned the Fight for 15, the volatility of retail schedules has given birth to the Fair Workweek movement. This fast-growing initiative has persuaded city councils in Emeryville, Calif.; San Francisco; New York and Seattle as well as Oregon's state Legislature to adopt laws that bring more predictability — and sanity — to scheduling. Fair Workweek may target L.A. next year.
These laws have various wrinkles. They generally apply to retail and restaurant workers and require two weeks' notice of work schedules. And they usually call for a good-faith estimate of weekly hours upon hiring, and give workers the right to decline to work when there is less than 10 or 11 hours between shifts.
All the laws require predictability pay — often one hour of pay for a scheduling change ordered by the employer, and four hours of pay for canceling shifts with less than 24 hours' notice. (Such pay is not required if shifts change because of utility failures, severe weather, acts of God or the recommendation of civil authorities.)
Industry lobbyists have vigorously battled these laws, saying they would limit retailers' flexibility, burden them with new mandates and needlessly raise costs. But the retailers have brought these laws upon themselves. They have made workers' hours and pay — and lives — swing so wildly that many workers feel like yo-yos.
Fair workweek laws merely restore some much-needed balance and stability, in both hours and income, for the workers who serve us day after day.
Steven Greenhouse, a former labor and workplace reporter for the New York Times, is writing a book about the history and future of labor unions and worker advocacy in the United States.
Follow the Opinion section on Twitter @latimesopinion or Facebook
A cure for the common opinion
Get thought-provoking perspectives with our weekly newsletter.
You may occasionally receive promotional content from the Los Angeles Times.