Op-Ed: Roll back car emissions rules for safety's sake? Baloney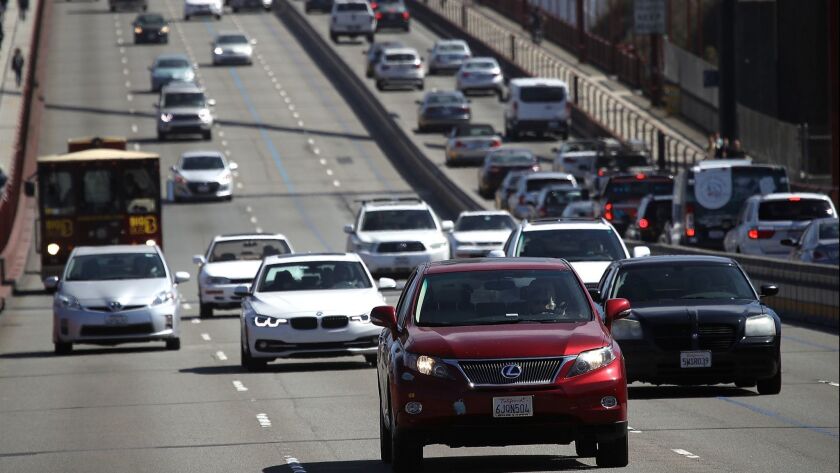 The Department of Transportation's National Highway Traffic Safety Administration, along with the Environmental Protection Agency, wants to walk away from a 10-year deal to gradually improve fuel efficiency for cars and light trucks through 2025.
We have come to expect that the EPA under President Trump will roll back environmental protections without blinking. But why is the Department of Transportation reversing course on improved fuel economy standards that will reduce gasoline demand and harmful tailpipe emissions, while saving drivers money at the pump?
With the bureaucratic equivalent of a straight face, DOT says that safety considerations explain why auto companies shouldn't have to meet a 54.5 miles-per-gallon goal set in 2012. The department asserts that consumers won't want to pay for more gas-efficient cars, keeping older, less safe vehicles on the road. And it claims drivers who would buy more fuel-efficient cars would drive more, also leading to more accidents.
Today's Transportation Department is slashing safety regulations to lower industry compliance costs.
These arguments are baloney. Auto companies have maintained high consumer satisfaction by using stronger, lighter materials and improved engine technologies to meet mileage targets. There is no evidence that consumers won't welcome new cars that deliver improved mileage and lower gas costs, or that driving patterns would radically change. Plus, DOT cannot ignore the flip side of the safety issue: Leaving more gas guzzlers on the road means increased tailpipe emissions and — as a consequence — increased adverse health impacts and premature deaths.
The Transportation Department also faces a credibility gap on the safety issue because during the Trump administration, it has strayed badly out of its traditional, safety-oriented lane. Since Jan. 20, 2017, the DOT has prioritized the dismantling of industry regulations over the promulgation of new transportation safety rules, despite near-daily reminders of glaring safety gaps in the transportation world.
An Associated Press report made this point earlier this year when it identified a dozen or more DOT deregulatory actions that would sideline important safety fixes devised to respond to real-life road tragedies: state inspections of commercial bus operators, installation of vehicle collision-avoidance systems and sleep apnea testing for truckers.
The most recent regulatory agenda published by the Transportation Department tells the same story. For example, the Pipeline and Hazardous Materials Safety Administration — like NHTSA, a DOT subagency — candidly admits that it intends to "ease regulatory burdens on the construction and operation" of hazardous liquid pipelines and gas transmission pipelines, even though they are the sites of dozens of major accidents that cause multiple deaths each year.
Enter the Fray: First takes on the news of the minute from L.A. Times Opinion »
Despite the horrific gas pipeline failure and explosion that killed eight people and leveled 35 homes in San Bruno in 2010, the pipeline and hazardous materials safety agency is entertaining an industry request to "mitigate" a long-standing requirement to pressure-test and replace old gas pipelines in densely populated areas. Likewise, the agency's agenda has called out the hard fought safety requirements put in place after Southern California's Aliso Canyon disaster as ripe for deregulation. In other words, DOT is looking to water down those rules too.
The pattern is clear. Today's Transportation Department is slashing safety regulations right and left to lower industry compliance costs, while giving scant attention to the health and safety considerations that underpin those rules.
Facts do not support the DOT's argument that the auto industry's fuel economy standards must be dialed back to improve automotive safety. To the contrary, the rollback of emissions standards would give the auto industry an unneeded regulatory break at the expense of our collective health, safety and environmental welfare.
This is the dangerous Trump deregulatory agenda at work.
David J. Hayes is executive director of the State Energy & Environmental Impact Center at the NYU School of Law. He was deputy secretary of the Interior Department in the Clinton and Obama administrations.
Follow the Opinion section on Twitter @latimesopinionand Facebook
---
A cure for the common opinion
Get thought-provoking perspectives with our weekly newsletter.
You may occasionally receive promotional content from the Los Angeles Times.