Op-Ed: When the call to evacuate comes, what will you take?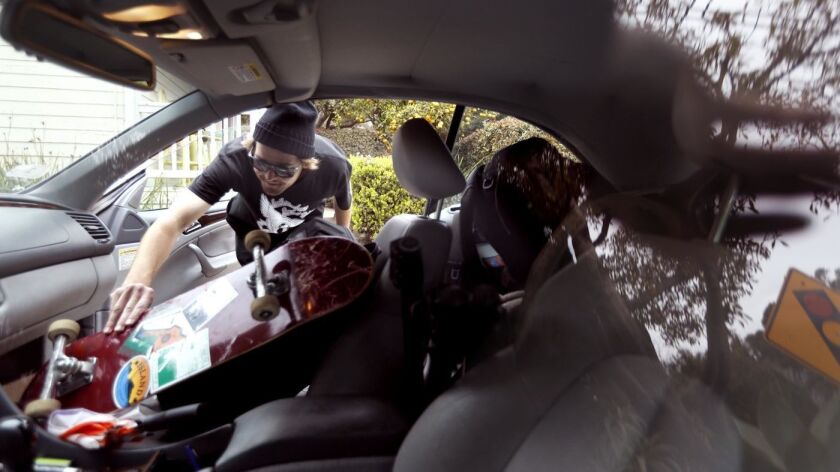 Those of us who live in canyons of kindling are jumpy these days. California is in flames, the stories are ghastly, the pictures astonishing and terrifying. Cooking smells are alarming, as are helicopters and sirens. Nights are the worst. What if we're sleeping when the fire starts? What if my husband's snoring and the fan on high drown out the warnings and alarms? What if there are no warnings and alarms?
The first time we evacuated, in 2009, our canyon walls were popping and cracking like a campfire. I don't know why I was surprised that big fires sounded like big little fires. I remember standing in my living room, in a numb emergency-calm-trance-panic looking at my everything. I knew I was supposed to take the computer and insurance documents and deeds and maybe birth certificates and what else? Passports? All that paperwork was theoretically grabbable, in a readily accessible envelope marked URGENT & ESSENTIAL GROWN-UP STUFF!
But what about the paintings by my friends and dead relatives? The kids' first drawings and their stories? The Mother's Day cards they gave me? The soup tureen I inherited from my grandma? My favorite coffee cup?
I knew I was supposed to take the computer and insurance documents and deeds and maybe birth certificates... But what about the paintings by my friends?
I called my kids and asked what three of their possessions they'd most like to see again: Musical instruments, and Diana, the sacred cow my daughter still sleeps with every night. I didn't need to be told about Diana. She'd hopped into the car with my first armload of photo albums. I had also mashed the guinea pig and the bunny into one small cage and put the turtle in a pot for easy transport. Then our dog, Sweetie, and I drove to meet the rest of the family at a friend's house.
Sleeping there that night, all of us and our menagerie, I wondered what we do if all was lost in a roar and a flash. How long could we couch surf? What would we miss the most? The only upside – all that simplifying and tidying and downsizing I was supposed to be doing would have been handled. But what if the one or two artifacts left in the char were precisely the things I had meant to throw out?
We were lucky: We returned to an unharmed home, put the photo albums back on the shelf, released the beasts, replaced the essential grownup stuff, and felt a little silly for having been so scared.
Since then we've had the occasional quickly extinguished brush fire or car fire in our canyon. We've smelled the smoke stench and cleaned up the ash-fall from infernos in neighboring foothills. One fire blocked our canyon exit and for several hours the only way out was on foot, but it was contained before we had to load our pets into our pockets and the essential envelope into a backpack.
A recent house guest from Minnesota flicked his cigarette butt to the ground and was surprised when I freaked out. Folks from rainy, snowy, wet places don't know — yet — from red flag warnings. They think fires are hard to light. A one- match campfire is an accomplishment where they live. Not so once for those of us who've gathered in a hospital parking lot to witness the spectacular destruction of acres of neighboring hillsides.
Enter the Fray: First takes on the news of the minute from L.A. Times Opinion »
It will happen again, and what will I take? When I was a kid, I would have saved my Barbie. A bit older, my Carole King, James Taylor, Laura Nyro, Marvin Gaye and Joan Baez albums. Later still, my journals, notebooks, and love letters. In '09 I recall surveying my living room for what I feared was the last time and deciding: photos.
But between then and now I have dismantled my parents' and my mother-in-law's homes, sorting and scattering their possessions. In doing so, I encountered several photo albums full of unidentified strangers. What was my responsibility to them? Were they to take up room in my car next time I had to flee? Would my children or my children's children one day wish I'd saved something from the flames other than photos of people they'd never met or barely remembered? What did my grandparents carry away from their shtetl when they escaped the pogroms?
Now, as this fire season rages, besides the old URGENT & ESSENTIAL envelope, it may come down to the pets, my antidepressants, eyeglasses, lip balm, phone and charger and library card. All else will or won't be intact in memory. And in the end, doesn't anything saved from a fire stand for all that is lost?
Amy Koss writes often for Opinion.
Follow the Opinion section on Twitter @latimesopinionand Facebook
---
A cure for the common opinion
Get thought-provoking perspectives with our weekly newsletter.
You may occasionally receive promotional content from the Los Angeles Times.