Readers React: A toxic warning for coffee? What's next — signs on doors warning of the cancer risk from sunlight?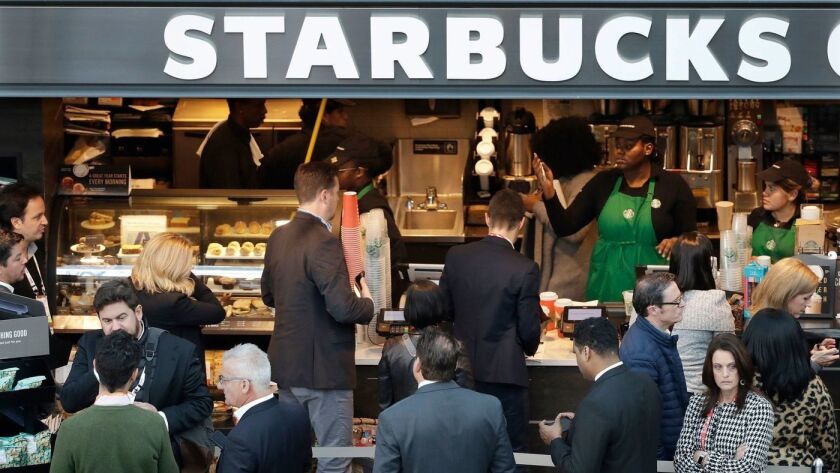 To the editor: When are the likes of Allan Hirsch, chief deputy direction of the California's Office of Environmental Hazard Assessment, and Superior Court Judge Elihu Berle, who just ruled a Proposition 65 cancer warning must be put on coffee, going to realize they have turned what was intended to keep their fellow citizens safe into a joke? These Proposition 65 warning signs are everywhere. ("Coffee Must Come With Cancer Labels, Judge Rules," March 30)
Will signs soon be required on all doors leading outside warning of the cancer risk from sunlight? What's next — requiring all newborns to have "Caution: Living is hazardous to your health" tattooed on the inside of one eyelid? That way they can be warned every time they blink.
This once-good idea has been twisted into another form of legalized extortion to make money for the same types of parasitical people who chase ambulances and threaten lawsuits over handicapped access. In the service we had a saying that when everything was a priority nothing was a priority. Replace "priority" with "danger" and the result with Proposition 65 is the same.
Chris Daly, Yucaipa
::
To the editor: We all need to make informed decisions about our health, but the true outcome of this ruling is that it will give trial attorneys another opportunity to file "gotcha lawsuits" against small business owners and companies for not putting a cancer warning label on their product. While there is conflicting, credible research on the negative and positive effects of coffee drinking, there is no debate on the egregious and astronomical civil penalties that can be levied on businesses of $2,500 per day, per customer. Looking at recent Prop. 65 settlements, failure to place a simple warning sign in a parking garage can cost defendants between $60,000 and $80,000 in fines and attorneys' fees.
Proposition 65, the Safe Drinking Water and Toxic Enforcement Act, is meant to protect our waterways and our drinking water from dangerous chemicals. The intent of the law is abrogated by legal actions that have no effect on advancing public health, but cost small businesses money, kill jobs and drive business out of California.
Diana Lee Carey. Westminster
::
To the editor: As someone who has consumed an average of two cups of coffee a day for 65 years, how is it that I don't have cancer caused by acrylamide? I would estimate that billions of cups of coffee are consumed worldwide daily. Have the plaintiffs in the case provided the judge with one person who has cancer caused by acrylamide from drinking coffee?
If the judge issues a final ruling that coffee must be sold with a warning label, I urge Gov. Jerry Brown and the California Legislature to use some common sense and pass a law exempting coffee from the relevant statute.
Peter R. Pancione, Thousand Oaks
Follow the Opinion section on Twitter @latimesopinion and Facebook
---
A cure for the common opinion
Get thought-provoking perspectives with our weekly newsletter.
You may occasionally receive promotional content from the Los Angeles Times.