Opinion: You don't have to be a Trump opponent to find Hallmark movies too white and boring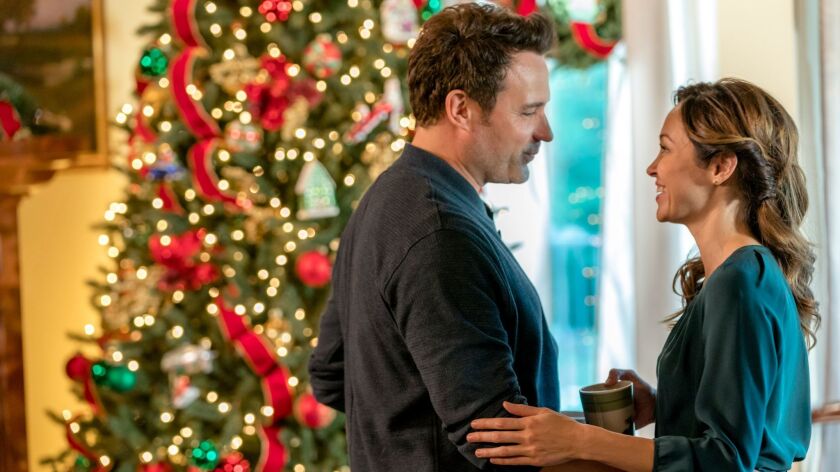 To the editor: The Hallmark Channel's success is amazing. Steven Malanga declares that it is the darling of Trump supporters, who prefer it over more serious fare. ("Hallmark channels' competitive advantage? Red state appeal," Opinion, Jan. 9)
Here's the typical Hallmark movie plot: A beautiful girl leaves the icky city for an idyllic vacation in a place with beautiful trees, maybe snow, cute-as-a-bunny shops and a man. This man is successful of course, and he is also handsome, sensitive and bright, whether he's a ski instructor or a bed-and-breakfast owner. Most of the cast is white, although the protagonist might have a black sidekick, who spouts wisdom when prompted to do so.
As for the viewer, I picture a woman taking a break from housework or her job, knowing that this girl's story and life could be hers instead of the life she has. Every show unfolds from a woman's viewpoint. I have watched several just to get the "flavor." I'm done with that, so it's back to glorious old movies.
Surprise: I'm a Trump supporter, so not only have I included stereotypes, so have you. I don't dislike Hallmark, as it apparently fills a niche, but I won't be watching again any time soon now that my "research" is finished.
Helene Chirinian, Rancho Palos Verdes
..
To the editor: I am famous among my friends and family for loving the Hallmark channel.
I never watch anything else. I probably have 25 Hallmark movies on my DVR right now. I watch one every night that I am home. Their movies always have happy endings.
In case anyone is interested, I will be 92 years old in April, and I credit my longevity to being a positive person. If I want to see negativity, all I have to do is read my morning L.A. Times.
Barbara Hardesty, Los Angeles
Follow the Opinion section on Twitter @latimesopinion and Facebook
---
A cure for the common opinion
Get thought-provoking perspectives with our weekly newsletter.
You may occasionally receive promotional content from the Los Angeles Times.