Readers React: Sheriff Alex Villanueva is giving voters plenty of reasons to recall him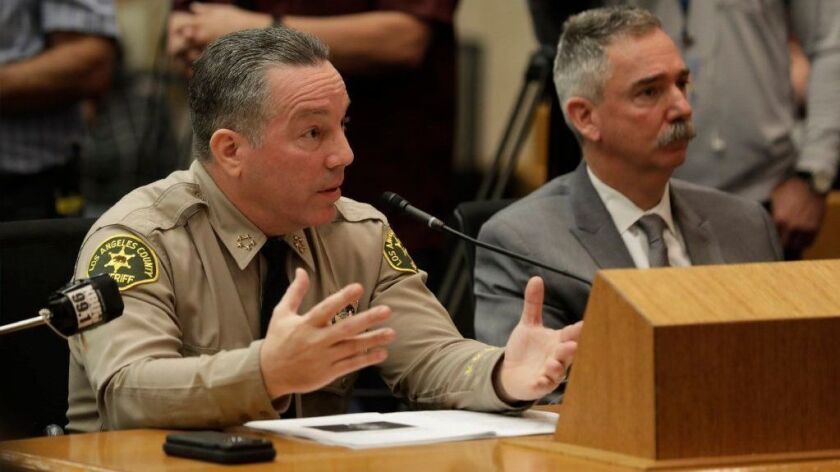 To the editor: Since taking office in December 2018, Los Angeles County Sheriff Alex Villanueva has shown extremely poor judgment.
He reinstated Deputy Caren Carl Mandoyan, who had been fired in 2016 for allegedly grabbing a female colleague by the neck and trying to break into her home. Last week, the chief county accountant notified Mandoyan that he will no longer be paid and must turn in his gun and badge.
Villanueva is in the process of attempting to roll back some of the progressive policies initiated by his predecessor Jim McDonnell regarding deputy treatment of county jail inmates. The mistreatment of inmates was a huge scandal that ended the career of former Sheriff Lee Baca.
These actions send a terrible message to the department and display poor judgment. Villanueva is not qualified to lead the Sheriff's Department, and it is time to initiate a recall before he does more damage.
Richard Z. Fond, Sherman Oaks
..
To the editor: As someone who supported Villanueva for sheriff and persuaded several others to do the same, believing he was the more progressive candidate, I am appalled by his performance to date.
Villanueva needs to wise up and clean up his act fast. If he doesn't, I'll be one of the first people to start circulating a recall petition.
Wendy James, Burbank
..
To the editor: An L.A. Times editorial frames the Mandoyan controversy between the Board of Supervisors and the sheriff as being over whether Villanueva has the authority to rehire a deputy.
Rather, the issue is whether the sheriff has the authority to hire a former deputy who was fired for conduct that would disqualify him from being hired initially.
Mandoyan had a complete administrative hearing concerning the conduct underlying his dismissal and was determined to be unqualified for his job. In the law, that finding is res judicata on the issue of Mandoyan's fitness for the position and is binding on the sheriff, whose authority to run his office does not extend to appointing unqualified deputies.
Ronald Magnuson, Tucson
The writer is a retired attorney and former prosecutor for the State Bar of California.
Follow the Opinion section on Twitter @latimesopinion and Facebook
---
A cure for the common opinion
Get thought-provoking perspectives with our weekly newsletter.
You may occasionally receive promotional content from the Los Angeles Times.