Opinion: If the 25th Amendment won't be used to remove Trump, then what good is it?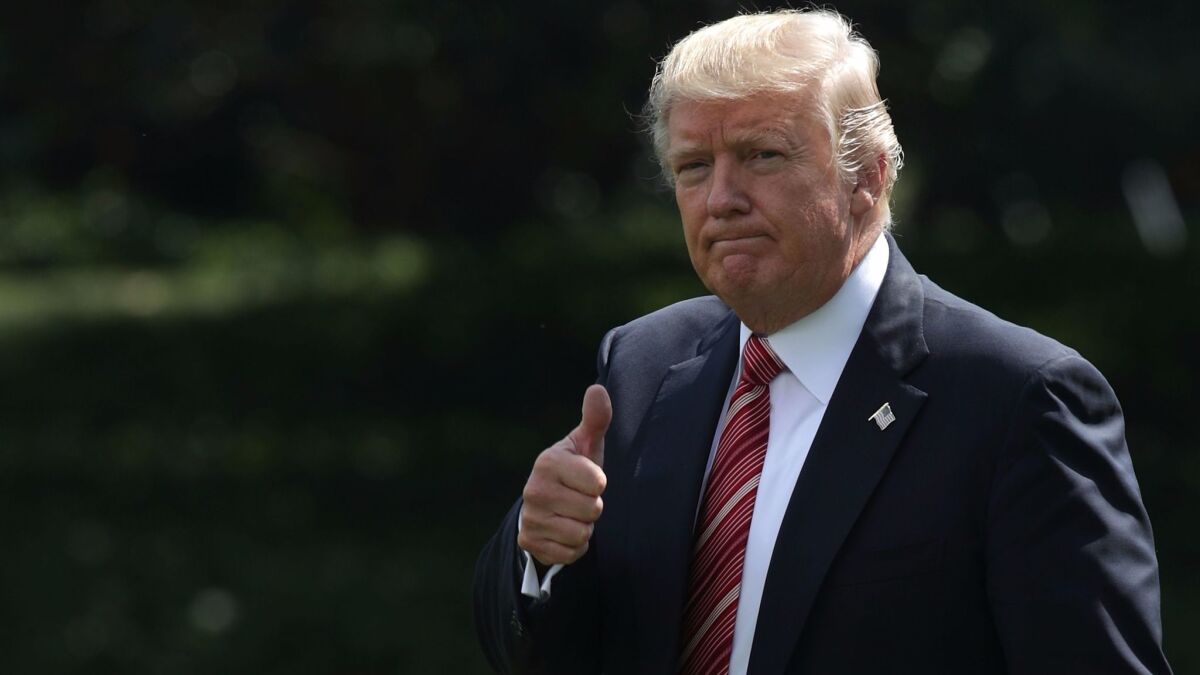 To the editor: Why have a 25th Amendment to the U.S. Constitution if we refuse to use it? ("Think the 25th Amendment will take care of Trump? You're dreaming," Opinion, Oct. 15)
Section 4 of the amendment allows the vice president and members of the Cabinet to declare the president unfit to carry out his duties of the presidency, subject to a vote of Congress if the president asserts that he is in fact able to keep his job. Congress and the Cabinet are full of well-educated people who care about their country, so how can they sit back while President Trump wrecks everything in his path?
Judge Trump's performance, including his tweets, as "fit" or "unfit" in the following policy areas: climate change; support for NATO; Iran's nuclear capability; tax reform; healthcare; the treatment of minorities, women, veterans, Dreamers, transgender people and judges; the environment; freedom of the press; disaster relief for Puerto Rico — you get the idea.
Doing nothing is not an option.
Jim Benson, Altadena
..
To the editor: Columnist Doyle McManus clarified the distinction between use of impeachment and the 25th Amendment as ways to remove Trump from office. He concludes that impeachment would be the more likely option between the two, but only after a majority change in the House as the result of the 2018 midterm election.
This may not be necessary, because there is most likely a large, currently silent group of Republicans in the House who would much prefer a more conservative and much more stable president in Mike Pence.
Jordan Austin, Port Hueneme
Follow the Opinion section on Twitter @latimesopinion and Facebook
Our six-week newsletter will help you make the right decision for you and your property.
You may occasionally receive promotional content from the Los Angeles Times.