Law firm of Stormy Daniels' attorney hit with $10-million judgment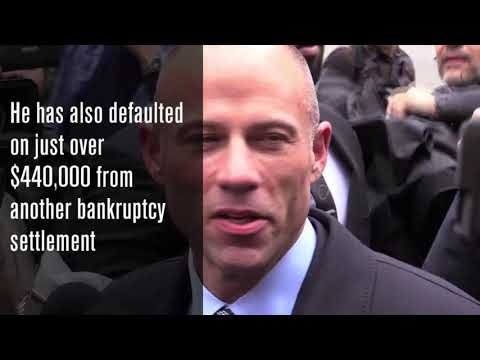 Avenatti, who has blamed the unpaid taxes on an unnamed payroll company, accused the Los Angeles Times of "purposely confusing me with a separate legal entity that has no role in the Daniels case."
A law firm of Stormy Daniels' attorney Michael Avenatti was hit with a $10-million judgment Tuesday in U.S. Bankruptcy Court after he broke his promise to pay $2 million to a former colleague.
Judge Catherine Bauer of U.S. Bankruptcy Court in Santa Ana ordered Eagan Avenatti to pay the $10 million to Jason Frank, a lawyer who used to work at the Newport Beach firm.
"At this point, that's what's appropriate," Bauer said at a brief hearing.
To settle his law firm's bankruptcy, Avenatti personally guaranteed in December that it would pay Frank $4.85 million. But he and Eagan Avenatti failed to pay the first $2 million installment that was due last week, triggering Tuesday's judgment.
The firm is also delinquent on $440,291 in back taxes, penalties and interest that Avenatti promised would be paid last week, Assistant U.S. Atty. Najah Shariff told the bankruptcy judge.
Avenatti and his firm had accepted the deadline under an agreement reached with the Internal Revenue Service in January. It requires Eagan Avenatti to pay the IRS a total of $2.4 million.
More than half of that was for payroll taxes that the law firm withheld from employees but did not turn over to the government. Avenatti, who has blamed the lapse on an unnamed payroll company, was personally responsible for holding the money in trust for the IRS, according to the U.S. attorney's office in Los Angeles.
Avenatti paid an initial installment of $1.5 million. Shariff told the judge that the government would soon file a motion demanding payment of the additional money that was due last week.
Avenatti accused the Los Angeles Times of "purposely confusing me with a separate legal entity that has no role in the Daniels case."
"Irrelevant," he wrote in an email responding to questions about the $10-million judgment and the missed tax payment. "Over blown. Sensational reporting at its finest. No judgment against me was issued nor do I owe any taxes."
Avenatti has repeatedly sent emails to The Times about the Daniels case from an Eagan Avenatti email address, with Eagan Avenatti below the signature line.
The firm listed in court records as representing Daniels is Avenatti & Associates. In the bankruptcy case, Eagan Avenatti identifies Avenatti & Associates as one of its two owners; the other is attorney Michael Eagan of San Francisco.
Like other plaintiffs' lawyers who work on contingency, Avenatti lives on a boom-and-bust pay cycle.
His biggest victory was a $454-million jury verdict last year against surgical gown manufacturers Halyard Health and Kimberly-Clark, but a judge reduced it in March to $24 million. The gowns were supposed to protect doctors and nurses from blood-borne viruses such as Ebola and HIV, but sometimes leaked.
Avenatti's highest-profile client is Daniels, a porn star who says she had a one-night stand with Donald Trump in 2006.
In the 11 weeks since Daniels filed suit to void a nondisclosure agreement that bars her from talking publicly about the alleged tryst, Avenatti has become one of the president's chief antagonists, often appearing on television several times a day.
He has also become a target of Trump supporters, some of whom welcomed news of the $10-million judgment.
"Guy has a habit of being a scum bag," conservative blogger Mike Cernovich wrote on Twitter.
Frank, who attended the bankruptcy hearing Tuesday, declined to comment on the judgment in his favor.
He alleges that Eagan Avenatti cheated him out of millions of dollars in compensation for his work.
When Avenatti struck the deal to pay Frank $4.85 million, he agreed to strict deadlines.
If he and the firm failed to meet them, Avenatti said he would consent to a Bankruptcy Court judgment ordering Eagan Avenatti to pay Frank $10 million. That includes the $4.85 million that he'd personally guaranteed.
At the hearing, Avenatti attorney Mark S. Horoupian told the judge that Avenatti, as agreed, was not disputing Frank's right to the $10-million judgment.
Frank initially tried to collect the money last year through arbitration.
The three retired judges who oversaw the proceedings ordered Eagan Avenatti to give Frank the tax returns and financial records that he needed to calculate the exact amount he was owed.
When the firm failed to give Frank the documents, the former judges concluded that Eagan Avenatti "acted with malice, oppression and fraud" in defying their order.
Avenatti was supposed to testify in the arbitration. But two days before his scheduled deposition, a man who identified himself as Gerald Tobin, listing a Florida UPS mailbox as his address, filed a petition to place Eagan Avenatti into involuntary bankruptcy due to an unpaid invoice of $28,700, according to a suit that Frank filed last week against Eagan Avenatti.
At a U.S. Bankruptcy Court hearing, Judge Karen S. Jenneman said Tobin's petition, which suspended the arbitration, had "a stench of impropriety," but Avenatti denied colluding with the Florida vendor.
Avenatti's tax troubles date back nearly a decade. His unpaid 2009 and 2010 income taxes led the IRS to put a $904,000 lien years later on all of his personal property, Orange County records show.
Avenatti said the lien "was placed in error," no taxes were due and the issue was resolved many months ago, but the lien remained open as recently as last month, according to the Orange County clerk-recorder's office.
Tax debts and unpaid bills have also saddled Avenatti's coffee business. He and a partner bought Tully's Coffee in 2013 for $9 million. Multiple landlords have sued for back rent or eviction of Tully's stores. Every Tully's outlet has closed, according to the Seattle Times.
The IRS put a $5-million lien on Tully's parent company, Global Baristas US, last June, initially naming Avenatti as the person responsible for payment. Like Eagan Avenatti, the company withheld payroll taxes from employees, but did not transmit the money to the IRS, the government said.
Avenatti blamed that, too, on a payroll company.
Avenatti says he divested his interest in Tully's long ago and now serves solely as outside counsel.
But in bankruptcy and civil court papers, he claimed a substantial ownership stake in the coffee chain as recently as April 2017, and in July 2017 identified himself as chairman, general counsel and a board of managers member at Global Baristas US.
Twitter: @finneganLAT
---
UPDATES:
9:35 p.m.: This article was updated to include the Gerald Tobin petition placing Eagan Avenatti into involuntary bankruptcy.
6:55 p.m.: This article was updated with details on the tax history of Michael Avenatti and Tully's Coffee.
3:30 p.m.: This article was updated to say that the law firm representing Stormy Daniels is Avenatti & Associates.
2:05 p.m.: This article was updated to identify Mark Horoupian as Michael Avenatti's personal attorney and add details on Stormy Daniels.
1:15 p.m.: This article was updated with details on the back taxes that Michael Avenatti owes the Internal Revenue Service.
12:45 p.m.: This article was updated with background of Egan Avenatti's dispute with Jason Frank.
This article was originally published at 9:45 a.m.
Get our Essential Politics newsletter
The latest news, analysis and insights from our politics team.
You may occasionally receive promotional content from the Los Angeles Times.