Supreme Court sounds wary of Microsoft's shield for emails stored abroad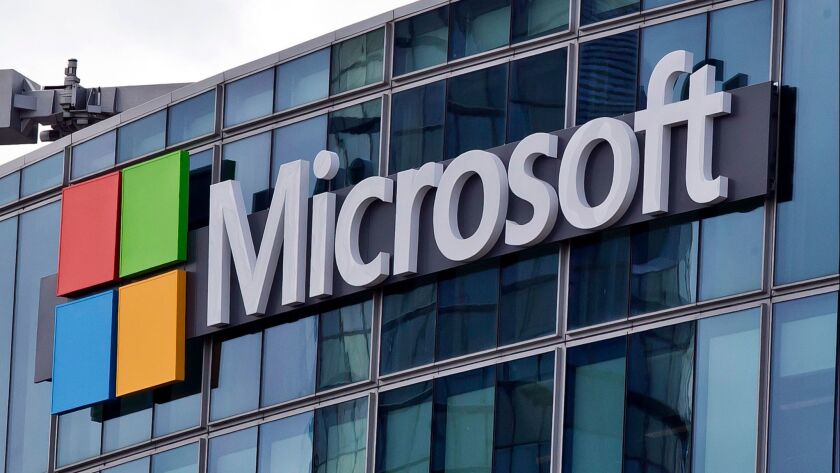 Reporting from Washington —
Supreme Court justices sounded skeptical Tuesday about Microsoft's refusal to turn over emails sought by U.S. law enforcement agents with a criminal search warrant but stored by the software giant in overseas servers.
The case of the United States vs. Microsoft has been hailed by some as a major test of privacy in a world where electronic traffic is stored in a digital cloud. Many observers say the federal law known as the Stored Communications Act of 1986 is hopelessly outdated. And some said the court should stand aside until Congress adopts a new law.
But most of the justices seemed to agree with Justice Department lawyer Michael Dreeben, who argued that the court needed to decide the case before them based on the current law and on the idea that a criminal search warrant from a judge must be honored.
The dispute arose during a routine federal drug trafficking investigation in the New York area. In 2013, federal agents went to court there and obtained a search warrant based on probable cause for "all emails" for a still-unidentified Microsoft customer. But when the warrant was served at Microsoft's headquarters in Redmond, Wash., the company refused to turn over the contents of the emails, saying they were held in a data center in Dublin, Ireland.
Though the agents said Microsoft simply needed to push a button in Redmond to download the emails, the company said they were outside the reach of the U.S. law because they were stored on a server in Ireland.
A federal judge was prepared to hold Microsoft in contempt for its refusal to comply. But to the surprise of federal authorities, the U.S. 2nd Circuit Court of Appeals agreed with Microsoft's contention that the federal law on "stored communications" did not allow for an "extraterritorial application." Unlike the other major cases about searches and seizures, the case turned only on the federal law, and not the 4th Amendment to the Constitution.
The Justice Department appealed to the Supreme Court, fearing that the ruling, if left intact, could undermine criminal prosecutions on many fronts.
During Tuesday's argument, Chief Justice John G. Roberts Jr. said Microsoft's position would be good news for people who want to break the law.
They could conduct illegal business via email in the United States with the assurance their messages would remain safe and off-limits to U.S investigators because they were held in Canada or Ireland, Roberts reasoned. It could be a good business move for the company as well, he said.
"There is nothing under your position that prevents Microsoft from storing United States communications, every one of them, either in Canada or Mexico or anywhere else, and then telling their customers, 'Don't worry. If the government wants to get access to your communications, they won't be able to,'" Roberts said.
Joshua Rosenkranz, a lawyer for Microsoft, denied that customers would seek out the giant company to escape U.S. law enforcement. "If customers do not want their emails to be seized by the government, they don't use Microsoft's services," he said. Instead, he said, such people would use foreign-based services with no U.S. presence and no obligation to turn over information to the U.S. government.
Outside on the court's plaza after the argument, Microsoft President Brad Smith said Congress needs to take action to resolve the matter.
"We need 21st century laws to protect 21st century technology," he said. "This case is fundamentally about a law that was passed across the street in Congress in 1986. It is a law that was never intended to reach around the world or into our data center in Ireland."
He pointed to a proposal known as the Cloud Act, which has bipartisan support in Congress, but has yet to win approval in a House or Senate committee.
Major questions before the Supreme Court this year »
On Twitter: DavidGSavage
---
UPDATES:
2:45 p.m.: This article was updated with additional reaction.
This article was originally published at 10:40 a.m.
---
For reporting and exclusive analysis from bureau chief John Myers, get our California Politics newsletter.
You may occasionally receive promotional content from the Los Angeles Times.