A high-stakes game of chicken over the Supreme Court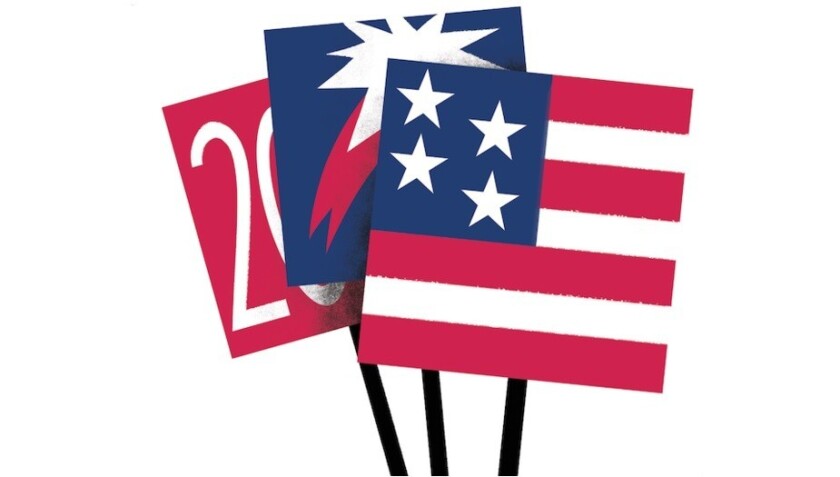 Reporting from Washington —
As the Supreme Court nomination of Brett Kavanaugh hung in the balance, senators from both parties engaged in an extensive game of chicken this week on the issue of whether and when the public might hear from Christine Blasey Ford, the woman who has accused him of a sexual assault years ago.
Neither side wants to take blame for blocking a hearing; both have come under intense pressure from activist voters to fight, making even minor compromises difficult. Trust between the two parties, already low, has ebbed.
As of Friday morning, the final resolution remained unclear although Democrats and their allies appeared to have succeeded in further delaying the GOP timetable for pushing Kavanaugh to confirmation.
Sign up for the Essential Politics newsletter »
HIGH TENSION IN THE ERA OF #METOO
Until Sunday, Republicans appeared to be on track in their effort to move Kavanaugh's nomination along a fast road.
The nominee had survived days of intense questioning from Democrats without saying anything that would force the few remaining relative moderates in the GOP caucus to break ranks. And in an added side benefit for Senate Majority Leader Mitch McConnell (R-Ky.), the nomination had created a tough vote for a few Democratic senators running for reelection in conservative states.
The one threat as of the end of last week was a confidential letter to Sen. Dianne Feinstein that raised an allegation of sexual misconduct against Kavanaugh. But the person making the allegation had insisted on anonymity, and the details remained under wraps.
That all changed in an instant on Sunday, when the writer of the letter stepped forward and revealed her identity in a detailed interview with the Washington Post, which she had initially contacted in July.
On Monday morning, a lawyer for the accuser, Christine Blasey Ford, a psychologist and professor at Palo Alto University, said she was willing to testify about her allegation that Kavanaugh had sexually assaulted her at a party when they were both in high school.
As Jennifer Haberkorn wrote, the offer immediately put Republican leaders in a bind. It threatened to recapitulate the fight a generation ago over Anita Hill's allegations against Clarence Thomas, a battle in which the GOP won a nomination, but lost heavily in the next election.
The allegations also gave the remaining undeclared Democrats a way out of the dilemma in which McConnell had hoped to trap them.
The allegations forced Republicans to delay a vote on Kavanaugh for at least a week. For Democrats, it raised the tantalizing prospect that they might be able to defeat the nomination and, just maybe, hold the Supreme Court vacancy open until after the midterm election.
Both sides are keenly aware that Democrats have at least an outside shot at regaining the Senate majority. If they do, Trump's prospects for filling a seat on the high court could change dramatically.
That prospect has generated intense pressure on Republicans to move quickly to get Kavanaugh confirmed while they know they still can. But the allegation from Ford has presented an obstacle to speed.
Initially, some Republicans privately said they hoped Kavanaugh would bow out, giving President Trump time to quickly nominate someone else.
That talk faded, however, in the face of opposition from the nominee and his allies and polling that showed partisan voters on both sides strongly digging in. McConnell was said to worry that any sign of wavering on Kavanaugh would depress turnout of Republican voters in November.
At the same time, Republicans feared that if they appeared dismissive of Ford's allegations, they would risk a #MeToo backlash from female voters, many of whom have already significantly soured on the GOP, Wire wrote.
The rest of the week was consumed with jockeying for position, as Haberkorn and Wire chronicled. As that proceeded, Republicans tried to blame their problem on Feinstein, saying she should have come forward with the allegation earlier. The senator also drew fire from some Democrats on the left, who said she had not been aggressive enough, Wire and Haberkorn wrote.
Meantime, on Thursday, Ed Whelan, a conservative legal activist and ally of Kavanaugh's, took to Twitter to float a theory that Ford might be confusing Kavanaugh with a classmate who resembled him. His effort, which skirted close to defamation in naming the supposed look-alike, drew criticism from Democrats and some Republicans.
Friday morning, Whelan apologized for "an appalling and inexcusable mistake of judgment."
At least some Republican senators privately hoped that Ford would not testify. They feared that a televised spectacle of her detailing her account, while a posse of middle-aged and elderly white, male Republicans questioned her, would cause them political damage and leave the Supreme Court nomination under a cloud. And that was the best-case scenario.
So far, polls show that most voters aren't paying a huge amount of attention. Feelings about Kavanaugh have been sharply polarized along party lines, but for most Americans, the confirmation battle has not been a top priority issue. A high-profile, televised hearing could change all that.
Any hopes that Ford would simply refuse to appear, however, suffered a significant setback on Thursday when her lawyers wrote that she would testify, but set out several conditions.
Ford has considerable leverage: If the Senate Republicans appear intransigent and reject her conditions, television networks would surely bid for the opportunity to have her tell her story on air. On Friday, the negotiations were continuing, with the November election growing ever closer.
DECISION CALIFORNIA — THE MIDTERMS
While Republicans remain favorites to keep control of the Senate, Democrats have a clear edge in the House, where they need to pick up 23 seats to gain a majority.
At least six Republican-held seats are in play in California, the most of any state.
As Mark Barabak wrote, the Republicans at this point have largely given up on trying to campaign on the good economic conditions or other issues. Instead, in districts across the country, they are seeking to paint the Democrat as "too far left."
A good example of this national strategy is unfolding in Orange County, Barabak wrote, focusing on the race between incumbent Rep. Mimi Walters and her Democratic challenger Katie Porter, a UC Irvine law professor. As Porter accuses Walters of being a "rubber stamp" for Trump, the Republican fires back that Porter is a dangerous liberal who favors "higher taxes and open borders."
As that fight unfolds in the 45th Congressional District, which covers much of inland Orange County, another Republican appears to hold a slight edge in the neighboring 39th District, just to the north.
There Young Kim, the GOP candidate, and Gil Cisneros, the Democrat, seek to replace Rep. Ed Royce. A new poll from Monmouth University showed that neither is well known to voters, but found Kim with a small lead, within the poll's margin of error, Michael Finnegan wrote.
While the congressional contests have gobbled up most of the political attention, the state does also have a race for governor.
The two candidates have adopted very different approaches to the race, Dakota Smith wrote. The Democrat, Gavin Newsom, who is the widely acknowledged favorite, has talked up the state's role as a national leader on issues such as healthcare and climate change.
His Republican challenger, John Cox, has focused on smaller-bore topics, such as waiting lines at the DMV and repealing the state's gas tax.
Keep track of all our coverage of this pivotal election in California on our Decision California page.
THE TRUMP-MATTIS SPLIT
Defense Secretary James Mattis was, for a time, the president's favorite Cabinet member. But the days in which he talked fondly of "Mad Dog" are long past. Now, as David Cloud reported, Trump sometimes refers to his Pentagon chief as "moderate dog," and military officials have begun to speculate over how much longer Mattis will last at the Pentagon.
One issue on which the two have clashed: Trump's plan to create a space force as a sixth branch of the military. A new report from the Air Force says the space force plan would cost $13 billion over five years.
TRADE DEFICIT WORSENING
The Kavanaugh fight overshadowed the latest escalation this week in the trade war with China. As Don Lee and Jim Puzzanghera reported, Trump imposed tariffs on $200 billion in Chinese goods, including many household items.
The move had been telegraphed for weeks, but the White House had held off as Treasury Secretary Steve Mnuchin argued for negotiations with Beijing.
Talks might still happen. Trump set the tariffs at 10%, but said they'd jump to 25% in the new year if no deal was in place. The White House portrayed that as an incentive to China to talk. Beijing, however, may see the move as an unacceptable threat.
Economists expect the tariffs to lead to price increases that American consumers will begin feeling in the spring.
Meantime, as Lee wrote, Trump notably didn't say much about the trade deficit in his announcement of the China tariffs. The president used to talk about the deficit numbers a lot; now he does so much less. That could be because the trade deficit has gotten noticeably worse since he took office.
Some of that worsening is temporary as importers have rushed to stock up on Chinese goods now before the new import taxes make them more expensive.
THE REST OF THE WEEK'S NEWS
Trump visited the Carolinas to view hurricane damage. As Chris Megerian wrote, he got a warm welcome in an area where he remains popular.
The president also ordered the Justice Department to declassify records related to the FBI's surveillance of Carter Page, a former Trump campaign foreign policy advisor who the FBI suspected was a target of Russian intelligence. Some of Trump's allies on the right have long insisted that the files, if released, would show misconduct by the FBI.
On Friday, Trump backed down, at least in part, tweeting that he had met with Justice Department officials who explained that releasing the documents, some of which contain classified intelligence, could have a "perceived negative impact on the Russia probe" and harm relations with U.S. allies. The Justice Department inspector general would review them, he said.
The administration also moved to sharply cut the number of refugees settled in the U.S. Some Republicans criticized the move, as Tracy Wilkinson reported.
And the State Department announced sanctions on 33 individuals, including Russians accused of interfering in the 2016 U.S. election. The sanctions were the latest example of the administration's bifurcated policy toward Russia in which Trump makes nice, even as his aides take a tough line.
LOGISTICS
That wraps up this week. Until next time, keep track of all the developments in national politics and the Trump administration with our Essential Washington blog, at our Politics page and on Twitter @latimespolitics.
Send your comments, suggestions and news tips to politics@latimes.com.
If you like this newsletter, tell your friends to sign up.
---
Get our Essential Politics newsletter
The latest news, analysis and insights from our politics teams from Sacramento to D.C.
You may occasionally receive promotional content from the Los Angeles Times.