Senators call border family separation policy 'immoral' as officials defend their actions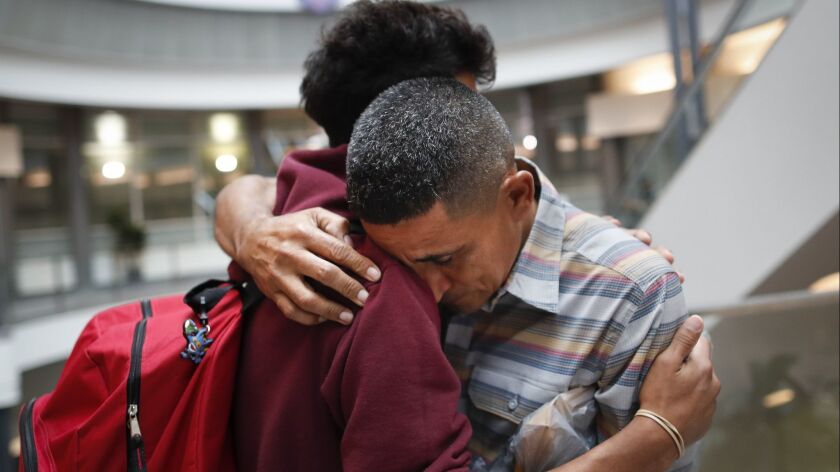 Reporting from Washington —
Trump administration officials on Tuesday sought to defend the immigration enforcement policy that allowed Border Patrol agents to separate more than 2,500 migrant families, but ran into sharp criticism from senators as one official compared detention centers for children to "summer camp."
"These individuals have access to 24/7 food and water," said Matthew Albence, a top Immigration and Customs Enforcement official. "They have educational opportunities. They have recreational opportunities, both structured as well as unstructured. There's basketball courts, there's exercise classes, there's soccer fields we put in there."
"Would you send your children" to one of the centers, Sen. Mazie Hirono (D-Hawaii) demanded of the administration witnesses. None of them said they would.
Officials contended they never lost track of parents or children in their custody, but conceded that their agencies were not well equipped to track which children belonged with which parents or to easily reunify families.
"The systems were not set up for this," said Cmdr. Jonathan White of the Office of Refugee Resettlement, part of the Health and Human Services Department, who has overseen the process of trying to reunify families. "What went wrong was that children were separated from their families and referred to the agency as unaccompanied minors, when in fact they were accompanied."
White also said that he and other Health and Human Services officials had "raised concerns" about the family separation policy before it started. "Separation of children from their parents entails significant risk of harm to children," White said.
Weeks after President Trump rescinded the policy of separating families at the border, the administration continues to struggle with its aftermath.
Late Tuesday, a federal judge in Washington threatened to issue an order to temporarily block the government from deporting any of the families that were separated at the border.
"I don't know what else to do because I don't take comfort in the assurances" that officials have made so far, U.S. District Judge Paul Friedman said.
Government lawyers Tuesday night provided Friedman further assurances that they would not conduct any deportations of the families before Friday.
Friedman is considering a case brought on behalf of children who seek asylum in the U.S. Lawyers with the international law firm Hogan Lovells say the government is denying the children's legal rights to counsel and a fair asylum process.
Government lawyers told Friedman the case should be transferred to U.S. District Judge Dana Sabraw in San Diego, who has been presiding over the process of reunifying the separated families.
At airports across the country and immigrant detention centers in Texas, more than 1,800 migrant families have been reunited after Sabraw gave officials until July 26 to put families back together. But roughly 700 children are still in the hands of the government, their fates in limbo.
In Tuesday's testimony, White said that 429 children whose parents have been deported are still in government custody.
On Monday, Sabraw ordered the Trump administration and lawyers for the families to each submit a plan to find those parents and others who haven't been located. Federal officials have deemed another 145 parents ineligible for reunification because of criminal records or other factors.
The hearing at the Senate Judiciary Committee was the first time members of Congress publicly questioned top federal officials about the family separation policy, which has led to weeks of controversy. Dozens of protesters holding signs that read "Families Belong Together" and "Family Protective Services" were asked to leave within the first hour as they rose to stand when Carla L. Provost, acting chief of Border Patrol, began her testimony.
Family separations stemmed from the administration's so-called zero tolerance policy, which came into effect in May. Under that policy, all people apprehended after crossing the border illegally, even those with potentially valid claims for asylum, were charged with illegal entry. Because that offense is a misdemeanor, most of the immigrants prosecuted have been sentenced to time already served, but their arrests became the legal justification for taking their children away from them.
Parents no longer are being prosecuted in most cases, Provost said. "The zero tolerance initiative will focus on prosecution of single adult aliens who cross the border illegally," she told the senators.
Democrats and some of the committee's Republicans strongly criticized both the policy and the way it was carried out.
Sen. Dianne Feinstein (D-Calif.) denounced what she called a "deeply immoral and haphazard policy." Democrats Richard J. Durbin of Illinois and Kamala Harris of California called on Homeland Security Secretary Kirstjen Nielsen to step down.
"Someone in this administration has to accept responsibility," Durbin said.
In a tweet, Homeland Security spokesman Tyler Houlton countered that "obstructionists in Congress should get to work to secure our borders, end legal loopholes & protect American lives."
At the hearing, federal officials defended their efforts and urged Congress to change the law so that families could be held together in detention facilities, saying the move could serve as a deterrent to keep others from entering the country illegally. Such changes would include modifying a 20-year-old court settlement, known as the Flores agreement, that generally limits the incarceration of immigrant children to 20 days.
Republican members on the committee readily agreed with the proposal. "No one on our side of the aisle wants to end the human standards required by Flores," Sen. Chuck Grassley (R-Iowa) said. "We want to keep families in federal custody. We don't want to see families kept in federal custody for indefinite periods of time."
Through letters and private briefings, members of Congress have pressed federal officials on how the family separation policy was crafted and rolled out, including details on the budgets and coordination among agencies under the departments of Homeland Security, Health and Human Services and Justice.
The response from the agencies and Trump administration officials has ranged from mixed messages to silence.
Albence, an executive associate director with ICE, told the senators that many parents had opted to leave their children behind after having spent "their life savings" to get them to the U.S. in the first place.
Immigration lawyers, however, have filed declarations from dozens of parents who said they were pressured, frightened or coerced into waiving their rights to reunification. Some were given forms to sign in a language not their own.
More stories from Jazmine Ulloa »
---
UPDATES:
5:50 p.m.: The article was updated with government lawyers assuring the judge that no parents will be deported before Friday.
3:55 p.m.: The article was updated with a federal judge's threat to issue an order blocking further deportations of parents.
This article was originally published at 2:30 p.m.
---
Life is stressful. Our weekly mental wellness newsletter can help.
You may occasionally receive promotional content from the Los Angeles Times.