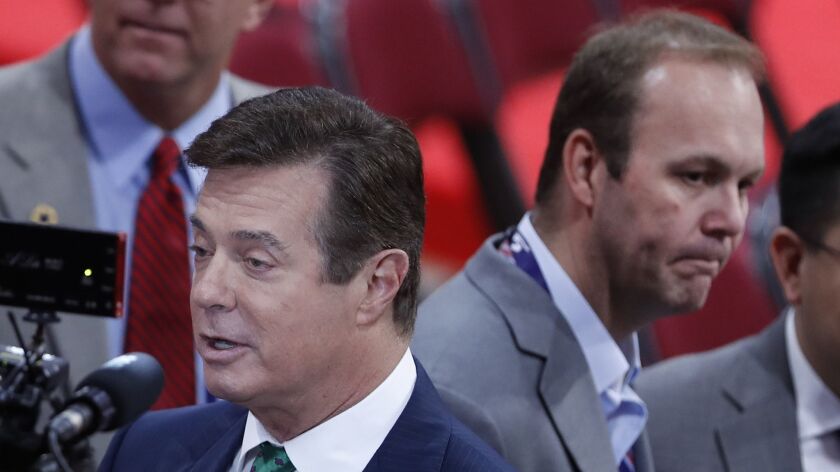 Reporting from Alexandria, Va. —
The case of President Trump's former campaign chairman, Paul Manafort, moved to a federal jury late Wednesday after a 12-day trial that saw a numbing deluge of financial records, more than two dozen prosecution witnesses and a high-stakes gamble by the defense team to present no evidence at all.
Although the criminal charges against Manafort focused chiefly on the tens of millions of dollars he made as a political consultant in Ukraine before he joined Trump's campaign in March 2016, evidence introduced in court indicated some of the alleged crimes occurred that summer as Manafort steered his candidate through the Republican National Convention.
The closely watched trial is seen as a test case for special counsel Robert S. Mueller III, who brought the charges even though none directly related to Russia's interference in the 2016 campaign, the focus of Mueller's inquiry. It also is politically sensitive for the president, who on Wednesday again condemned what he called the "Rigged Russian Witch Hunt."
If convicted on all 18 charges, Manafort could be sentenced to more than 300 years in prison. Even if he is acquitted, he faces another federal trial on related charges on Sept. 12 in Washington, D.C., and the judge in that case ordered him incarcerated in June for alleged witness tampering.
The first verdict is likely to hinge on whether the jury believes Manafort, 69, or his former top lieutenant, Richard Gates, 46, who provided an insider's account of what the government described as an elaborate criminal scheme involving dozens of offshore accounts, millions in unpaid taxes and numerous fraudulent documents.
Takeaways from prosecutors' case against Paul Manafort »
In a 90-minute closing argument Wednesday, prosecutor Greg Andres acknowledged that Gates was a confessed liar and thief, but told jurors they could discount his testimony and still convict Manafort of tax evasion, bank fraud and conspiracy.
"The star witness in this case is the documents," Andres said.
He also said jurors did not need to like Gates, conceding that Manafort did not "choose a Boy Scout" to help with his alleged criminal schemes. He said the evidence was overwhelming that Manafort had hidden millions of dollars in foreign bank accounts to evade U.S. taxes, and lied on bank loan applications and other official documents.
"When you follow the trail of Mr. Manafort's money, it is littered with lies," Andres said.
In their closing argument, Manafort's lawyers slammed Gates as an embezzler and a cheat who had falsely pointed the finger at Manafort to save himself from a lengthy prison sentence for his own crimes.
"To the very end, he lied to you," defense lawyer Kevin Downing told the jury.
Even after listening to 27 witnesses and reviewing 388 documents during the trial, by the prosecution's count, the jurors — six men and six women — appeared to pay close attention during the closing arguments, intently watching the opposing lawyers and sometimes scribbling notes on their pads in the packed courtroom in Alexandria, Va.
Jurors are scheduled to begin deliberations Thursday morning. Federal juries are required to reach unanimous decisions.
Andres began his closing argument with a bruising summary of the allegations against Manafort, a longtime Republican consultant who turned to lucrative overseas work before returning to the domestic political scene to help steer Trump's campaign.
"Mr. Manafort lied to keep more money when he had it, and he lied to get more money when he didn't," Andres said.
Prosecutors said Manafort stashed more than $60 million in 31 foreign accounts and illegally avoided paying U.S. taxes on more than $15 million. He allegedly filed false tax returns for five years while using what Andres called a "huge dumpster of hidden money" to pay for a slew of multimillion-dollar homes, bespoke suits and a five-star lifestyle.
Among other jaw-dropping purchases, prosecutors said Manafort bought a $15,000 ostrich skin jacket, an $18,500 python skin jacket, $1,500 shirts and more than $330,000 in clothing from the House of Bijan, a Beverly Hills boutique that markets itself as the "world's most expensive store."
They said Manafort's income abruptly dried up in 2014, when the Kremlin-aligned government in Ukraine was ousted in a popular revolt. Manafort then allegedly lied to three different banks to obtain more than $20 million in loans to pay for his exorbitant lifestyle — including $16 million from the Federal Savings Bank in Chicago while he headed Trump's campaign.
During the trial, no one testified longer than Gates, who worked for Manafort at his consulting firm and served as his deputy on the Trump campaign. But Andres told the jury Wednesday there was "more than sufficient" evidence to convict Manafort without Gates' testimony.
He urged them to test Gates' word against that of others who testified against Manafort, including his accountants Cindy Laporta and Philip Ayliff; his bookkeeper Heather Washkuhn; and bankers Manafort allegedly defrauded. He also urged them to review the hundreds of emails, memos, financial records and other material prosecutors used to buttress their case.
Gates was indicted on financial charges alongside Manafort in October, but he cut a deal with prosecutors in hopes of winning a lenient sentence and agreed to testify against his former boss.
He pleaded guilty in February to conspiracy and making false statements to investigators. On the witness stand for 2½ days, he also admitted to inflating his income on credit card and mortgage applications and embezzling from Manafort's company.
Gates also didn't deny an allegation, raised by defense lawyers during cross examination, that he stole from Trump's inaugural committee, where he was a deputy chairman.
Defense lawyers chose not to present their own case after the prosecution rested Tuesday, and the reasoning behind their decision became more clear on Wednesday.
Richard Westling, one of Manafort's lawyers, kicked off the closing argument by asserting that the prosecution had simply not met the necessary burden of proof and the jury should acquit him.
"Hold the government to its burden, ladies and gentlemen," Westling told the jury. "That is what our system is built on."
He accused prosecutors of trying to stack up charges against Manafort to "give you a sense that everything is so overwhelming there is only one conclusion."
When Westling was finished trying to poke holes in the bank fraud charges, Downing took the lectern to deliver the crux of the defense's argument by targeting Gates.
The prosecution, Downing said, had presented Gates "all clean-shaven, a real decent person you could rely on." But Gates was a proven liar, he said, who can't be trusted by the jury.
Although Gates had testified to discussions with Manafort about the alleged tax scheme, he also admitted that there were no emails to provide documentation, Downing said.
"He's just fabricating it to get his probationary deal," he said.
Andres had the final word once Downing was finished, returning for a rapid-fire rebuttal, his voice rising as he tried to squeeze a few more pieces of information into the last argument he'd make to the jury.
"The defense wants you to believe this is a case about Rick Gates. They haven't explained the dozens and dozens of documents" that outline Manafort's role, Andres said.
He pointed to a document where Manafort referred to Gates as his "quarterback" for dealing with financial issues.
"Guess who the coach of that team is?" Andres said. "Who owns and controls that team? Mr. Manafort."
Once closing arguments finished, District Court Judge T.S. Ellis III delivered lengthy instructions to the jury on how to consider the verdict. A new instruction was added Wednesday after prosecutors objected to part of the defense's argument that suggested Manafort could have been the victim of selective prosecution.
The special counsel's office, Westling had said, "tried to find any place that the numbers don't match up" because it was desperate to make a case against Manafort.
Ellis agreed with Andres that jurors should only consider the facts of the case rather than prosecutors' reasoning for charging Manafort.
Follow the latest news of the Trump administration on Essential Washington »
Twitter: @chrismegerian
---
UPDATES:
4:45 p.m.: This article was updated after the case went to the jury.
11:55 a.m.: This article was updated with details from the defense closing argument.
10:38 a.m.: This article was updated with more details from the prosecutor's closing argument.
7:55 a.m.: This article was updated with details from the prosecutor's closing argument.
This article was originally published at 5:20 a.m.
---