Omarosa Manigault Newman claims 'false imprisonment' during her firing, accuses Trump of lying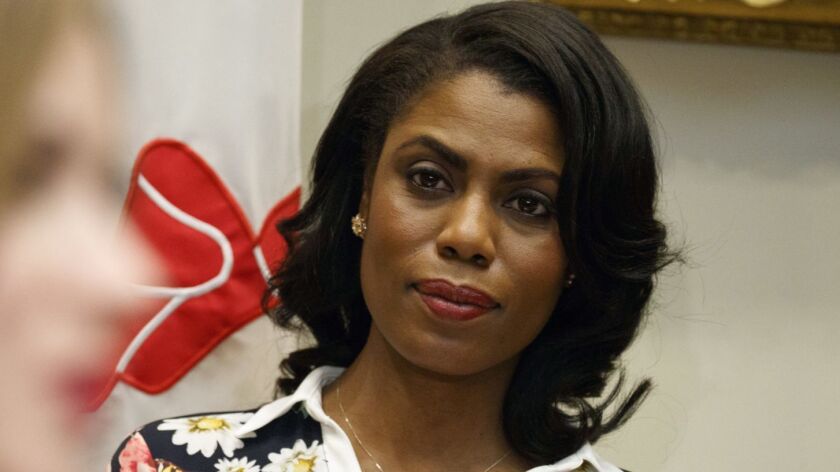 Washington Post
Omarosa Manigault Newman, the once-loyal aide to President Trump who has written a new tell-all book containing explosive allegations about her former boss, said Monday that she believes Trump was lying when he claimed in a phone call last December that he knew nothing about her dismissal by White House Chief of Staff John F. Kelly.
In a combative appearance on NBC's "Today" show, Manigault Newman shared an audio recording of the phone conversation that she says she had with Trump the day after she was fired from his administration.
She also denounced the White House's handling of her firing, claiming the two-hour Situation Room meeting in which she was let go amounts to "false imprisonment."
"There is a complete organization between the two of them," Manigault Newman said of Trump and Kelly. "He probably instructed General Kelly to do it so that he could keep his hands clean when he spoke to me. I'm wondering, is he sincere?"
She added: "Is General Kelly running this country, or is the president running this country?"
The Washington Post had previously reported on Manigault Newman's account of the conversation with Trump the day after her firing. On the tape aired Monday morning, Trump is heard expressing surprise that Manigault Newman was fired.
"Omarosa, what's going on?" Trump asks. "I just saw on the news that you're thinking about leaving. What happened?"
Manigault Newman responds that Kelly told her that she had been dismissed.
"No. Nobody even told me about it," Trump replies. "You know they run a big operation, but I didn't know it. I didn't know that. Goddamnit. I don't love you leaving at all."
The White House did not immediately respond to the new recording or Manigault Newman's statements.
The release of the audio comes one day after Manigault Newman shared a separate recording of what she says is the conversation in which Kelly informed her she was being fired.
In an appearance on NBC's "Meet the Press" on Sunday, Manigault Newman said she made the recording in the Situation Room — a revelation that White House Press Secretary Sarah Huckabee Sanders said, if true, "shows a blatant disregard for our national security."
A number of pundits and security experts have said the incident also raises questions about the Trump White House's procedures regarding the Situation Room, where the president and key officials conduct highly sensitive business.
Asked during Monday's "Today" show interview about how she made the recording, Manigault Newman declined to answer, saying only, "I'll just leave that to your imagination."
She defended making tapes of her calls and meetings with Trump, Kelly and others, saying that if she hadn't, the White House would have claimed that the conversations never occurred.
"Had I not recorded this, people would say, 'She has a credibility issue,'" she said.
She also maintained that she has heard a three-minute audio recording on which Trump uses a strong racial epithet multiple times as host of "The Apprentice." Manigault Newman has written that such a tape exists but has not provided evidence.
"He was talking about some African Americans in the production during the course of 'The Apprentice,' which is unacceptable," Manigault Newman said, urging reporters to ask Trump whether he has ever used the term.
And she took issue with the way in which the meeting to discuss her departure from the White House was handled, telling NBC's Savannah Guthrie, "It's not acceptable for four men to take a woman into a room, lock the door, and tell her that she cannot leave."
"The moment I said I would like to leave and they said I can't go, it became false imprisonment," she said.
The Post reported Friday that after being fired, Manigault Newman declined a $15,000-a-month job offer with Trump's reelection campaign, which came with a "companion agreement" including nondisclosure and nondisparagement provisions. Copies of both documents were obtained by the Post.
The "consulting agreement" describes Manigault Newman's proposed services as "speaking appearances," "fundraising appearances" and "diversity outreach."
Manigault Newman also said Monday that she believes that Trump is mentally unfit to serve as president, arguing that if he was telling the truth in his phone call to her the day after her firing, then he is not aware of what's going on in his own White House.
"No. I don't think he's fit," she said.
---
For reporting and exclusive analysis from bureau chief John Myers, get our California Politics newsletter.
You may occasionally receive promotional content from the Los Angeles Times.