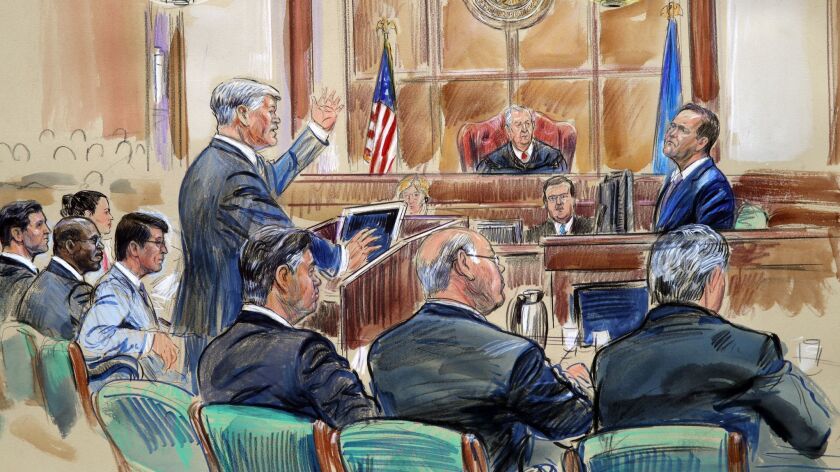 Reporting from Washington —
As the prosecution neared the end of its fraud and tax evasion case against Paul Manafort, attorneys on both sides Wednesday had a last chance to build up or tear down the credibility of prosecution's star witness, Richard Gates.
Wrapping up his third day on the witness stand, Gates, Manafort's former business partner, provided more damning details about the offshore accounts he and Manafort controlled in Cyprus, Britain and St. Vincent and the Grenadines and failed to report to U.S. authorities.
Meanwhile, defense attorneys attempted to undermine his character, suggesting that he had four extramarital affairs, more than the one he admitted to Tuesday.
After prosecutors quickly objected to the line of questioning, the judge huddled with attorneys privately and the topic was dropped before Gates was able to respond.
Later in the day, an FBI accountant and IRS agent told the jury how Manafort's funds flowed, largely unreported, from offshore accounts into the United States.
Manafort's attorney, Kevin Downing, attempted to use the cross-examination of Gates to portray Manafort as honest. He pressed Gates to testify that when the pair were questioned by the FBI in July 2014 about some of Manafort's offshore accounts, Manafort had told Gates to be "open," and that after their interviews, Manafort indicated that he had been "truthful."
But under questioning from Greg Andres, one of the prosecutors working for special counsel Robert S. Mueller III, Gates admitted that he had not told the FBI about all the hidden income in their offshore accounts, most of which were closed by 2014. Rebutting the defense's characterization of Gates as a deceitful associate who had drained Manafort's funds, Andres asked Gates about the alleged embezzlement that defense attorneys said Gates had carried out.
"Have you ever been charged with any crimes related to stealing or embezzlement?" Andres asked.
"No," Gates replied.
"Did Mr. Manafort ever confront you about it?"
"He did not."
Andres also questioned Gates about his alleged affair, which Gates admitted to on the stand Tuesday. Gates said that the five-month relationship occurred 10 years ago, and he told his wife about it.
"Did you tell Mr. Manafort?" Andres asked.
"Yes," Gates said.
"Was he supportive?"
"He was."
"Did he fire you?"
"No."
The defense took the opportunity to pounce. Near the end of his re-cross-examination, Downing pivoted back to what he called Gates' "secret life" in London, where Gates had an apartment and conducted the affair.
"Do you recall telling the office of the special counsel that you actually engaged in four extramarital affairs?" Downing asked, to muted gasps in the courtroom.
Andres jumped up, objecting to the question.
Judge T. S. Ellis III called the attorneys for a meeting at the bench. When they returned, Downing asked that no further questions be asked about the alleged affairs.
After Gates was dismissed, the prosecution called Morgan Magionos, an FBI forensic accountant, to show how Manafort's money flowed from his offshore accounts into domestic bank accounts — and was used to pay vendors for his extravagant purchases. Between 2010 and 2014, about $60 million flowed through Manafort's offshore accounts, Magionos testified.
In one transaction in early August 2010, the high-end men's clothing boutique Alan Couture charged Manafort $32,500. About a week later, Leviathan Advisors, one of Manafort's shell companies, transferred that same amount to Alan Couture. Magionos matched similar transactions to invoices for luxury cars, landscaping projects and home renovations. Funds also flowed from the Cyprus bank accounts of Manafort's shell companies to pay for real estate, including properties in Manhattan and Brooklyn.
The defense's cross-examination of Magionos did not center on specific records, but rather called into question the veracity of the documents that she had used for her analysis.
Pointing to signatures attributed to Manafort that appeared slightly different, Richard Westling, one of Manafort's attorneys, asked Magionos whether they were the same.
She replied that the signatures "looked a little different, but I'm not a handwriting expert."
The prosecution also called Michael Welch, an Internal Revenue Service agent, as an expert witness. Welch, who had been taking notes in the front row of the courtroom earlier in the day, testified that Manafort did not report vast amounts of the money he earned through his political campaign work in Ukraine between 2010 and 2014.
But just a few minutes into his testimony, Ellis berated the prosecution for letting Welch attend all the previous days of testimony, saying that the court had not been previously informed that a witness would be listening to others testify. Assistant U.S. Atty. Uzo Asonye attempted to explain that Welch's attendance in court was part of his job as an expert witness, and added that Ellis had previously agreed that case agents and expert witnesses could sit in on the trial.
"Let me be clear," Ellis said sharply. "I don't care what the transcript says, but I usually exclude expert witnesses." He added that would allow Welch to testify, but reprimanded Asonye for not checking with him.
"Fair enough, Your Honor," Asonye said.
"Fair enough? It's right," Ellis snapped.
Welch said that Manafort had $16.4 million in unreported income during that period — and that Manafort's tax returns for that year were false.
"They failed to check the box that Mr. Manafort had foreign bank accounts," Welch said. Manafort was benefiting from the accounts, had signatory authority over them, and had power over the movements of their funds, Welch said.
When Welch left the stand and returned to his seat in the courtroom, Ellis took note.
"I see Mr. Welch back in the courtroom, in a prime seat," he said wryly.
At the end of the day, Andres said that the prosecution expects to call eight more witnesses, each of whom will testify for an hour or less. He added that the prosecution aims to rest its case by the end of the day Friday.
Follow the latest news of the Trump administration on Essential Washington »
---