Trump faces questions over his promise to historically black colleges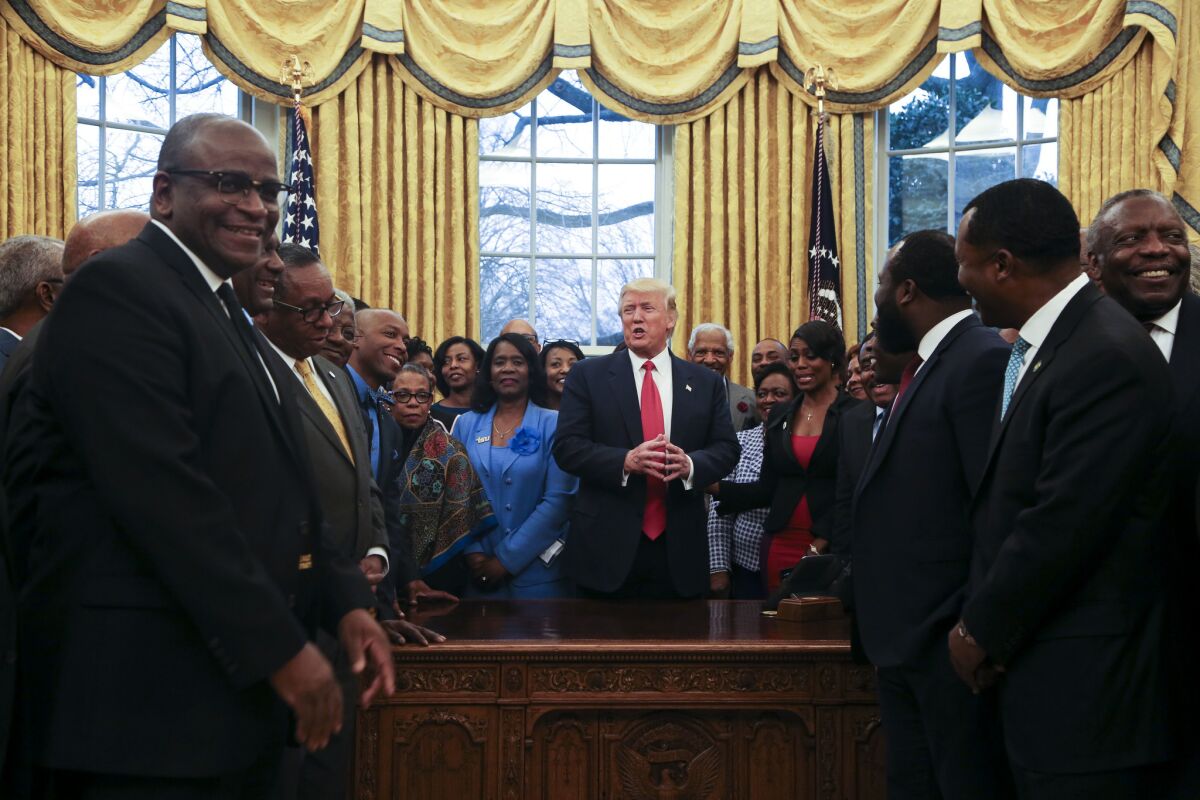 Washington —
Following in the footsteps of every president since Jimmy Carter, President Trump signed an executive order in February pledging his commitment to historically black colleges and universities.
But Trump, who won only a sliver of black voters last fall, took it a step further, inviting dozens of leaders from these institutions into the Oval Office for a meeting that raised hopes that he may bring more federal attention — and funding — to their schools.
Six months later, with the White House's annual conference for historically black colleges and universities scheduled for Monday, some administrators and lawmakers are questioning Trump's commitment, saying that first meeting appears to have been little more than a publicity stunt.
"There's no real effort that we see," said Rep. Bennie Thompson (D-Miss.), a member of the Congressional Black Caucus. "His meeting with HBCU presidents, for the most part, was a photo op that did not generate any substantive legislation or financial benefits to those colleges and universities."
Trump has yet to assign an executive director to lead the White House Initiative on Historically Black Colleges and Universities — a position that is generally filled by the end of the summer. Nor has he appointed a single member to the President's Board of Advisors on HBCUs.
In May he questioned the constitutionality of a federal construction financing program that serves black campuses and proposed cutting federal financial aid programs, including Pell grants, and work study opportunities, which many minority students rely on.
The White House later walked back the suggestion that the financing program may be illegal because it targets only blacks schools, and Trump insisted that he still has "unwavering support" for mostly black institutions.
But because of what they see as a lack of progress, some members of the Congressional Black Caucus, the Congressional HBCU Caucus and other advocates for the schools have called for Monday's conference to be delayed.
Their concerns were elevated after Trump defended protesters at a white supremacist rally in Charlottesville, Va. — which ended in the death of a counter-protester.
"It's unclear what the president's priorities are," said Alvin Schexnider, former executive vice president at Norfolk State University and author of "Saving Black Colleges." "I think that's the real source of anxiety: that people just don't know what's going to happen, if anything."
Earlier this month, the White House quietly announced it would scale back the conference from a three-day event at an Alexandria, Va., hotel to a Sept. 18 gathering, hosted at the White House, according to Omarosa Manigault Newman, director of communications for the Office of Public Liaison, who has known Trump since appearing as a contestant on his TV show, "The Apprentice."
The revised conference will feature smaller meetings to allow "students and leaders to share their perspectives on the opportunities and challenges facing the HBCU community," according to a statement from the White House Initiative on HBCUs.
"President Trump's commitment to the HBCU community remains strong and unwavering," Manigault Newman said. "Registration remains at capacity and we are looking forward to welcoming HBCU presidents, students and guests."
She added that an announcement about the appointment of an executive director to lead the White House initiative is expected at the conference.
But Rep. Alma Adams (D-N.C.), co-chair of the Congressional HBCU Caucus, said Trump is taking too long to keep his promises. "School has started, so to me he has not acted swiftly enough, and I think he's dragging his feet."
In June, the Congressional Black Caucus declined a meeting with Trump after the administration did not respond to a 130-page document outlining what the federal government could do to help black families and students.
Even with the missed deadlines and slow action, Kentucky State University President M. Christopher Brown II said he was looking forward to the conference, which he said would provide another chance for the president to show he is paying attention.
"I think we really need to have a clear platform and agenda," he said. "If the president calls a meeting, I will be there."
The Thurgood Marshall College Fund, one of the groups that had originally advocated for postponement of the conference, was hopeful the administration's decision to modify the event showed it was "still listening to the community and is serious about finding solutions," according to a statement.
Rep. Bradley Byrne (R-Ala.), co-chair of the Congressional HBCU Caucus with Adams, said he hoped the conference would help align the priorities of the caucus with those of the White House. Unlike some of his fellow caucus members, Bryne defended Trump.
"We're going to have a White House that's working with us," he said. "I've been very pleased at the openness of the Trump administration to a number of initiatives. Now we need to follow through."
For many advocates, that means more federal funding for HBCUs and rolling back some of the cuts Trump proposed in his budget. The Trump administration notes that it did not modify the funding set aside for HBCUs in the budget, but advocates say the current level of funding is not enough for a group of schools that historically received only a small portion of federal dollars and a population of students that rely heavily on federal aid to finance their education.
A 2011 Department of Education study found about 52% of black undergraduate full-time students received need-based grants or scholarships, compared with 30% of white undergraduate full-time students.
Advocates have been consistently fighting for more funding. They had limited success under President Obama, who originally proposed several programs to help black students and colleges, but wasn't able to secure a long-term increase in funding.
"We need the federal government to pay some attention to these schools," Adams said. "It is the president who can provide leadership from the top to show the interest that he has and encourage our leaders to follow suit."
Historically black colleges view Trump administration warily, but also with some optimism
---
Life is stressful. Our weekly mental wellness newsletter can help.
You may occasionally receive promotional content from the Los Angeles Times.