At Jerry Brown's climate summit, a lot of drama and a measure of momentum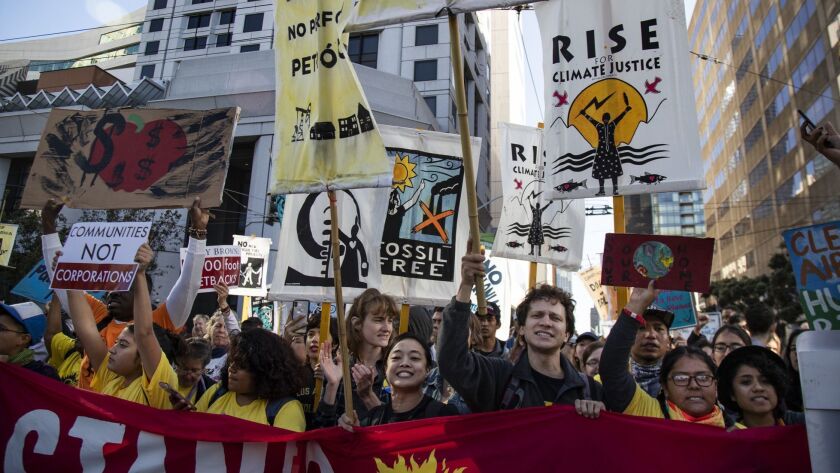 Reporting from San Francisco —
It was equal parts theater, venting session and business meeting where stuff got done.
At Gov. Jerry Brown's climate summit Thursday, there were no sweeping agreements struck as there were in Paris in 2015. Statements of defiance against Washington and boasts of progress made so far overshadowed actual new commitments. Protesters shouted from the outside — and the inside — that the state, city and business leaders assembled from around the globe are not confronting the climate problem aggressively enough.
But still, there was forward momentum. Alliances were born, goals were set, and notable and influential new leaders showed up to join the coalition of governments and companies determined to carry the world toward meeting the Paris agreement President Trump has disavowed.
That was enough for organizers to declare the day a success. By the time the conference ends Friday, they can argue they have succeeded in getting the figurative boulder a few feet farther up a mountain Brown likes to compare to Mt. Everest.
"If you have any kind of a meeting that is big enough to create a social and political splash, you end up with the question of did it accomplish enough," said Jonathan Pershing, who was U.S. special climate envoy during the Obama administration. The myriad incremental measures put on the table in San Francisco, he said, will add up.
The largest manufacturer of tractors in the world, an Indian company, vowed to cut its emissions consistent with the Paris goals. An Australian state snubbed the country's leader by committing to phase out coal. Virginia joined the group of U.S. states aggressively defying the federal government by placing new restrictions on methane emissions.
"There are things that are happening that weren't happening before, and some of them are a big deal," Pershing said. "We now have a group of big tech companies refusing to go into places that won't give them 100% renewable power. That leaves places like Ohio grappling with how to get more renewable power because they want the business. That is a big deal."
Former New York Mayor Michael Bloomberg's group unveiled a new study mapping out the path for cities, states and businesses committed to carrying the U.S. to the Paris goals, pushing for progress on pledges to more reliably be accounted.
But the policies were often less of a highlight than the political positioning and drama around them.
Actor Harrison Ford drew cheers as he demanded voters "stop giving power to people who don't believe in science. Or worse than that, pretend they don't believe in science for their own self-interest." He ended on a line the crowd assembled at San Francisco's Moscone Center adored: "Let's roll up our sleeves and kick this monster's ass."
Washington Gov. Jay Inslee seemed to be on an audition for the 2020 Democratic presidential primary. "We have given people what they need in a dark time," he said of the alliance of governors pushing to meet the Paris goals.
Bloomberg, who was twice elected mayor of New York as a Republican before becoming an independent, announced that he will be putting his vast fortune behind electing Democrats to Congress.
Brown was Brown, in vintage form at an event where he was undeniably the biggest star.
The governor was asked how history will remember Trump. "On the path he is now?" the governor said. "Liar. Criminal. Fool. Pick your choice."
Still, a raucous crowd outside the summit had sharp criticism for Brown, demanding he take a firmer stand against the expansion of oil production in California. One group carried a large yellow banner telling the governor that he has a "last chance" to choose between "fossil fuel or our future." Many were part of a group that has challenged Brown throughout the year for what they see as having too close of a relationship with the oil industry.
When asked about the protests, Brown responded with characteristic annoyance.
"You know that politics runs on money," said Brown, who once ran for president on a platform of getting big money out of politics and demanding candidates take no more than $100 from any donor. "… In the world of dreams, you can do a lot of things. In the world of practicality, there is a way it works."
Bloomberg took a more bemused view of the protests.
"America is a wonderful country," he said with a grin. "Here we have environmentalists protesting an environmental conference."
Times staff writer John Myers contributed to this report.
Twitter: @evanhalper
---
Get our Essential Politics newsletter
The latest news, analysis and insights from our bureau chiefs in Sacramento and D.C.
You may occasionally receive promotional content from the Los Angeles Times.