Trump denies report of frequent use of unsecure iPhones, allowing spies to listen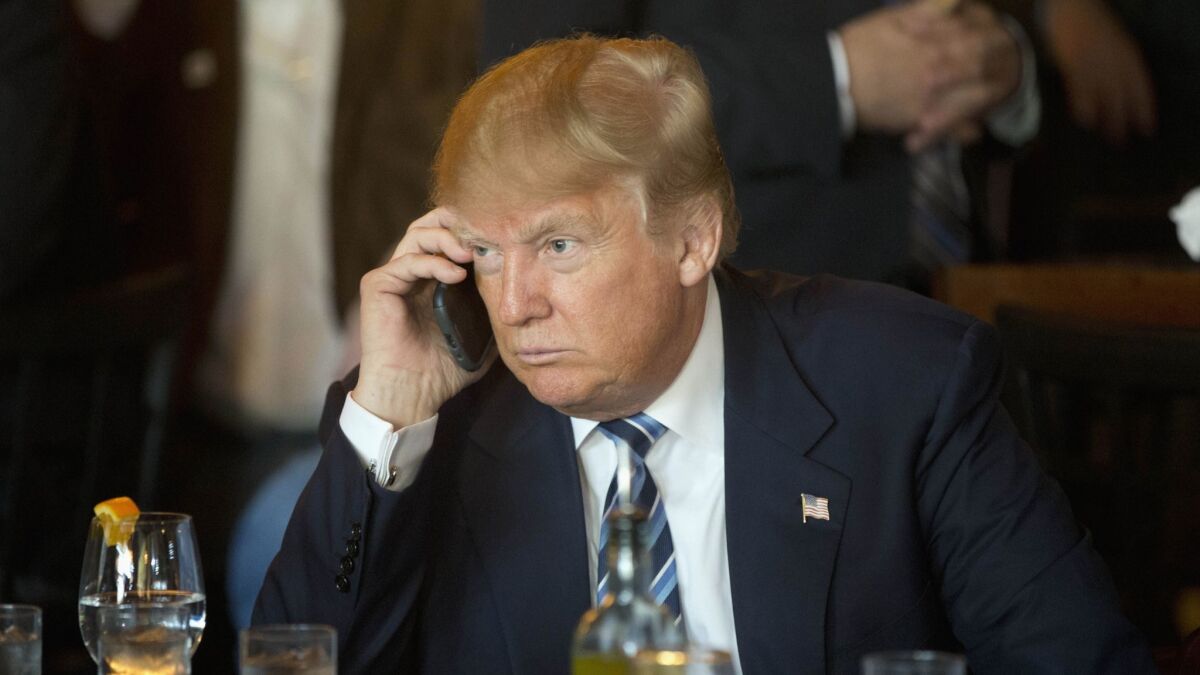 Washington Post
Reporting from Washington —
President Trump on Thursday denied a report that he often calls friends to gripe or solicit advice on his unsecure iPhones, allowing Chinese spies to listen in and gain valuable insights into how to deal with the U.S. administration.
"The so-called experts on Trump over at the New York Times wrote a long and boring article on my cellphone usage that is so incorrect I do not have time here to correct it," Trump said in a predawn tweet. "I only use Government Phones, and have only one seldom used government cell phone. Story is soooo wrong!"
The Times reported that Trump's aides have repeatedly warned him that his cellphone calls are not secure, and they have told him that Russian spies are also routinely eavesdropping on the calls. The Times said that American intelligence reports have indicated that Chinese spies are listening.
A Chinese official also denied the Times report, dismissing it as "fake news."
During a briefing in Beijing, Hua Chunying, a Foreign Ministry spokeswoman, said that if there are security concerns, Trump could switch to a phone made by Huawei, a Chinese company, or cut off communications altogether.
"Seeing this report, I feel there are those in America who are working all-out to win the Oscar for best screenplay," Hua said.
Shortly after Trump's tweet was sent Thursday, former aide Omarosa Manigault Newman took to Twitter to push back against his denial.
"Clearly #45 memory is fading fast," Manigault Newman wrote, referring to the president. "He ALWAYS used his personal iPhone in WH for calls even after being told over and over again about the security risk. He disliked his secure gov issued cell- he said it was slow and 'buggy.'"
During an appearance on CNN after Trump's tweet, New York Times reporter Maggie Haberman said the paper stands by the story, adding: "The story was not boring."
Haberman, one of the authors of the report, noted that Trump also used the word "boring" to try to downplay a previous Times story about the vast extent to which his father had fueled his wealth with tax-avoidance schemes.
Wagner writes for the Washington Post.
---
Life is stressful. Our weekly mental wellness newsletter can help.
You may occasionally receive promotional content from the Los Angeles Times.